Technology Tools
University of South Florida St. Petersburg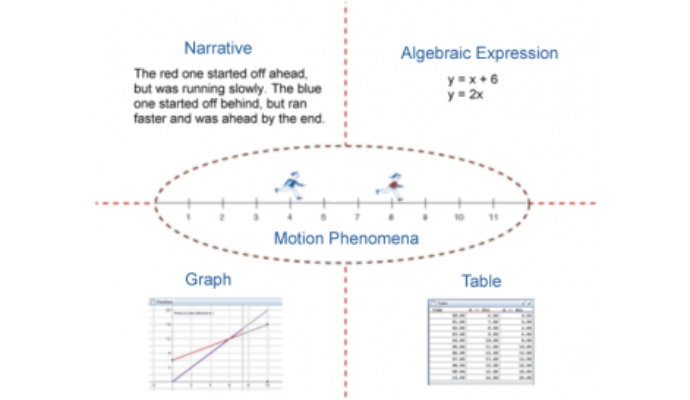 Technology Tools
Technology Tools
Educators often take advantage of educational technologies as they make the shifts in instruction, teacher roles, and learning experiences that next gen learning requires. Technology should not lead the design of learning, but when educators use it to personalize and enrich learning, it has the potential to accelerate mastery of critical content and skills by all students.
Learn More

sunbaymath.org/
Grade Levels:
6-8
Subject:
Mathematics
Availability:
Subscription only
SunBay Math engages learners in complex mathematics with graphs, tables, equations, and pictures in motion.
The Innovation
SunBay Digital Mathematics for Middle Grades
Middle school mathematics achievement lays the foundation for students' college- and career-readiness and long-term success. SunBay Digital Mathematics' integration of curricular materials, technology, and teacher professional development helps schools meet this critical objective.
The Common Core standards-aligned program emphasizes foundational ideas critical to students' deep conceptual understanding of mathematics; helping students at all skill levels to bring these concepts to life. It uses a small number of learning modules, each focusing on a "big idea," and complements, not replaces, existing materials. Each module uses graphs, tables, equations, and pictures in motion and involves dynamic, interactive technology:
Highlights the key mathematical relationships
Makes links between key representations
Provides an environment for students to explore and problem solve within guided, structured activities
The program's 80 hours of professional development guides teachers to further integrate the units' foundational concepts and the technology to cover additional standards. Professional supports include workshops, in-class experiences, and coaching.
Teacher Comments
"The dynamic technology helps bring the math to life for students."
"It is a great way to teach that keeps the students engaged."
"It is an excellent visual to help develop certain math concepts. After manipulating computer activities, students end up with deeper understanding of certain concepts."
Results Achieved
Students taught with SunBay Digital Math learning modules showed consistently higher learning than students taught by traditional means. The gain in learning was large enough to move the average student from the 50th to the 80th percentile.
The Grant Project
NGLC funding enabled the SunBay Digital Math team to provide professional development for 26 teachers and introduce the learning modules to approximately 1,200 middle school students. The team conducted pre- and post- student testing, too.
Partners:
SRI International
Pinellas County Schools
Ongoing Projects: The project team continues to develop a curricular activity system of CCSS-aligned, learning modules for key concepts in grades 6-8 mathematics and Technological Pedagogical and Content Knowledge (TPACK)-based professional development for teachers. In addition, SRI has conducted a related project in England, Cornerstone Maths. And a 2014 Investing in Innovation (i3) grant will enable USFSP and its partner, SRI, to expand SunBay Digital Math's availability.
Long term Goal: For SunBay materials to be used by every middle school teacher within a district partnership.
People Working On This Challenge
See More