This mission-driven high school, with its focus on trusting relationships, feels like a family. Using a community-engaged, project-based approach, Blackstone Academy prepares learners for college and career success and for positive impact on the wider community.
Discover the community-centered family and inquiry-based learning at Blackstone Academy!

About Blackstone Academy Charter School
Grades Served: 9-12
Location: Pawtucket, Rhode Island
Operator Type: Public charter school
Enrollment: 350
Race/Ethnicity: 58% Hispanic, 26% Black, 14% White, 1% Asian, 1% two or more races
Free/Reduced Lunch: 81%
School Website: www.blackstoneacademy.org
Blackstone Academy's mission is to to build a strong community of learners and leaders. With a focus on social-emotional learning and strong relationships between staff, students, and families, students are empowered to explore opportunities and develop passions for learning. The small educational environment helps foster independent inquiry skills, teamwork, and communication via projects and presentations of learning.
Emphasizing depth of inquiry over breadth of content, BACS students develop the skills to solve problems and use their voices in ways that lead to success in the academic, social, and professional arenas. The school's educational model prioritizes preparation for higher education and postsecondary success, cultivating future adults who can forge meaningful connections and have a positive impact on the local and wider community.
Blackstone Academy's project-based approach and portfolio system support and tell the story of the progression of students' learning by having students study themselves and their relationships to others, explore areas of interest, improve the local community, and ultimately integrate an understanding of the wider world as they become responsible, motivated, life-long learners.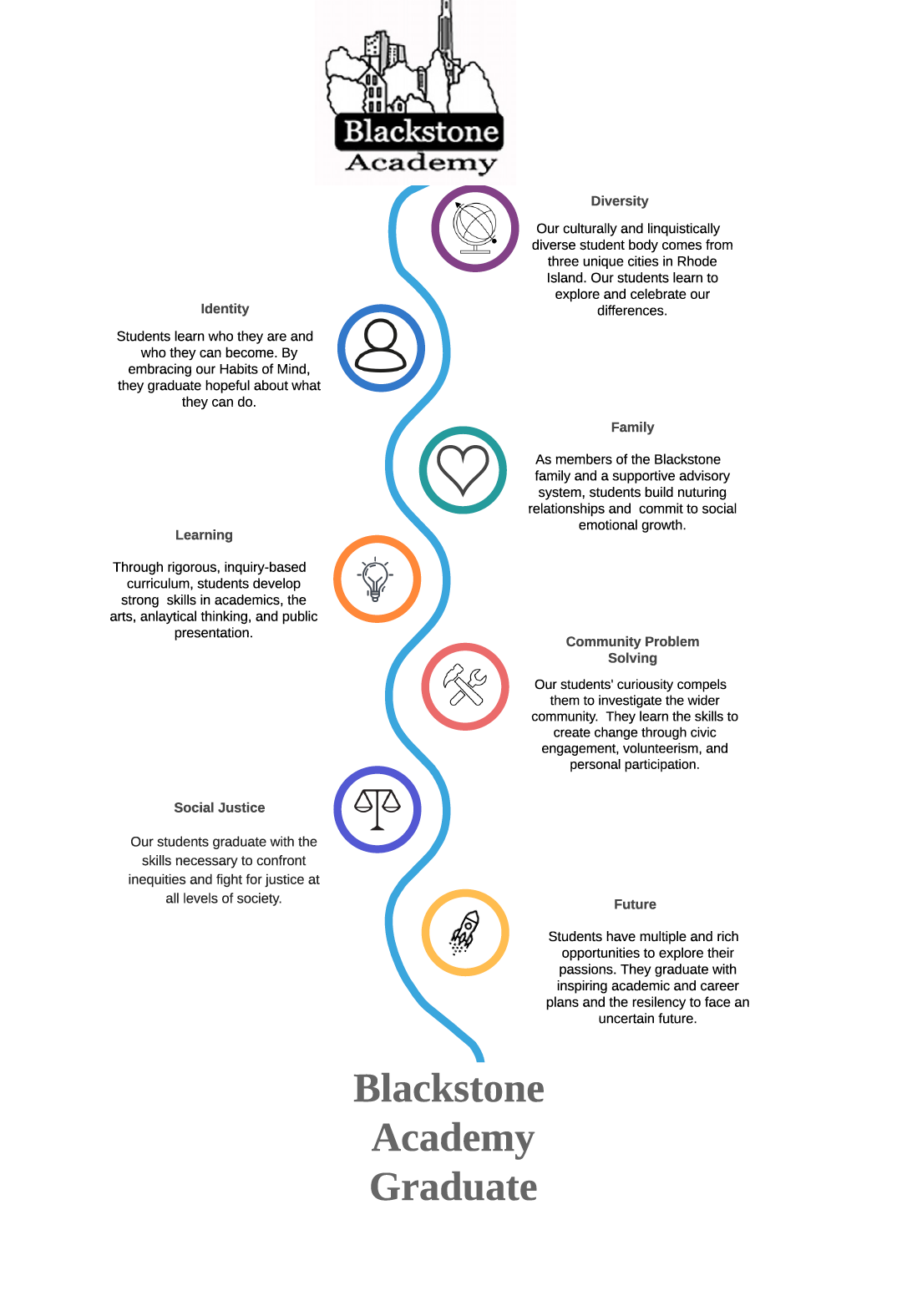 Model Overview
A Place of Family & Community
The environment of support and care at Blackstone Academy Charter School is foundational to the school's learning model. This multimedia publication explores various aspects of the school that make it both special and effective. Learn more about Blackstone Academy and become inspired to redesign your school. READ THE OVERVIEW
Their Voices >> Listen
In this podcast, members of the Blackstone Academy community talk about their school's mission.
Preparing for Life after High School
The vision for college and career preparation at Blackstone Academy is for students to have as many opportunities for a future path as possible, a way to help break systems of generational poverty and racism. This publication explores the school's approach to making sure students graduate with a deep sense of themselves, how they can serve their communities, and specific, discrete plans for what they will be doing after they graduate—and the skills and knowledge to make it happen. Explore ideas to reimagine college and career preparation at your school. READ THE STORY
Their Voices >> Listen
In this podcast, members of the Blackstone Academy community discuss their school's approach to "college and career."
Academic Learning Model
From Inquiry to Action
The academic model at Blackstone Academy Charter School in Rhode Island focuses not only on what students learn but also on who they are and how they act in the world. This publication explores the school's approach to community-based projects organized around essential questions, which includes performance-based assessment and integrated academic and social-emotional support. READ THE STORY
Their Voices >> Listen
In this podcast, ninth grade dean and science teacher John Horton talks about the ninth grade experience at Blackstone Academy.




English teacher Erin Malcolm explains how she uses game-based learning, including when the students read The Great Gatsby.




Teacher Meghan Healy discusses how the lessons learned in art class apply to all subjects and life.
---
Images courtesy of Blackstone Academy.