Enabling Change
Carnegie Corporation Awards NGLC $450K for Innodoption Project
October 19, 2018
Topics
Learner Agency
Change Management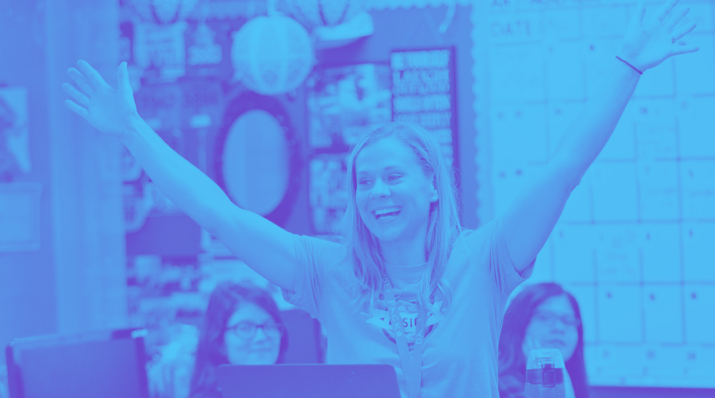 Enabling Change
Enabling Change
Next generation learning is all about everyone in the system—from students through teachers to policymakers—taking charge of their own learning, development, and work. That doesn't happen by forcing change through mandates and compliance. It happens by creating the environment and the equity of opportunity for everyone in the system to do their best possible work.
Learn More
The innodoption project will identify, synthesize, test, and disseminate next generation change management strategies for school districts moving toward next generation learning and school redesign.
This month, NGLC launched a new 18-month project to identify, synthesize, and disseminate effective change management strategies for schools and school districts moving toward next gen learning and school redesign. The project is made possible by a grant from Carnegie Corporation of New York.
Why Change Management?
As educators in the NGLC community, and beyond it, create and launch new designs for school, they have urged us to ask: How can our education systems and operating habits best enable next generation learning—rather than obstruct and diminish it?
This growing cloud of innovative educators, including the next gen school designers that NGLC has helped to catalyze in recent years, has been working to address a complex and daunting challenge: creating demonstrably effective, 21st-century alternatives to the industrial-era, compliance-oriented school model, where deeper learning can thrive. There might be 500 to 1,000 of these schools now serving students, nationwide, with many showing promising results.
But the hardest part of this challenge may not be the new learning and school designs. It may be how to move these new approaches into common use without losing the power, promise, complexity, and depth of the original ideas. So that tens of millions of schoolchildren, not just tens of thousands, can benefit and emerge from high school fully prepared to meet the challenges of 21st-century life.
This scaling-up of innovation has proved so difficult because the rules-and-compliance, carrots-and-sticks change processes we use in public education to significantly alter practice and the student experience reflect industrial-age thinking and methodologies. These approaches directly contradict next gen learning models designed to enable deep development of agency-driven, 21st-century competencies among students.
For next gen learning to become the learning that students everywhere experience in school, the change process of public education must become "next gen," too.
Innodoption
If rules and compliance won't work, what will? Research has found that people of all ages do best in environments that enable agency and autonomy, honor purpose and diversity, and provide opportunities to develop mastery. These strategies surpass the "carrots and sticks" incentives used across all sectors of life in the U.S. to change behavior, but that have become a particular hallmark of education reform in the standards era.
Innodoption is a new concept developed by NGLC that draws upon this science of motivation, as well as on the work of our grantees and partner schools. It involves change management strategies that create the environment and the equity of opportunity for everyone in the K–12 system—district leaders, school leaders, teachers, students, families, and community members—to experience autonomy, mastery, and purpose, enabling them to do their best work. The result is enduring, fundamental transformations in community mindset, school design, student learning experiences, and 21st century outcomes.
UPDATE, JUNE 2019: We are updating our language to better reflect what we are learning with our partners. The project funded by Carnegie is now known as the Next Gen Change Management Project. The strategies that support genuine transformation of learning and student outcomes is now known as Transformation Science.

Project Objectives
Over the next 18 months, NGLC will embark on an exploratory project to identify, synthesize, test, and disseminate next generation change management strategies for school districts. These objectives guide our work:
Build a knowledge base on change management strategies in the school district context, driven by principles of agency and enabling
Through research into current exemplar practices and direct partnership with two to three forward-facing districts, explore what emerging forms of next gen "innodoption" look like and develop a set of tools and resources to support those processes
Deepen K-12 practitioners' awareness and (ultimately) expand their use of innodoption processes through wide dissemination of the research and tools and the development of a set of potential next-step strategies to explicitly spur district use
NGLC is joined in this work by Transcend Education and two pioneering school districts: Vista Unified outside of San Diego and Arcadia Unified outside of Los Angeles.
NGLC director Andy Calkins will be joined by Transcend Education's Jeff Wetzler and Sujata Bhatt in a session about innodoption at the iNACOL Annual Symposium this week. Innodoption: How Next Gen Learning Can Grow—Without Losing Its Soul is scheduled for Tuesday, October 23, 11:15 a.m.—12:15 p.m. in Room 106B of the Nashville Music City Center.
UPDATE, JUNE 2019: Since October, and reflecting the spirit of next gen change through growing communities of practice, additional partners have joined the project. We are partnering with six leading districts—Vista, Arcadia, and Lindsay in California; Kettle Moraine in Wisconsin; St. Vrain Valley in Colorado; and Henry County in Georgia. Other partners include the Deeper Learning Dozen, Transcend Education, and many individuals with deep expertise in education change research and practice.