Reimagining Assessment
Save the Date: Assessment for Learning Conference, Feb. 11-13, San Diego
October 15, 2019
Topics
Student Success
Leadership
Tools for Next Gen Learning
Curriculum & Instruction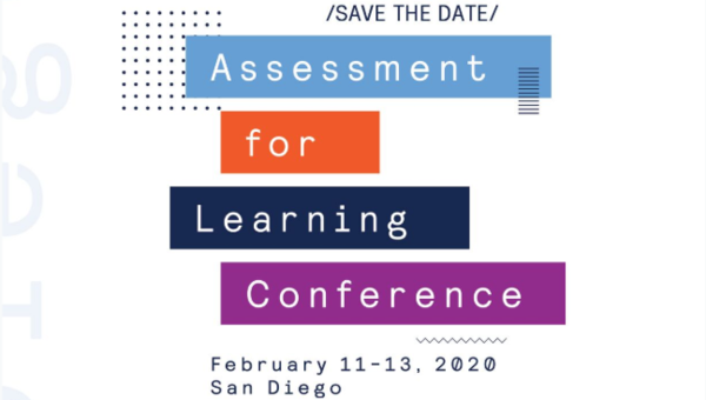 Reimagining Assessment
Reimagining Assessment
Educators are rethinking the purposes, forms, and nature of assessment. Beyond testing mastery of traditional content knowledge—an essential task, but not nearly sufficient—educators are designing assessment for learning as an integral part of the learning process.
Learn More
Join the movement to fundamentally #RethinkAssessment and become part of the dynamic and growing assessment for learning community!
We are thrilled to announce the first ever Assessment FOR Learning Conference, brought to you by the Assessment for Learning Project. Connect with educators and system leaders who are part of the movement to fundamentally #RethinkAssessment!
Three and a half years ago when ALP first launched, we asked "What would it look like if we reimagined grantmaking as collective learning?" We are proud to say that It looks like the ALP learning community, which now has 29 grantees including teachers, district leaders, state policy-makers, researchers, and professional learning providers. We have measured the success of the initiative less by what each grantee has accomplished individually (though they are doing extraordinary work) and more by what we are all learning together.
The Assessment FOR Learning Conference is something of a capstone project for ALP, a chance to reflect, synthesize, and publicly share our learning from the past three years. Most importantly, it's a chance to deepen this learning by inviting new voices into shared inquiry into questions like these:
What if assessment helped put every student in charge of their learning?
How might assessment celebrate and affirm each student's identity, rather than invoking stereotype threat?
How can we build classroom cultures of continual reflection and feedback, for students AND adults?
How can we design assessments that are rigorous AND deeply engaging?
What are the ethical considerations in assessing social and emotional learning?
How might communities shape their assessment systems based on a shared vision of learning rather than a high-stakes test?
If you've ever asked any of these questions, this is the conference for you!
Update 11/13/2019: Registration is now open. Learn more and register today!
Update 12/19/2019: Registration is full. Add your name to the waiting list to register when space becomes available. Learn more!
Update 1/17/2020: Registration is now closed.

Assessment for EQUITY. Assessment for AGENCY. Assessment for LEARNING.