New Designs for School
Transforming Learning Goes Virtual: Free Event in October
October 6, 2020
Topics
Project-based Learning
Social-Emotional Learning
Design Thinking
Curriculum & Instruction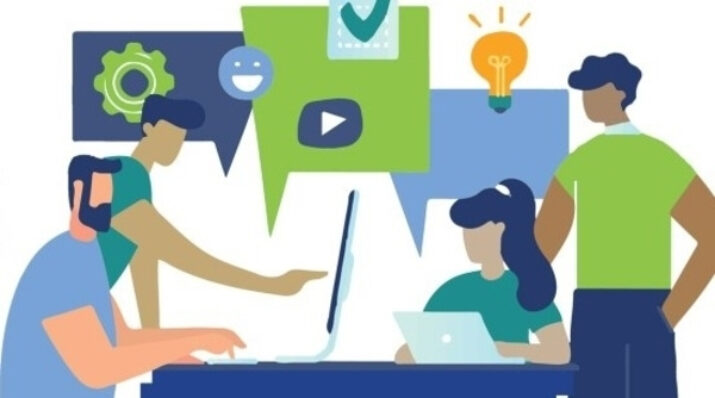 New Designs for School
New Designs for School
We've all had the experience of truly purposeful, authentic learning and know how valuable it is. Educators are taking the best of what we know about learning, student support, effective instruction, and interpersonal skill-building to completely reimagine schools so that students experience that kind of purposeful learning all day, every day.
Learn More
Discover best practices in remote learning, social-emotional learning, and project-based learning in a virtual environment with the Transforming Learning Conference.
"One of the most important parts of the Transforming Learning Collaborative is that it's by educators and for educators. There's that practical emphasis on things that you can really use and have been tested in schools."
–Tony Siddall, NGLC
NGLC grantee Da Vinci Schools has morphed its popular Transforming Learning Conference into a free, fully virtual experience. This year's two-day event on October 15 and 16, 2020, will focus on best practices in remote learning, social-emotional learning, and project-based learning in a virtual environment.
In this virtual, workshop-based learning experience, innovative educators from Da Vinci Schools will give you tools, guidance, time, and space to dream, discover, and design your way to a new model of virtual learning for your K-12 school.
Get a sense of the great content created "by educators, for educators" with this video from last year's Transforming Learning Conference.
Schedule
Thursday, October 15, 2020
9:15 am PT - 3:30 pm PT / 12:15 pm ET - 6:30 pm ET
Industry Partners Panel: The Future of Work. Hear from industry leaders about how to prepare today's students for tomorrow's careers. Panelists will share insights on changing workforce trends due to COVID-19, best practices in remote work and learning, their organization's partnership with Da Vinci Schools, and tips for how to better prepare students for the future of work.
Virtual Project-Based Learning and Exhibition. It's the day that you were planning to roll out a major project to your students; it's also the same day that schools close indefinitely due to a pandemic. What do you do? You pivot to a virtual project, set up the parameters and requirements, you encourage flexibility and creativity from the students, and you provide support along the way as students prepare to share their projects with classmates, parents, industry professionals, and the world. In this session, we'll do the following: introduce the Da Vinci Design Process; provide samples of several PBL projects that were created completely virtually; create opportunities to practice using project planning templates and protocols. Although all of the projects that will be presented were created in a high school English course, some of them were multidisciplinary, and many of the concepts presented in this session are transferable to any discipline.
Administrative Perspectives Panel: Best Practices for a Virtual World. Hear from Da Vinci Schools administrators about adapting their respective programs to the new virtual landscape. The Director of Special Education, Director of Alder Residency (teacher credentialing and training program), and Principal of Da Vinci Science High School will be discussing how we have responded to the challenges of 2020 and how we continue to maintain a positive staff culture and serve the needs of our students.
"These educators know what they are doing...they are energetic, practical, and realistic...This is usable knowledge, hands-on training, and proven examples. I would want to work at this school and send my kids here."
–Andrew Taylor, Vistamar, 2019 conference participant
Friday, October 16, 2020
10:00 am PT - 1:45 pm PT / 1:00 pm ET - 4:45 pm ET
Building Learner Agency through Inquiry Learning at Home. Hear from a teacher and parents of Da Vinci Connect—Da Vinci Schools' hybrid-homeschool program—on how to build agency for students through inquiry learning at home. They will also answer questions! Although most of us were thrust into remote teaching overnight, we can move forward with virtual learning that is enjoyable and sustainable for kids, teachers, and parents. In this workshop, you'll learn how to support students to develop agency by tapping into their authentic interests and passions by including them in project development. With a few changes, you can maximize engagement and structure your day for connection, teaching, and reflection.
Facilitating Speech and Language Development During Virtual Learning: Re-imagining supports for all levels of need. The transition to distance learning altered the methods and mediums through which students can communicate with one another and their teachers. Many students with communication deficits are at high risk for regression during this time of pandemic. In this workshop, attendees will learn how a school-based Speech Language Pathologist attempted not only to prevent regression, but to foster development and continued progress for students at all levels of need. Time for questions, discussion, and reflection will be included during the workshop.
---
Image at top courtesy of Da Vinci Schools.