Building an Aligned System of Digital Content, Individualized Student Playlists, and Deeper Learning Assessments
Download Resource
Topics
Personalized Learning
Tools for Next Gen Learning
Curriculum & Instruction
Technology Tools
Technology Tools
Educators often take advantage of educational technologies as they make the shifts in instruction, teacher roles, and learning experiences that next gen learning requires. Technology should not lead the design of learning, but when educators use it to personalize and enrich learning, it has the potential to accelerate mastery of critical content and skills by all students.
Learn More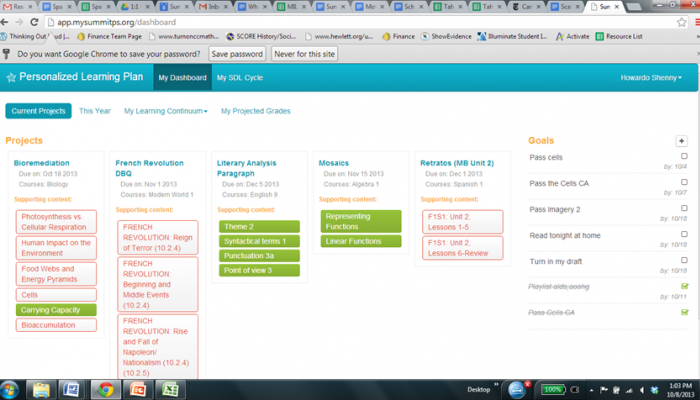 Summit Public Schools, an NGLC grant recipient, is a charter management organization serving the Bay Area's diverse communities. Summit operates six schools enrolling 1,600 students. Summit's mission is to ensure that every student has the opportunity to not only attend, but succeed in, a four-year college or university. Summit is growing to serve 6,000 students through 14 schools.

Summit Public Schools offers a personalized approach to each individual student's education. Every Summit student has a Personalized Learning Plan (PLP), where students set learning and personal growth goals, track progress, receive immediate feedback and are able to access learning resources at any time. The PLP is designed to be a dynamic tool where students, families and teachers alike can offer support and coaching. Additionally, students progress through a competency-based curriculum, with the orchestrated support of their teachers and mentors, to ensure that every student has the opportunity to possess the knowledge, skills, behaviors, mindsets, and experiences that lead to college and career readiness.
This personalized learning is possible due to an exceptional teaching faculty dedicated to self-directed learning as well as the technological tools that provide students, families, and teachers with immediate formative assessment feedback, multi-modal learning resources, and collaborative opportunities that were unavailable in the past. While technology has not driven Summit's innovations, it has accelerated our ability to drive towards our vision. In this webinar, the technological tools that we are using will be put within a framework for motivating learning for all students, and the products—some of which are developed in-house, some are paid products, and most are free, modular, and open to everyone—will be briefly demonstrated. Attendees will have the opportunity to indicate which products they would like to see in more depth.
Webinar Date & Time: Tuesday, October 8, 2013, 2:00 p.m. ET
Speaker: Adam Carter, Chief Academic Officer, Summit Public Schools
Watch: View the webinar presentation.
Additional Materials from Summit Public Schools:
Links to Tools