New Designs for School
6 Top Tips to Reimagine Space and Time to Impact Student Learning
September 21, 2016
Topics
Design Thinking
Facilities & Classroom Design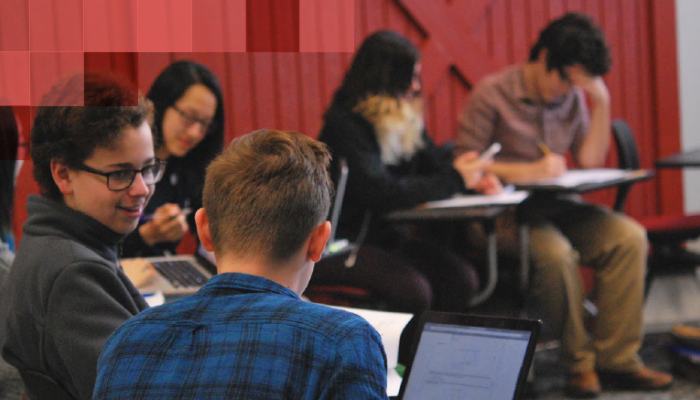 New Designs for School
New Designs for School
We've all had the experience of truly purposeful, authentic learning and know how valuable it is. Educators are taking the best of what we know about learning, student support, effective instruction, and interpersonal skill-building to completely reimagine schools so that students experience that kind of purposeful learning all day, every day.
Learn More
These fundamental structures can help propel your students' learning—or halt it. Resources and ideas for schools looking for new ways for their buildings, schedules, and talent to advance student learning, not get in the way of it.
NGLC partnered with 2Revolutions to produce a toolkit on Reimagining Space, Time & Staffing this fall. In it, we provide resources and ideas to schools looking for new ways for their buildings, schedules, and talent to advance student learning, not get in the way of it. Read below for a quick taste of what is available in the interactive toolkit.
Space
When you visualize school, what comes to mind? Chances are long hallways lined with lockers, classrooms with desks facing the front of the room, a cafeteria, library, and gym are some of the first physical and structural elements to pop into your head. Next gen learning experiences often don't "fit" within these traditional learning spaces. Changing up your space in a way that impacts student learning isn't as hard—or as expensive—as you might think.
3 Tips to Rethink Space
Let the Student Experience Drive the Design: What are your students learning? Get creative around what the space needs to best support your projects and activities. A class research project on the Civil War will have different spatial requirements than a math class learning the basics of Algebra. Consider movable desks and chairs, designing for flexibility, and reworking the space to meet the needs of the topic at hand.
How You Invest Reflects How You Feel: We all have to choose where to spend our dollars for the highest impact. Does where you're investing align with your vision and values as a school? Students feel valued and are more engaged when they can see you care about them individually by investing in their learning space.
Utilize ALL Spaces for Learning: Every inch of your school can be a learning space, as well as other buildings in your community. Hallways, nooks, roofs and local universities are just some areas that some Next Gen schools take advantage of to extend learning opportunities within—and outside of—the school.
"What we believe about children is visible in the choices we make within our schools. Nowhere is this more evident than in the environment."
- Community Playthings

Time
How we organize our time—the "schedule"—can either drive or constrain learning. Most schools use a rigid daily and yearly schedule, structured around bells, marking periods, semesters, and days that follow the same routine over and over regardless of the learning goals. But creating flexible, personalized environments that are more fluid and allow students to learn through many modalities, at their own pace, and with lots of opportunities for support, requires a new approach to organizing time. Time can be a primary lever to personalize a school model.
3 Tips to Rethink Time
Let Students' Pace Drive the Schedule: Some students in math can complete a whole semester or year of geometry in a few months. On the flip side, some students will need more than one semester to finish a semester's worth of work—and that's OK.
Each Week Can Be Different: d.tech has an innovative calendar where they spend the first three days of the week in classroom learning, and lab days twice a week. These look different for every student: providing remediation support for those who need it, makerspace time to practice what they've learned, extracurricular meeting time, and more. The freedom for students to choose how to spend some of their time during the school day has inspired many to begin projects of their own, including building a guitar.
Try Custom Schedules for All Learners: Does every ninth-grader need to be in the same classes? If their readiness is different, we say no. There are plenty of online tools available to help you keep track of student progress and prepare personalized schedules and learning plans.
Want to learn more? Explore our toolkit, Reimagining Space, Time & Staffing, for even more tips, resources, and examples to rethink space and time to support your learning model. We also include a section on staffing, offering some new ways to think about the role of teachers in your school.