New Designs for School
Design Tech High School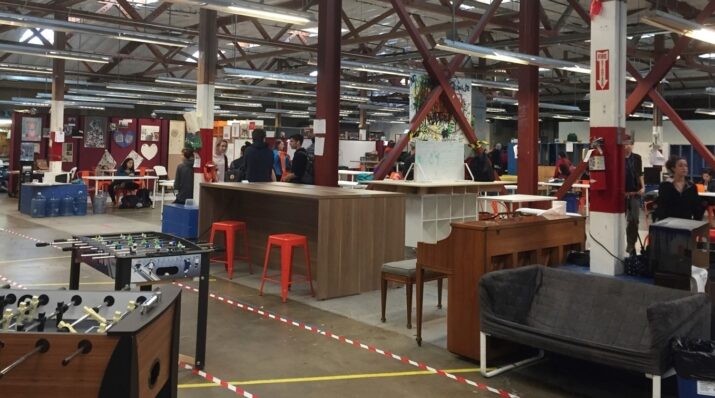 New Designs for School
New Designs for School
We've all had the experience of truly purposeful, authentic learning and know how valuable it is. Educators are taking the best of what we know about learning, student support, effective instruction, and interpersonal skill-building to completely reimagine schools so that students experience that kind of purposeful learning all day, every day.
Learn More
School: Design Tech High School (d.tech)
Grades Served: 9-12
Location: Millbrae, CA
Operator: Design Tech High School
Operator Type: Charter
Setting: Urban
Students at Opening: 150
Students at Capacity: 500
Blended Model Type: Flex
Key Features: Competency-Based Learning, Project-Based and Experiential Learning, Higher Education Partnership
The Operator:
Design Tech High School is founded by a team of school leaders, teachers, and parents who came together with a vision to create a school for their community that would prepare students in new ways to solve the problems faced by future generations. The founders' core beliefs are: shared responsibility, relentless optimism, applying design thinking tools, and all students have superpowers. The school is designed to help students graduate college in four years and to become "innovation-ready." They believe that all students have the ability to make a unique contribution to the world, and it's the job of educators to help students uncover that ability and act on it.
The Academic Model:
The school's curriculum is built on the principles of "knowledge in action" and "extreme personalization" by teaching students to solve real-world problems. This is accomplished using a design-thinking approach similar to that taught at Stanford University's Hasso Plattner Institute of Design (d.school).
Knowledge in Action: Learning to use design thinking provides students with a problem-solving strategy that they can use throughout their lives to make a positive contribution to a constantly changing world. Design Tech students will be creative, compassionate problem-solvers with four years of experience solving complex problems in the Bay Area through work with local community partners and businesses.
Extreme Personalization: Each Design Tech student will have a curriculum personalized to his or her needs, abilities, and interests. All students need to not only show an understanding of academic material but also are required to demonstrate mastery of concepts through real-world applications. Not only do students have laptops instead of textbooks, but technology allows teachers to regularly review data on each student's performance in order to personalize every student's schedule for the week.
The model incorporates both deep content knowledge and project-based curriculum in a mastery-based, flex blended learning environment utilizing the CK-12 online platform of open-source content. Teachers closely monitor pr ogress and assessment results and determine when to intervene with a tutoring session , a small-group lesson, a lecture, or additional material.
With a four-year design advisory experience, students learn design thinking, engineering and entrepreneurial skills. Students will use low-tech materials, such as cardboard and foil, as well as high-tech tools in the fabrication lab, like 3-D printers, laser cutters, routers, and programming tools.
The academic model, particularly the individual learning plans and flex blended approach enables d.tech to better serve students with specific learning needs, including English learners and students with disabilities.
The Organizational Model:
The learning space of the school, at full implementation, includes eight learning hubs where 75 students each have space to complete their independent work and access tutoring. It also involves instructional breakout rooms (temporary and mobile), fabrication labs, and science labs.
Life coaches focus on student wellness. School safety advocates provide social- emotional support. Instructional assistants either tutor students in the learning hub or serve as student data specialists. Teachers interpret data generated by digital content and assessments, create the curriculum, and determine the instruction and other interventions students need.
Design Tech High School is a member of the Stanford d.school's K-12 network of schools. The national network is developing curriculum and building models to teach design thinking to students.
d.tech intends to begin implementing a graduate school of education in its third year of operation.
People Working On This Challenge
See More