Building Community
Announcing the 2014 Regional Funds for Breakthrough Schools
June 23, 2014
Topics
Competency-based Education
Personalized Learning
Project-based Learning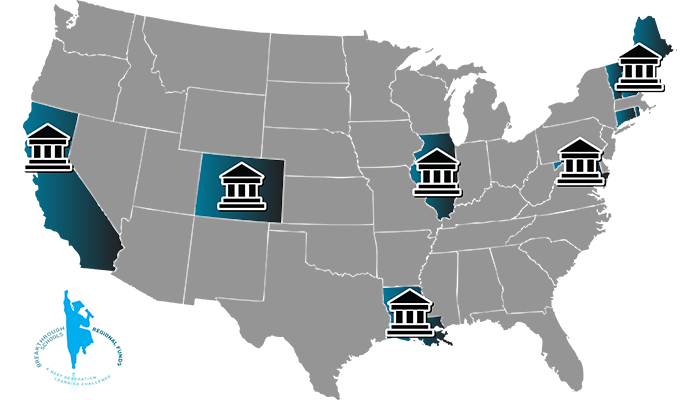 Building Community
Building Community
When educators design and create new schools, and live next gen learning themselves, they take the lead in growing next gen learning across the nation. Other educators don't simply follow and adopt; next gen learning depends on personal and community agency—the will to own the change, fueled by the desire to learn from and with others. Networks and policy play important roles in enabling grassroots approaches to change.
Learn More
Educators, policy makers, entrepreneurs and students across the country are working to change the face of K-12 education in the 21st century.
Educators, policy makers, entrepreneurs and students across the country are working to change the face of K-12 education in the 21st century. Part of this transformation involves breakthrough schools, which come in many forms: new or redesigned charter and district schools and significant changes to the existing design, operation and/or instructional practice of these public schools.
Launching one of these schools presents many exciting opportunities and also some challenges for those seeking to improve education in meaningful, measurable ways.
What does the term 'breakthrough schools' mean, exactly? NGLC defines breakthrough schools as those charged with generating rigorous outcomes for all students: at least 1.5 years of growth annually in math and English/language arts—an ambitious but necessary goal for those students who are behind in specific subject areas or grade levels—a 90 percent high school graduation rate, and at least 80 percent of graduating students meeting college readiness benchmarks and enrolling in college.
Today, NGLC announced that six community-based education organizations across the U.S. will participate in a new $25 million effort to establish regional hubs of K-12 innovation. The Regional Funds for Breakthrough Schools—a first-of-its-kind national initiative that supports schools to accelerate student progress—will grant funding to local educators whose approaches incorporate leading principles of personalized, blended, and competency-based learning.
The six partner organizations include:
CityBridge Foundation, Washington, D.C.;
The Colorado Education Initiative, representing a coalition of three Colorado school districts and the Colorado Department of Education;
LEAP Innovations, Chicago, Ill.;
New Schools for New Orleans; in partnership with the Louisiana Recovery School District and the Orleans Parish School Board, Educate Now!, and 4.0 Schools.
New England Secondary School Consortium, coordinated by the Great Schools Partnership;
Rogers Family Foundation, Oakland, Calif.
This initiative will enable dedicated, well-established local partners to work with leaders of charter school operators and public school districts to plan and launch new schools that nurture local talent and meet local need—providing access to support networks and expert guidance along the way.
Read on to learn more about the Regional Funds for Breakthrough Schools.