Why Schools Need to Change
Can Children Really Direct Their Own Learning?
March 8, 2016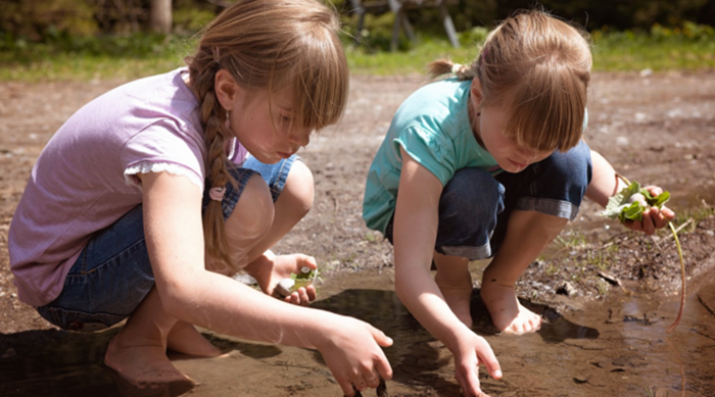 Why Schools Need to Change
Why Schools Need to Change
Today's learners face an uncertain present and a rapidly changing future that demand far different skills and knowledge than were needed in the 20th century. We also know so much more about enabling deep, powerful learning than we ever did before. Our collective future depends on how well young people prepare for the challenges and opportunities of 21st-century life.
Learn More
Many question whether young children truly have the motivation to take responsibility for their own learning, especially with subjects they find hard or dislike.
Children are natural learners. Naturally curious. Fully engaged with all their senses... to explore, question, test, discover. They follow their interests and are intrinsically motivated. At some level, they're in control of and motivated by their own learning most of the time.
In the conventional school environment, however, adults have determined what's important to learn, how and when it should be learned, and even what constitutes good and bad learning. These conditions ask children to be extrinsically motivated to please the teacher, to get a "good grade," to comply with social expectations, or to execute things because an authority gave a directive and controls the learning environment.
What appears as an unmotivated child is often a response to loss of choice and control in being self-directed or having a learning opportunity tied to a natural area of personal interest, play, or curiosity. This idea of student choice, and even more essential, student agency, is at the very heart of the personalized learning philosophy. Teachers who design learning by enabling choices around when, what, and how learning occurs, as well as how the learning is demonstrated for assessment or evaluation typically see much better levels of student engagement.
It's a fundamental shift.
Technology designers use games and play as part of this pedagogy. They enable students to compete against their peers or against an imaginary character; they offer self-paced experiences and include visual demonstrations of progress and audible encouragements for feedback. For children at young ages, good educators know how to guide and support learning in these ways through the use of instructional design. To the student, this is largely invisible—the guidance is built into the choices and pathways. So, children increasingly navigate from what attracts them while teachers steer from the back of the bus not from the front.
Children who start out in a conventional model of learning where everything is teacher-led, directed, and controlled often do have trouble in later grades when suddenly given more decision-making power and choice. They learned to give up choice and autonomy. Now, they have to unlearn those routines and mindsets in order to relearn how to be more self-directed. At NGLC, we see this most often in middle grades and high school.
Our schools use an approach called "gradual release" where students experience a hybrid of approaches and some intentional strategies for developing their skills again as actively engaged autonomous learners. For just one example, take a look at Valor Collegiate Academy's profile:
"In a school where a single model needs to work for all students across a wide range of backgrounds, academic preparation, and life experience, Valor created a 'gradual release' personalized learning design with four stages. Based on research on adolescent development, the design allows students to take greater control and responsibility as they progress from 5th to 12th grade."
The profile includes a graphic that describes the instructional shifts at each stage of the gradual release model.
Believing children of all ages can't, won't, or shouldn't direct their own learning can be a tricky blind spot for educators. It's a legacy of the old system's design assumptions. Our beliefs are powerful and self-fulfilling. This topic provides us an opportunity to practice inquiry around the question: How might we best address the changes we seek? And, to be mindful of the link between root structures, invisible cultures, and learner behaviors.