New Designs for School
Design Your Classroom for Changemaking
August 22, 2019
Topics
Project-based Learning
Learner Agency
Student Success
Design Thinking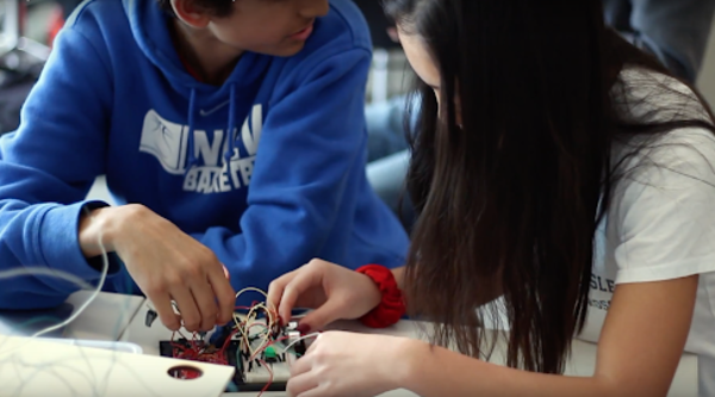 New Designs for School
New Designs for School
We've all had the experience of truly purposeful, authentic learning and know how valuable it is. Educators are taking the best of what we know about learning, student support, effective instruction, and interpersonal skill-building to completely reimagine schools so that students experience that kind of purposeful learning all day, every day.
Learn More
3 tips to best set up your classroom for meaningful innovation opportunities, for students to design solutions to make the world a better place
In the 21st century, the most critical skill to teach students is how to adapt to a rapidly changing world. Students are not going to learn that from solving problems with an answer in the back of the book.
In Project Invent, we make school about tackling real problems. Project Invent is a Palo Alto-based nonprofit empowering high school students nationwide to invent solutions for real problems in their communities. Students identify issues in their own communities, interview people who face those problems, and design innovative solutions to make the world a better place. But most importantly, students are learning the skills and mindsets for 21st-century success. Through solving real problems in their own communities, students learn the creative problem-solving skills, empathy, and self-efficacy to succeed individually and impact globally.
Our goal is to design classroom experiences for the 21st century. In the past year, we have trained hundreds of teachers and empowered thousands of students to use design thinking, making, and entrepreneurship to solve problems and design a better world. Students in the program have built everything from smart wallets to help the blind detect bill denominations to football helmets to detect early signs of concussions. Their experiences innovating for social good empower them to tackle any challenge that comes their way.
With these experiences under our belts, we'd like to share with you three tips for how to best set up your classroom for meaningful innovation opportunities: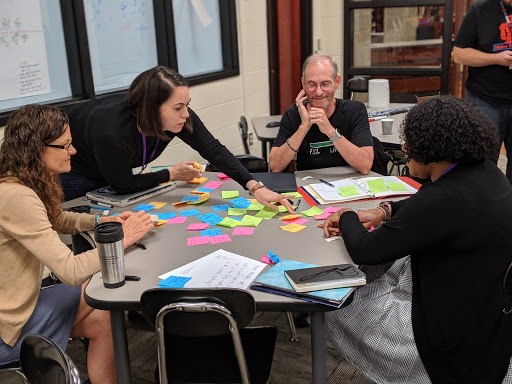 Courtesy of Project Invent
1. Don't let teachers be the ceiling for student learning.
In a rapidly changing world, we can't rely on what teachers know to be the ceiling of what students can learn in the classroom. Teachers need to be learning right alongside their students. Students need to learn how to be innovative and adaptable to change, and by definition, that means that teachers shouldn't know all the answers beforehand.
English teachers, librarians, artists, and so many more step into the role of leading a Project Invent team, despite having no engineering experience. That's because they understand that it's not the knowledge and expertise that they bring in that matters most, it's the ability to create environments where students can take risks in their learning and shine. "I don't need to have all the answers," shares one teacher. "I just need to show them that they can find them."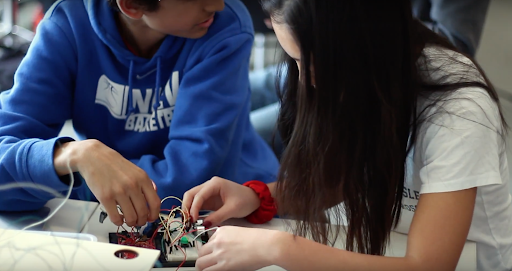 Courtesy of Project Invent
2. Have students pursue ideas that they don't know how to build (yet).
By creating ideas that they don't know how to build yet, we ask students to dream of ideas that push them outside of their comfort zone. Students build an incredible amount of grit and resilience as they build, fail, and grow toward making the idea they are excited about a reality.
Take Team Stria. This group of 12 high school sophomores at The Nueva School in San Mateo, CA designed a smart belt to help prevent blind users from veering into dangerous traffic when they are crossing the street. At first, none of them knew how to build their idea, but they all knew they were excited about it. As they realized how much impact they could make with their innovation (there are over 6 million people who are legally blind in the U.S.), they knew they needed to learn the tools and skills to make their idea a reality. It took them months to get to a working prototype, but through many failures, a lot of Google searches, and an unwavering passion to make impact, they were able to create their idea and Stria is now patent pending.
We want every student to look back and say, "I can't believe I built that!"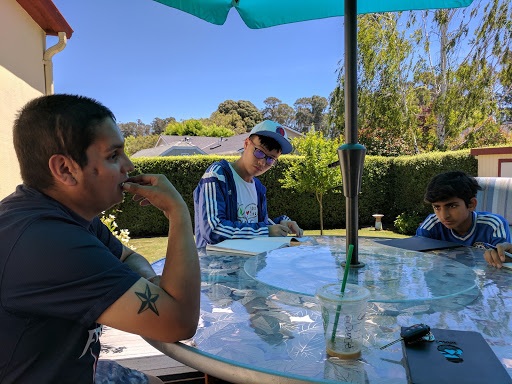 Courtesy of Project Invent
3. Real-world context is key to deeper learning and developing grit.
Most of our students—73 percent—continue their projects after the end of the year. Why? Because they build real relationships with their community partners, people who are directly affected by the problems they are tackling. Our students work with their community partners throughout the year and build strong friendships with them along the way. Because of these personal relationships, the students are committed to innovating to make a difference in the lives of their community partners. By grounding student problem-solving in real relationships, it gives students a powerful reason to persist through the toughest of challenges and learn even more in the process.
There's no silver bullet for 21st-century learning, but we do know that bringing teacher humility, innovation opportunities, and community partners into the mix makes a big difference in teaching students to be resilient, confident problem solvers in the world. We're ready for a generation of fearless problem solvers and 21st-century classrooms that can produce that.