Reimagining Assessment
Designing a Better Learning Environment
October 9, 2015
Topics
College & Career
Facilities & Classroom Design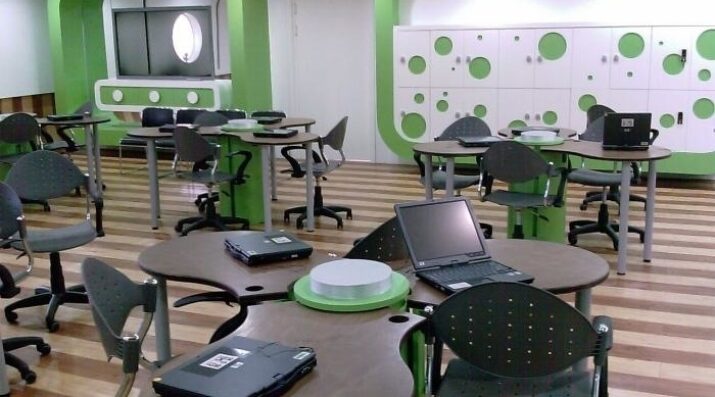 Reimagining Assessment
Reimagining Assessment
Educators are rethinking the purposes, forms, and nature of assessment. Beyond testing mastery of traditional content knowledge—an essential task, but not nearly sufficient—educators are designing assessment for learning as an integral part of the learning process.
Learn More
The Learning Space Rating System for Higher Education
Rows of chairs and desks face forward, pointed toward a podium and a whiteboard.

You've been in this room before.
It's the slightly updated version of a bygone era's lecture hall. But the all-too-familiar design is giving way to a fresh perspective on how rethinking the classroom itself can enable active learning.
Classroom design is a frequently discussed topic in the K-12 world, where lighting, furniture arrangements and other environmental factors are taken into consideration.
Strides are also being made in higher education.
Academic experts, journalists and others have been pontificating about the 'death' of the college lecture for the better part of a decade; and although the lecture will likely survive in some form, a variety of factors are necessitating the evolution of teaching delivery.
Those factors span ongoing developments in technology, deeper research into learning styles and approaches, and the changing needs of a 21st century student cohort as the world of work demands different skillsets and experiences. A growing emphasis on collaboration, small-group discussions, and hands-on projects has given rise to a broader conversation—one about effective learning, facilities and technology planning that involves stakeholders from across campus making critical decisions.
Thankfully, there's a self-assessment tool to guide them. A project of the EDUCAUSE Learning Initiative, the Learning Space Rating System (LSRS) has been developed by leading community experts for rating formal learning spaces to determine how well classroom design supports and encourages active learning.
The LSRS includes 50 questions that are organized into six sections:
integration with campus context,
planning process,
support and operations,
environmental quality,
layout and furnishings,
and technology and tools.
A variety of institutions are using the LSRS to assess their learning spaces. The University of Southern California used the LSRS in a six-year, $33 million initiative to transform the institution's 224 learning spaces. SUNY Buffalo State recently used the LSRS to upgrade 32 classrooms on a budget.
To learn more, check out 7 Things You Should Know About...The Learning Space Rating System.