Enabling Change
Re-Framing Where Young People Will Live, Part 2
January 5, 2023
Topics
Learner Agency
Student Success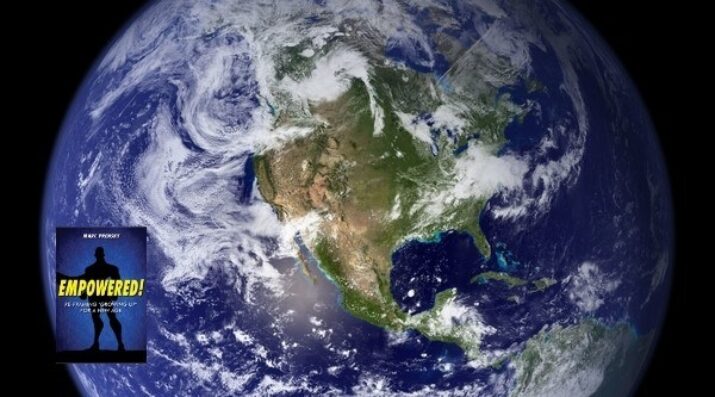 Enabling Change
Enabling Change
Next generation learning is all about everyone in the system—from students through teachers to policymakers—taking charge of their own learning, development, and work. That doesn't happen by forcing change through mandates and compliance. It happens by creating the environment and the equity of opportunity for everyone in the system to do their best possible work.
Learn More
EMPOWERED! Chapter 5
Human imagination can be brought to life on Earth and in the cloud, and access to the cloud is as essential for every young person as access to food, water, and shelter on Earth is.
Note: This article is a reprint of the second half of "Chapter 5: Re-Framing Where Young People Will Live" of the author's book, EMPOWERED! Re-framing 'Growing Up' for a New Age. If you haven't already, read the first part of Chapter 5.
The Cloud and Empowerment
Today, young people are discovering they are empowered to do all kinds of things in the Cloud world—including building lucrative businesses—all without leaving their homes and screens. Many of these are things that they previously couldn't do at all, or could do only with great difficulty. Rather than get a physical job—which he is not legally old enough, in many cases, to do—my 16-year-old son continually searches the Cloud and finds ways to earn money (legal ways, I hope). The Cloud has already created many teenage millionaires. It has allowed me to conduct my own worldwide business (both writing and public speaking) entirely from my easy chair—something that at my now-advancing age, I very much appreciate.
The Comparative World Re-Frame
The most useful perspective in the Age of Empowerment, I believe, is that neither the Earth world nor the Cloud world is better than the other, or even more real. Both are places where human imagination can be brought to life in various ways.
So the useful re-frame needed is:
From on Earth / in Real-Life always being better,
To the Earth World and the Cloud World being equal.
Hard to Accept?
Some adults find this "equal" re-frame hard to accept—it goes against much of what they have observed and thought. Many adults are today wary of young people (or even themselves) spending what they see as too much time in the Cloud and online. The online world is often thought of as dangerous.
But young people have already almost universally adopted this equal re-frame. Unless one does adopt it, a larger re-frame to the Age of Empowerment makes little sense, because the Cloud is one of its most empowering features.
Access Empowers
In fact, it is to a great extent the arrival of the Cloud that makes this the New Age of Empowerment. In my view, adults should make it a number one priority to see that every young person can access this new world at minimal or no cost—just as all should have access to food, water, and shelter on Earth. The arrival of the Cloud makes it far more imperative that nations that are currently behind in terms of getting fast internet connection to all at affordable cost catch up.
Using our "new-part-of-the body" re-frame for technology, we can think of access to the Cloud as a new AORTA (= Always-On Real-Time Access; this term comes from Mark Anderson, the chair of Strategic News Service) and make the following empowering re-frame:
From 21st-century humans being able to thrive in an old, unconnected way,
To a fast, reliable Cloud connection—i.e., a new AORTA (Always-On Real-Time Access) being now required to support newly-empowered human life.
Having this new AORTA means a connected young person is now freed from Earth constraints and empowered in many new ways. They no longer require the same physical resources as in the past for getting things done, they can easily visit and explore faraway places and things, they are no longer prevented from interacting with people outside their local community, and are far less limited in realizing their imagination and dreams. Once a person is connected, the resources necessary to work in the Cloud—devices, software, knowledge, and connections—may be in many cases far more easily obtained (and shared) than the resources needed in the physical world.
It is interesting to see just how fast certain software capabilities are spreading among young people—often through just taking them because they can (what adults call "piracy"), rather than through waiting until they had grown up and earned enough money to buy them. Being able to use resources that others have kept locked up is a form of empowerment—but one that goes against many old social rules and norms.
Harbingers
The harbingers of the new Cloud-is-equal world are the young people who have already flocked there in huge numbers. These cloud-based worlds appeared first in games, where they were populated mostly by the young. But they have expanded to all ages through Second Life, Verbela, Cloud-based live online schools, Cloud-based sales platforms (etsy), and Cloud-based competitive sports (including videogaming, trivia, and chess) and betting. Much that was physical is being quickly duplicated in the Cloud, often replacing the physical. The COVID-19 pandemic accelerated the move to the Cloud world. Soon, I predict, there will be more conferences held in the Cloud than there will be in-person.
Reflection Questions
How many worlds will your children live in? Will those worlds be accessible by all? Are adult's fears of these new worlds unfounded? Are we stopping them from getting there faster?
It's Not Just the Cloud That Empowers
As important as high-speed connection to the Cloud is to empowerment, the Cloud is not the only thing—or even the main thing—that is empowering young people in the 21st century. It is also young people's changing beliefs—largely about their role and what they can accomplish in this new Age of Empowerment—that is empowering them—as we shall now see.
Read More: EMPOWERED!
Read Chapter 6: Re-Framing What Young People Believe.
The full book is available on Amazon.