Why Schools Need to Change
Turning School Libraries into Discipline Centers Is Not the Answer to Disruptive Classroom Behavior
October 4, 2023
Topics
Social-Emotional Learning
School Culture
Facilities & Classroom Design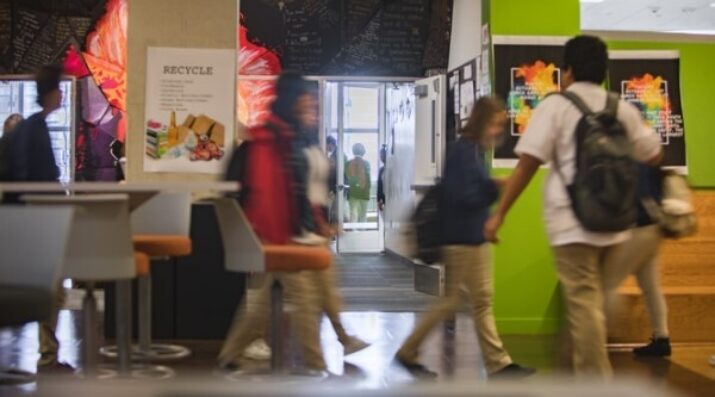 Why Schools Need to Change
Why Schools Need to Change
Today's learners face an uncertain present and a rapidly changing future that demand far different skills and knowledge than were needed in the 20th century. We also know so much more about enabling deep, powerful learning than we ever did before. Our collective future depends on how well young people prepare for the challenges and opportunities of 21st-century life.
Learn More
A proposal in Houston to replace school libraries with discipline centers fails to address the root causes of student misbehavior. A more constructive response can repair harm and address the underlying issues.
School libraries should be places where students can learn independently and think creatively outside the traditional classroom. But that won't happen under a new plan proposed for Houston, the largest school district in Texas. Instead, spaces once reserved for quiet contemplation of books will now be transformed into disciplinary spaces for troubled students.
This summer, the Houston Independent School District decided to close school libraries and replace them with discipline centers. Parents and educators are concerned that this might harm struggling students in a state with the country's fourth-lowest literacy rate, and fear that the new policy will do nothing to address some of the root causes of student misbehavior, which often include difficulties with literacy.
Superintendent Mike Miles, who was appointed by the Texas Education Agency to lead the district after it was taken over by the state, is pushing the policy. In an NPR interview, Miles explained that disruptive students will be sent to these discipline centers and then rejoin their classmates virtually.
Schools have attempted to address misbehavior with stricter discipline practices for years, but resorting to virtual participation—and virtual problem solving—is not the answer.
Districts should examine why a student chooses to communicate an unmet need by disrupting the classroom. All behaviors are a form of communication; misbehavior specifically is sometimes the only form of expression available to a student at the time.
If Houston's plan is truly a systemic reform, as its proponents claim, why aren't we also holding these larger systems responsible for the impact they have on student behavior?
More times than not, misbehavior is a response to a perceived stressor in the child's environment hindering them from making more "appropriate" choices in the moment. Learning how to read, write, speak and listen—communication—requires more than understanding phonemic awareness, spelling or vocabulary. It requires the activation of the frontal lobe, which is responsible for reading fluency, speech, grammatical usage and comprehension.
In their book The Whole-Brain Child, Dan Siegel and Tina Payne Bryson refer to this area as the "upstairs brain." They explain that the lower and mid parts of the brain (the "downstairs," or survival, brain), must feel cool, calm and collected before access is granted upstairs. Many things can contribute to the downstairs brain hijacking everything and revoking access to the part our students need to control their impulses, problem solve and excel in communication.
Traumatic experiences are the main culprit. They include not only the difficult childhood events we often hear about but also detrimental community and environmental experiences, such as structural racism, low pay, a global pandemic and climate crises. All can have negative effects on growing and learning. If Houston's plan is truly a systemic reform, as its proponents claim, why aren't we also holding these larger systems responsible for the impact they have on student behavior?
Feelings of anger, frustration or stress, which can be caused by struggles with reading or other comprehension, can also lead to the downstairs brain hijacking the upstairs brain. When this hijacking happens, it can look like students are highly anxious or behaving aggressively toward themselves or others. Struggling with any academic skills can bring feelings of shame, which is a vulnerable emotion often hidden under challenging behaviors, many of which could get a student sent to the proposed "team centers." A library and supportive librarian would benefit them more.
Not every misbehavior is the result of an issue with literacy, but every misbehavior communicates a need. While discipline is necessary, it should not end there.
Districts and school administrators need to recognize that a student's behavior might be a trauma or stress response, and they need to learn how to respond constructively. This is known as a trauma-informed approach. Concurrently, restorative discipline practices focus on repairing any harm caused, while sparing the dignity of the student without excluding them from their community.
Not only does student behavior deserve to be fully understood and supported, but our educators, including our librarians, deserve to be allowed to work in their areas of expertise. When students are feeling unmotivated or defeated and communicate this through disruption, they should be met by individuals who not only understand the function of that behavior but also use their unique skills to quiet the downstairs brain to better attend to the upstairs brain, putting students in the best place to learn and grow. This is true system reform.
Educators cannot do this alone. Caregivers can also integrate trauma-informed and restorative practices at home. Parents know their children better than anyone and have a responsibility to advocate and assist schools in understanding the child behind the behavior.
Infusing trauma-Informed and restorative practices into schoolwide policies and procedures will help schools attend to the root causes of misbehaviors without the risk of re-traumatization.
Protecting learning, literacy and libraries and addressing discipline issues are not mutually exclusive. Our school systems can and should do both.
---
This article first appeared in The Hechinger Report on September 19, 2023. Photo at top courtesy of NGLC.