Why Schools Need to Change
How Can Educators Build Stronger Community Ties?
October 6, 2014
Topics
Competency-based Education
Personalized Learning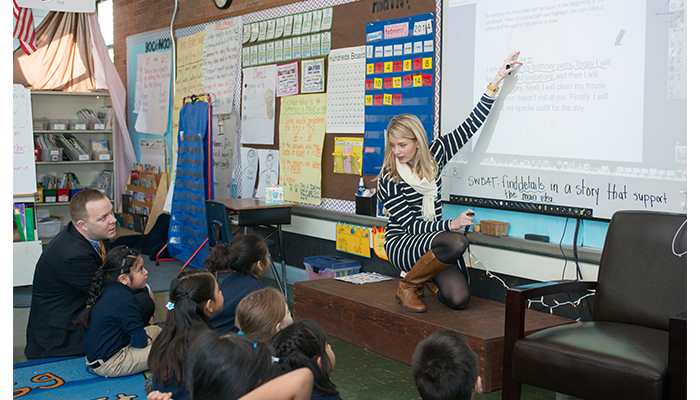 Why Schools Need to Change
Why Schools Need to Change
Today's learners face an uncertain present and a rapidly changing future that demand far different skills and knowledge than were needed in the 20th century. We also know so much more about enabling deep, powerful learning than we ever did before. Our collective future depends on how well young people prepare for the challenges and opportunities of 21st-century life.
Learn More
Positioning Schools to Effectively Prepare Students for the 21st Century
In my classroom, I remember feeling nervous about presenting to families about my curriculum plans or my approach to math instruction. And, outside of school, I have often felt offended and undervalued by non-educators talking to me like they understand everything about my work. Sometimes it feels as though they assume teaching is an easy task.
But with age, I have chipped away a bit at that particular chip on my shoulder and begun to feel differently about these conversations; I've begun to think that maybe we haven't done a good job of helping our friends and neighbors understand that teaching is complex. Maybe we haven't done a good job of demonstrating that we're experts at figuring out how to get all kinds of different students to learn all kinds of different things. And maybe, we haven't acknowledged that there are other things, really important things for schools to understand, that other people probably do know better than we do.
We need to engage local industry and community leaders, parents and students—not to convince them that what we want to do is a good idea, but rather to learn which competencies are most important in their lives.

We need to hear about what it is like to work in skilled labor and what it is like to be a community leader who informs and organizes people using 21st century technology. We need to hear what it is like to work in organizations that are more flat and nimble than our own. And we need to hear how students learn outside of school. We need to gather that information and create a new vision—one that is built on the competencies our students need when they graduate, and one that mimics 21st century ways of working and learning to help students build those competencies.
Maybe it is time to invite our communities in to help us establish a clear vision of independent and successful young adults.
Yet inviting our community in to help us establish a clear vision of successful 21st century young adults is only part of the dynamic that needs to change. While we trust our communities to tell us what competencies matter most—and how they play out across a wide range of professional and social contexts—we also need to find a way to help our community trust us to evaluate, eliminate, convert, and invent learning experiences designed to mimic adult life and build essential 21st century competencies.
The process of building that trust begins when we conceive of the students, parents, employers, community leaders, and post-secondary institutions in our community as our consumers.

It continues when we invite our consumers in to help create this new vision. Beyond one-time events, how can we think differently about how we engage our consumers along the way as we work to align our schools with that vision? What if we share with them in regular intervals what we are trying, have tried, plan to try, and how we learned or will learn quickly whether those strategies are yielding results for students or not? What if we said:
We are experts at designing and testing the effectiveness of learning environments. 
You can trust us to try new things, or convert current practice, because we will do it in a way that is both disciplined and responsible. 
We will tell you what we are trying and why we believe it will work. 
We will tell you what observable changes in student work, behavior, and performance we expect to see in a short time and if what we are trying is as effective as we believe it to be. 
We will share a few stories along the way, and ultimately share with you how well it worked and what we plan to do next, based on what we learned. 
We will periodically ask you—parents, students, industry, and community members—whether you see our learning design resulting in the vision we established together.
We will use our evaluation and your feedback to continue to redesign and refine our approach to come closer and closer in line with our shared vision.
Maybe this set of steps isn't quite right in your community. I'm interested in hearing from you about how you engage your community and what results you have seen—and I'd love to hear what schools and districts are learning from their consumers. It would be great, also, to hear about some of the challenges that schools and districts face as they work to use engagement and communication to build trust within their own communities.