Reimagining Assessment
How Do Next Generation Educators Measure Success?
June 14, 2016
Topics
Student Success
Curriculum & Instruction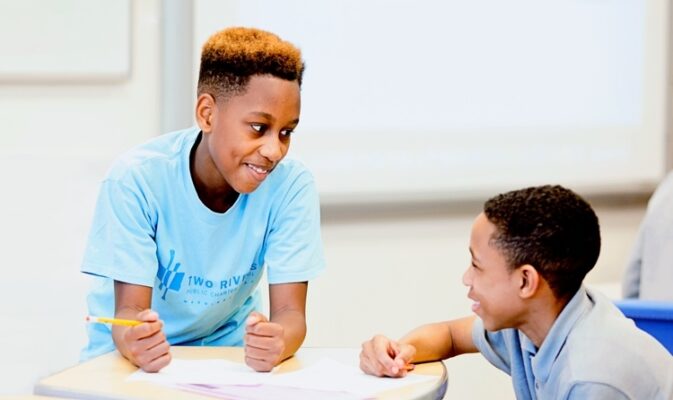 Reimagining Assessment
Reimagining Assessment
Educators are rethinking the purposes, forms, and nature of assessment. Beyond testing mastery of traditional content knowledge—an essential task, but not nearly sufficient—educators are designing assessment for learning as an integral part of the learning process.
Learn More
In an upcoming report, educators—who think daily about student & school success—share how they measure success, what tools they use, how they collect data, & what new approaches are needed.
Next week we are releasing Measures That Matter Most: How Do Next Generation Educators Measure Success? The report shares the perspective of next generation educators and how they measure and discuss the success of their innovative school models.
Three years ago, NGLC called for teams of educators to propose breakthrough school models that contained elements of personalized, competency-based, and blended learning, among other approaches. We funded over forty school teams from across the country, representing charter and district schools, urban and rural schools, and serving high percentages of students who qualify for free and reduced lunch.
We often are asked: "How are these schools doing?"
Thanks to our partners at RAND Corporation, we have preliminary data showing that our schools are making strides in math and ELA compared to schools adopting more traditional teaching methods. But, we've found that any conversation about the success of educational innovation is about more than traditional measures of academic achievement. Many of our educational innovators are piloting new approaches to measuring success and student-growth assessment in general.
We also know that looking in the rear view mirror at summative and evaluative measures is not particularly helpful for guiding educators engaging in rapid cycles of iteration, nor is it the most meaningful measure for schools in the pilot stages of the work. There are clear advantages to embracing a broader set of measures, both leading and lagging, in order to inform improvement as well as gain a clearer understanding of progress and impact.
So, we decided to ask NGLC breakthrough school model grantees how they measure the success of their big ideas.
Over the years, we have found our new school-model builders to be a fount of good information on questions such as these. Too often, decision-makers fail to consult with those on the frontlines in understanding the best path forward.
We are also building on the good work of our partners such as The Learning Accelerator, Digital Promise, Jobs for the Future, Ed Elements, and others who are working to advance a measurement agenda for personalized and blended learning.
When the report is released next week, you will learn from next generation educators about the types of measures they use, from traditional to nontraditional and from short-term to long-term, along with new assessment strategies and outcome measurement systems. You also will learn about the data collection methods that these educators use to gather evidence of success and student growth, including the following:
Classroom observation tools
Varied forms of performance-based assessment
Improvement Science techniques
Statistical analyses
Software data
All or most of the measures used by more traditional schools
The report and educator resources will be available on a dedicated microsite. We encourage you to experience the microsite, read through the full report, and take advantage of the tools and resources we have to share from our innovators. Then stay connected by following #MeasuresThatMatter.
While policymakers, funders, and other decision makers are giving a lot of thought to defining measures for student and school success, educators in the field, particularly those engaged with next generation learning, are grappling with these questions on a daily basis. Next generation educators have been developing ideas and local solutions for years.
We hope this report is a reminder that deepening our understanding of the work on the ground, and consulting educators at the forefront of innovation, is crucial to answering these big questions.
Note: Measures That Matter Most represents the first part of our analysis of NGLC grantees' efforts to measure success. This fall, we will release more findings relating specifically to how grantees articulate their schools' performance across the richer, deeper definitions of student success that they use.
---
UPDATE June 20, 2016: View the report on our interactive microsite, http://measuresthatmattermost.org