New Designs for School
A Successful LAUNCH: Students Talk about Partnering with a National Company
June 18, 2021
Topics
Project-based Learning
Learner Agency
College & Career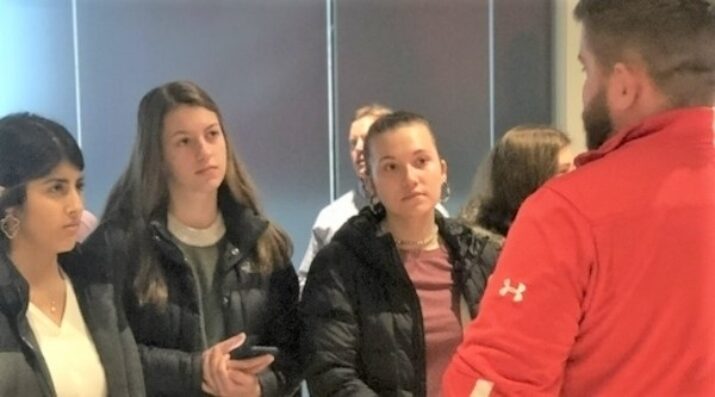 New Designs for School
New Designs for School
We've all had the experience of truly purposeful, authentic learning and know how valuable it is. Educators are taking the best of what we know about learning, student support, effective instruction, and interpersonal skill-building to completely reimagine schools so that students experience that kind of purposeful learning all day, every day.
Learn More
Practitioner's Guide to Next Gen Learning

In their own words: Three Wisconsin high school students describe their experiences working on authentic professional projects in a 10-week Innovation Challenge.
After graduating from high school, it is normal for students to doubt their readiness when entering the real world. However, if you were to ask a group of 140 students from Brookfield Central, Brookfield East, and Wauwatosa West high schools in Brookfield, Wisconsin, you'd hear a very different response. These 140 students are part of the LAUNCH program offered by the Wauwatosa and Elmbrook school districts.
—Coda McMullen, student at Brookfield East High School
With the support of Dr. Robert Hall, the executive director of LAUNCH for the School District of Elmbrook in Brookfield, Wisconsin, this edition of Friday Focus: Practitioner's Guide to Next Gen Learning was created by three current program participants: Coda McMullen and Kelsey Wick, both eleventh grade students at Brookfield East High School, and Miriam Yunus, also an eleventh grader, from Brookfield Central High School.
LAUNCH is an affiliate of the Center for Advanced Professional Studies (CAPS), a national network of high school programs that immerse learners in professional culture and experiences aligned to career strands. In partnership with mentors from business and industry, learners in CAPS programs like LAUNCH attend district high schools but also spend part of their days solving real-world problems, earning industry certificates and college credit, and learning the skills for success in high-skill, high-demand jobs.
The story that follows was written by Coda, Kelsey, and Miriam about working on authentic professional projects in this year's ten-week Innovation Challenge, an annual LAUNCH event. Read on to learn about their experiences as expressed in their own words.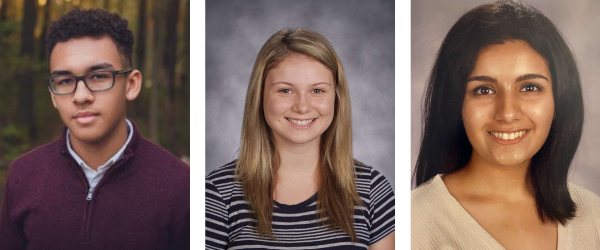 Coda McMullen, Kelsey Wick, and Miriam Yunus (left to right) write about their experiences this year as participants in the LAUNCH Innovation Challenge.
LAUNCH is an innovative, collaborative, and profession-based program that provides high school juniors and seniors opportunities to engage in professional tasks specific to their area of future career interests. They also can earn credits from the core classes, such as math, science, and English. Some of the many prominent LAUNCH strands offered include studies in Global Business, Future Teachers, Media Solutions, IT Foundations, Engineering Foundations, Medicine and Healthcare, and Law and Public Policy.
In each strand, students work with multiple LAUNCH coaches on three different projects throughout the year. One of these project types includes a special partnership program with Milwaukee Tool, which is headquartered in Brookfield. Milwaukee Tool partners with LAUNCH each year to provide all 140 students with professional coaches and innovative projects to work on. They also sponsor the annual LAUNCH Innovation Challenge.
Building Partnerships & Planning for the Innovation Challenge
The LAUNCH Innovation Challenge is an opportunity for high school students to get a taste of what it's like working for real companies. It helps teach design thinking, innovation, user- centered design, and entrepreneurship. However, setting up this Innovation Challenge is not an easy task. The LAUNCH program must recruit companies willing to invest their employee time to impact student learning and the community. LAUNCH connects students to over 30 companies annually from the Milwaukee region. Of these, Milwaukee Tool invests the most employees to help inspire students.
The leadership team of LAUNCH, which consists of the program's project manager and executive director, meets with industry partners months prior to the actual Innovation Challenge. LAUNCH and the company must agree on a project format (length of time/number of weeks, number of coaches, project scope) and skill sets to focus on. Employees who wish to coach are sent information and a Strategy Guide that helps inform them on logistics, tips for coaching, and program essentials.
As a coach thinks of an appropriate project, they can create their own problem statement or use one of the past project challenges. Some project statements have included creating a circuit with two points of failure, trying to increase "stickiness" within an app without bombarding people with constant ads, or coming up with ideas for a virtual trade show or sales event during the pandemic.
Once the Innovation Challenge starts, the coaches introduce themselves to their team, brief them on the problem statement, and start developing a project plan. For example, in Coda's first meeting with Milwaukee Tool, the coach shared their problem with him and his group. The company then told Coda and his team the first steps they needed to take in order to complete this project. They then deemed a necessary time the following week to meet up again to check in on the progress Coda and his team were making and if they were ready for the next step.
Implementing the Challenge
An important aspect of the Innovation Challenge is having students work in diverse groups. Groups are selected based on interests and skills. Students may or may not have relationships with other students in their group, which simulates future work experiences. Diverse teams are valuable, as they can provide multiple skills, perspectives, and experiences. Students can also support each other's weaknesses and enhance each other's strengths.
For example, Coda, Miriam, and Kelsey all were strong in technical skills, like writing and project management, but they were happy to have the support of their team in planning and executing meetings with professional coaches. Having students work with others is important because this pushes students out of their comfort zone and encourages them to use unique human skills. The ability to cooperate and function smoothly with people who have a variety of backgrounds, skill sets, and experiences allows students the opportunity at a young age to function in multiple situations.
To support diverse students to work together, LAUNCH provides teams with a framework for collaboration. Regardless of the group size, this framework requires designation of a Project Manager and Communications Director, as well as other Team Member(s). The Project Manager is responsible for overseeing the group and making sure everything runs smoothly and efficiently. The Communications Director is responsible for setting up group meetings for the entire LAUNCH team and regulating the communication between the team and coach. The Team Members are responsible for doing the various tasks that need to be done and offering support to the other roles. This structure helps simulate a professional work experience.
In LAUNCH, teams are more empowered in their learning than in other classroom experiences. The student project teams have to set norms and create personal and team goals to work on for the ten weeks of the Challenge. Goals are important so students hold themselves accountable and exceed expectations. This strategy encourages all members to contribute to the project instead of having only one or two students completing all of the work while others are more passive. Student empowerment is a driving force for project success and outcomes.
Throughout the Innovation Challenge, students—not the teacher—are responsible for the communication between the team and coach, which helps empower students to develop professional writing and communication skills. When students lead these meetings, they dress professionally and act in a professional manner because they want to be credible and make a favorable impression. Before these meetings, students create a meeting agenda that they share with the coaches. It's not the coaches or teachers, however, who are creating the agenda. In fact, the professional coach explains their need, and it's up to the LAUNCH students to problem solve and innovate to deliver value back to the coach. This creates an authentic, professional connection between the partner companies' employees and students.
In LAUNCH, teams are more empowered in their learning than in other classroom experiences.
Kelsey describes how the process unfolded for her: "For my group, I worked to create a circuit with two points of failure. I worked with a senior electrical engineer who donated an hour of his day, every day, to teach us how to actually use the software schematic program for the Challenge. Once he taught us how to use the schematic program Altium, we were off to work. We had to use our goals of complex problem solving to do the task that our coach did on a daily basis. After we learned (how to use the software), we had weekly progress checks with our coach.
"We ended up making a switch with two points of failure after many weeks of trial and error, in addition to gaining a lifelong coach. Our coach at the end of our project mentioned that if we ever needed to reach him, he could always help with math or anything else. I have since reached out to my coach and am very grateful for the experience that I had with him."
Looking Back at What We Learned
After the Innovation Challenge was completed, LAUNCH teams presented to over 100 judges. We explained how our project fit the Challenge and how it fit into the values of Milwaukee Tool. Here's how one student described what it was like to hear about how their team placed compared to others:
"My group spent a lot of time on this project, so we were excited to see how well we did. As they announced the final standings, my group was especially proud that we were able to come in fifth place. We had a meeting with our LAUNCH coaches about it, and they were especially proud of all of us, as they knew about the work we put in. We then discussed what we learned from this project and said our farewells. Our LAUNCH coaches were then able to evaluate our performance on the LinkedIn site by giving us 'medals' that signify different accomplishments/traits that our LAUNCH coaches deemed necessary to recognize."
Students who participate in the Innovation Challenge are encouraged to remain in contact with their coaches, whether by connecting on LinkedIn or requesting a letter of recommendation. The goal is for the coach to be available as a professional in the student's network.
Post project, students have opportunities to celebrate and express gratitude to their coaches. Says Kelsey, "Personally, I could not be more honored for the opportunity that I got in the Innovation Challenge and the relationship developed with my coach. After the project, the team reflected on the strengths, weaknesses, and skills learned during the challenge. For example, in the Milwaukee Tool project, I expanded my ability to solve complex problems."
For educators, understanding local businesses and industries within the surrounding area and then having tomorrow's youth lead the development of a business project is extremely valuable. According to Elizabeth Richter, a junior at Brookfield Central High School:
"The LAUNCH Innovation Challenge provided me with the opportunity to gain real-life skills and knowledge needed to be successful after high school. I am grateful I was provided the opportunity to explore my future career interests in an authentic way through LAUNCH. I would definitely recommend this Challenge to students who want to be empowered and responsible for their learning."
Teachers can add value to their classrooms and empower higher levels of student learning by involving employers from their region. It can all stem from a simple email.
Resources:
---
Photos courtesy of LAUNCH.