New Designs for School
Preparing Learners to Navigate a Changing Career Landscape
September 18, 2020
Topics
Project-based Learning
Student Success
College & Career
Curriculum & Instruction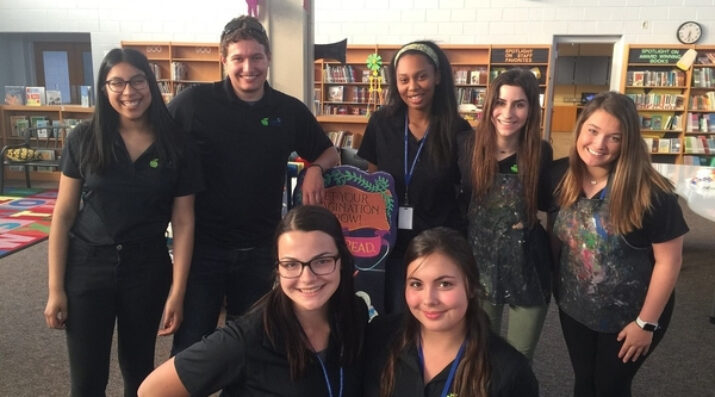 New Designs for School
New Designs for School
We've all had the experience of truly purposeful, authentic learning and know how valuable it is. Educators are taking the best of what we know about learning, student support, effective instruction, and interpersonal skill-building to completely reimagine schools so that students experience that kind of purposeful learning all day, every day.
Learn More
Practitioner's Guide to Next Gen Learning

A look into "profession-based learning" with the Center for Advanced Professional Studies (CAPS) Network.
After a career that included serving as a captain in the U.S. Army Reserves and 30 years in the telecom industry, Gregg Brown joined the Blue Valley Center for Advanced Professional Studies (CAPS) in Overland, Kansas, in 2011, first as an intern and then as a teacher. Today he is the CAPS network coordinator. Working closely with Corey Mohn, the CAPS executive director, Gregg supports schools and educators to partner with their communities and local industry to provide "profession-based learning."
From the flagship program in Blue Valley, CAPS has grown into a national network of high school programs that immerse learners in professional culture and experiences aligned to career strands like bioscience, engineering, digital media, medicine, technology, and education. Partnering with mentors from business and industry, learners in CAPS programs attend district high schools but also spend part of their days solving real-world problems, earning industry certificates and college credit, and learning the skills for success in high-skill, high-demand jobs.
For this edition of Friday Focus: Practitioner's Guide to Next Gen Learning, I spoke to Gregg and two CAPS teachers, Toyoshima "Ashley" Gray, who teaches Construction in the LRSD Excel CAPS program in Little Rock, Arkansas, and Dr. Tammy Fry, instructor for the Blue Valley CAPS Teacher Education career strand. I asked each one to take a break from their back-to-school planning to talk about:
Their reasons for joining CAPS
Their goals for learners
The kinds of experiences they offer in their courses
How they are adapting to the challenges posed by the pandemic
Real Partnerships for Real Opportunities
Gregg remembers that, after leaving his job in telecom, he originally planned to start a small business. However, a positive experience with a school-community partnership changed his mind and the course of the next decade of his career.
"I was asked to be a representative on a five-year planning project at a neighboring school district," he recalls, where he was both surprised and delighted to find that district leaders were "legitimately asking our thoughts and not just asking us to sign off" on the strategic plan. "It was super rewarding, so I went out and got my teaching certificate." After interning at Blue Valley Schools in the spring of 2011, Gregg came on board as a teacher that fall, an experience he describes as "thrilling."
One reason Gregg was particularly impressed by Blue Valley Schools was the district's bold plan to add preparation for careers to their already strong academic program. "When I started working for Blue Valley," he explains, "the district had a 99 percent graduation rate and 94 percent college enrollment, but they still redesigned their definition of success to think beyond things like SAT scores. They were adding career strands as a complementary path to academics, with high expectations but complementary ways for learners to achieve success."
The CAPS program that emerged from this mindset, he says, is built on "real work with real clients. It's about providing local, market-based opportunities; it's not about students not being able to make it in the academic sphere." Although learners do receive training in fundamental workplace skills, the expectation set for network schools and their industry and nonprofit partners is that all learners will participate in what he calls "authentic, resume-worthy experiences."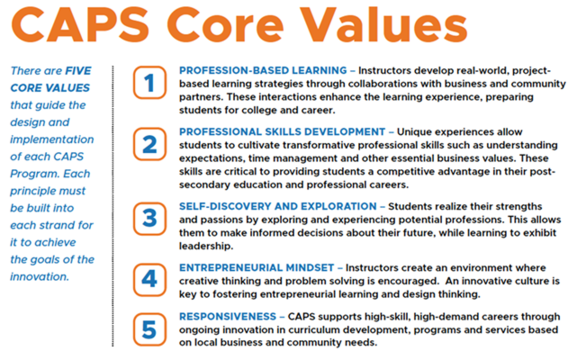 Although membership in CAPS is not based on a specific model or curriculum, all schools across the network are expected to align their programs to these five core values.
Offering high-quality, profession-based learning during the pandemic has been a challenge, Gregg acknowledges, but he gives credit to CAPS teachers' creativity and "great mindsets to offer as optimal a learning experience as they could." To facilitate sharing across the network, Gregg hosted virtual meetings over the summer where teachers could "get together to brainstorm solutions with peers and prepare for learning in the fall."
In spite of the difficulties, especially in hands-on career strands like medicine or manufacturing, Gregg is finding that business and industry partners have been extremely supportive. "They are not regressing to what is familiar. They see an even greater need for connections and are not deferring the work of partnering with our schools."
What's more, Gregg points out, learners are still having opportunities to meet adults outside of the student-teacher relationship, even if it's not in person. "We used to teach them to shake hands," he says, "but now they are learning how to do a Zoom meeting." Gregg adds that, in today's workplace, virtual experiences are authentic experiences. "Even before the pandemic, you saw less of the big corporate office—everybody is working remotely, so we are emulating what is happening already."
Character and Construction
Before joining the CAPS program in Little Rock School District, Toyoshima "Ashley" Gray was working as a manager at Home Depot, where she held multiple positions over 14 years, including managing and supervising in kitchen and bath, freight, and plumbing. In those roles, she says, she ran training and developed many skills relevant to teaching, but she had not thought of education as a career.
As Ashley tells it, that changed two years ago, when she served as PTA president at the district elementary school her daughter attended. "I saw how the school operated, how the students responded, and how passionate they were. I also saw their mentality of 'do whatever you need to do' for students. So one night I got off of work, opened my computer, and looked for any open position. I saw this one—for the CAPS Construction strand teacher—on the day the application was due."
As the Construction Technology teacher at LRSD Metropolitan Career-Technical Center, Ashley considers her position as "a gift to me. I love working with people. What could be a better job than helping students who want to pursue a construction career?"
Learners in the Construction strand of LRSD's CAPS program (called "LRSD Excel") earn certifications in construction from the National Center for Construction Education & Research (NCCER), in carpentry, Occupational Safety and Health Administration, (OSHA), construction management, and technology. According to Ashley, her strand encompasses preparation for careers like architecture and mechanical engineering, as well as for roles like general contractor, electrician, plumber, or carpenter. In addition to industry certifications, students can also earn college credit, such as for an Applied Science degree through Caterpillar's Think Big program.
Alongside gaining content and skills for their certificates, learners work closely with companies and professionals from the local community on real-world projects. As detailed in LRSD Excel's comprehensive Internship Handbook, local businesses can request a project and partner with students to complete it. Last year, for example, Ashley's students worked with Baldwin & Shell Construction Company to remodel a construction site trailer. Students worked side by side with adult experts using professional grade tools, equipment, and materials donated by Baldwin & Shell, Home Depot, and other industry partners.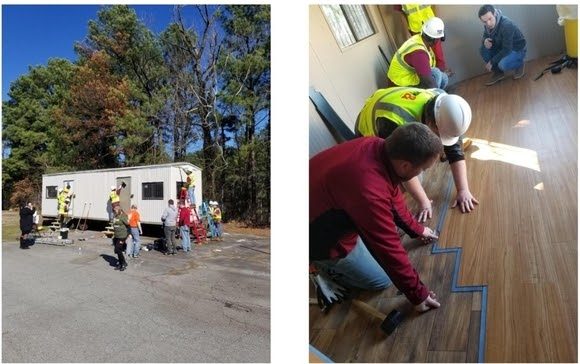 Learners in the CAPS Construction strand learn from industry partners while working on authentic building projects. (Courtesy of Ashley Gray)
Ashley also devotes considerable time to helping students create their own visions of their future and charting a personalized path to achieve it. One of her learners' first activities of the school year, for example, is making three vision boards: personal, career, and areas of construction that interest them. "I ask them, 'What do you want to learn here? What drew you to this course?' and then I try to design that for them. Whatever their vision is for the future, I try to help them get there and customize it just for them."
To Ashley, developing personal and leadership qualities are as essential for future success as workplace skills and knowledge. "'Be the leader you would follow' is the theme of my classroom," she says. "Be courteous, trustworthy, humble, empowering, and generous, especially with your time—to help others."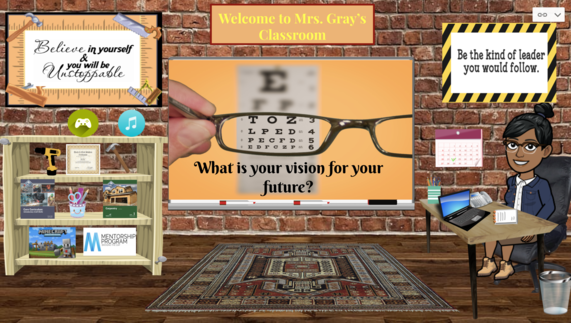 Ashley's approach to teaching construction encompasses building leadership capacity along with workplace skills and knowledge. (Courtesy of Ashley Gray)
According to Ashley, one way to support positive character development is to facilitate learning experiences that align to student interests and strengths. To illustrate, she tells the story of a learner last year whom she describes as "a natural-born leader. He had great potential, but he liked to keep the other students entertained and knew exactly how to inspire the worst behavior from other kids. Once he got engaged in projects, he discovered a passion for painting, and it changed him. A painter from the local union mentored him, and everything fell into place. His whole attitude changed. When the school closed in the spring, he actually told me he missed my class."
In spite of school closures due to the pandemic, Ashley feels fortunate that profession-based learning in her strand has continued without too much disruption. For one thing, she notes, much of the industry certification curriculum is online. Though last spring's culminating experience—the annual leadership summit—was postponed, plans are in the works to create video presentations so learners in the LRSD Excel CAPS program can showcase their work.
As for the hands-on projects with industry professionals, Ashley is pleased to report that, "This year, a lot of partners are willing to be flexible—to do either virtual delivery or come to the school. Home Depot has offered to come in and do workshops on projects like installing doors and windows and building a shed. Baldwin & Shell still plans to have the office trailer onsite, so students can work on small projects." Other partners plan to send videos about careers and roles in their industry or meet with students via Zoom. "They really want to maintain the mentoring relationships," Ashley says.
Edupreneurs for the Future of Teaching
For 37 years Tammy Fry has been an educator at all levels, from elementary school to higher education. When she took on the role of instructor for Blue Valley CAPS' Teacher Education strand in 2009, the program was still only in outline form. Originally a teacher of Communication Arts at the secondary level, Tammy has always been enthusiastic about the potential of technology to make learning more authentic and personalized.
"When I learned about the new program, I was really jazzed," she recalls. "I've always had a passion for education, education technology, and teacher training, and this was a way to draw all of those things together and have an impact."
According to Tammy, the goal of Blue Valley's teacher strand is to create "edupreneurs" for the future of education. "My vision is not of a specific model, but that my students will continuously rock the boat, look for the next things, and never be satisfied with the way things are," she explains. Her objective is for students to enter the profession feeling prepared and confident. "Teaching is an art," she says, "but you can hone your skills."
To that end, Tammy's approach to teaching aspiring teachers combines identity and mindset work, pedagogy and education philosophy, and making real-world connections to younger students, fellow educators, and thought leaders in education innovation. "I want our students to be immersed in all aspects of teaching," she explains.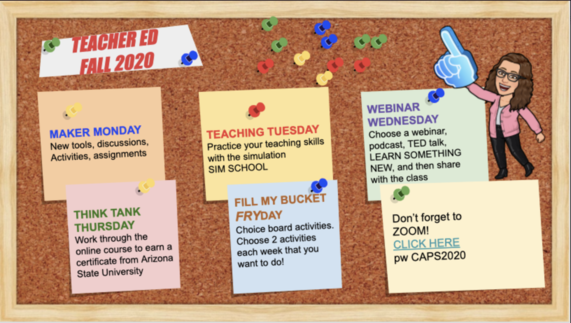 To provide learners with some structure and consistency during the pandemic, Tammy has implemented this weekly schedule of learning modules for the coming semester. (Courtesy of Tammy Fry)

Using personality and strengths inventories like the Indigo Assessment, for example, learners in the education strand come to "know who they are, what their leadership skills are, and reflect on their persona as a teacher," Tammy explains. To understand and shape what Tammy calls their "teacher identity," learners in her courses also engage with ideas from education innovators like Kwame Sarfo-Mensah, an expert on teacher self-exploration and empowerment as change agents.
In addition, Tammy serves as an advocate for teaching as a career. Through inspiring videos like "Be a Mr. Jensen," Tammy demonstrates the lifelong impact teachers can have on young learners. "They hear a lot of negativity about education, and I want to pump them up about the profession," she says. "I tell them that, although I may thank my banker or the man who puts on my muffler, I never tell them they changed my life. But I have done that with my teachers. Teachers do change lives."
Working in tandem with developing their identity and education philosophy, the learners in Blue Valley CAPS' Teacher Education strand learn the practical skills of teaching. Tammy describes how her aspiring teachers use CAST's Universal Design for Learning lesson-builder to create lesson plans for use in district elementary, middle, and high schools.
Learners also earn certificates—like Apple Teacher and Microsoft Education credentials—as well as college credit (in conjunction with Baker University). Earning postsecondary credit while in high school, Tammy points out, allows CAPS learners to bypass some of the foundational coursework required in teacher preparation programs. Over the course of the two years they spend in the Teacher Education strand, each learner also creates an online portfolio of artifacts, including a resume, sample lessons, observation logs, and credentials they've earned.
Learners in the program organize events like literacy nights at elementary schools, as well as teach and observe in classrooms in person, via Skype, Zoom, or Google Meet—or even using a robotic double to work virtually with elementary students in a town two hours away. In addition to providing school-based experiences, Tammy exposes her learners to other roles in education and supports them to build professional networks for the future. For example, learners engage in Twitter chats with thought leaders and are encouraged to reach out as peers and give feedback to adult professionals. "I tell them that there are lots of people working at the national level, and you have a voice to connect with them."
One of the highlights of each year, Tammy reports, is learners' participation in Educators Rising, a national and local student-led organization focused on teacher development and diversifying the teacher workforce. To illustrate their level of engagement, Tammy lists the wide variety of roles learners from Blue Valley CAPS play at the annual Northeast Kansas Regional Educators Rising Conference, including "presenting, organizing speakers and prizes, performing skits to open the conference, soliciting funds, emceeing events, and providing logistics, signage, and marketing support."
Even in the midst of the constraints imposed by the pandemic, Tammy is upbeat about the possibilities for the coming year. Although in-person teaching, observations, and internships are on hold, she and her young edupreneurs are finding creative ways to use technology. One tool she'll be employing in her classes is SimSchool, which uses teacher avatars, virtual students, and artificial intelligence to track and report out teachers' strategies. She also plans to substitute videos of professional educators for observations and facilitate virtual convenings with aspiring teachers from other schools in the CAPS network. Tammy gives credit to her students for coming up with some of the best ideas. "I am very transparent with them that this is teaching in crisis, and we are all learning together."
Resources
For more information about the why and how of connecting learners to the wider community, check out these previous editions of the Friday Focus: "Learning for Success in the Real World" and "Who You Know: Building Students' Social Capital."
---
Photo at top courtesy of Tammy Fry.