New Designs for School
Learner Profiles and the Progression of Personalized Learning
January 22, 2020
Topics
Personalized Learning
Change Management
Tools for Next Gen Learning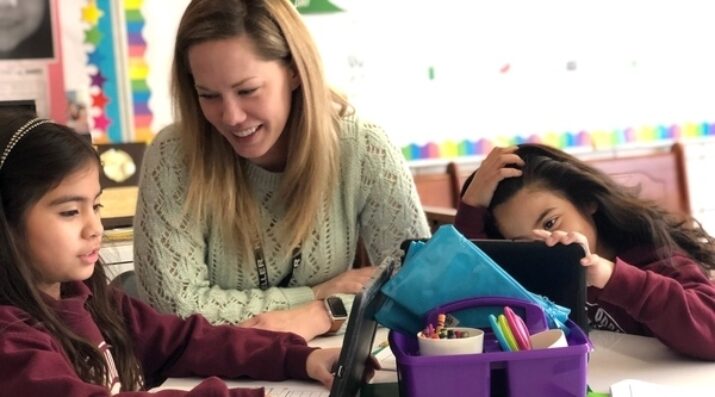 New Designs for School
New Designs for School
We've all had the experience of truly purposeful, authentic learning and know how valuable it is. Educators are taking the best of what we know about learning, student support, effective instruction, and interpersonal skill-building to completely reimagine schools so that students experience that kind of purposeful learning all day, every day.
Learn More
Learner profiles give teachers data that reflect the children they serve while simultaneously giving students the opportunity to share who they are and who they hope to become.
Personalized learning is all about truly understanding the students we serve. While knowing them academically will always be foundational, we also need to know and respond to the whole child to provide a positive learning experience. Understanding a child's needs, aspirations, and goals helps teachers to create safe and joyful learning environments that support a wide range of personalities and experiences. Learner profiles give teachers a way to capture qualitative and quantitative data reflective of the children they serve, while simultaneously giving the students the opportunity to share who they are and who they hope to become.
Claire Kreller, 2nd grade teacher and K-2 instructional coach at Chicago International Schools (CICS) Irving Park, first implemented learner profiles in 2014 as part of an ongoing partnership with NGLC and LEAP Innovations. In that first year, Claire started by having conversations with each student about who they are and how they learn. She used the learner profile to capture assessment data points, primarily NWEA math and reading scores. However, Claire found that once she had entered this information, she rarely referred back to the learner profile. In essence, it became a static document that represented one moment of time instead of a 'living' document that grows and changes as a result of ongoing student conversations and collaboration. In reflecting on this first year, Claire notes that a lack of time coupled with a learner profile template that didn't align with her vision were the primary contributing factors to the minimal usage. According to Claire, "In the beginning, developing the learner profile was time-consuming and not engaging for students. They weren't interested in them and didn't feel a sense of ownership. I knew I had to do something different if I wanted learner profiles to have the impact I envisioned."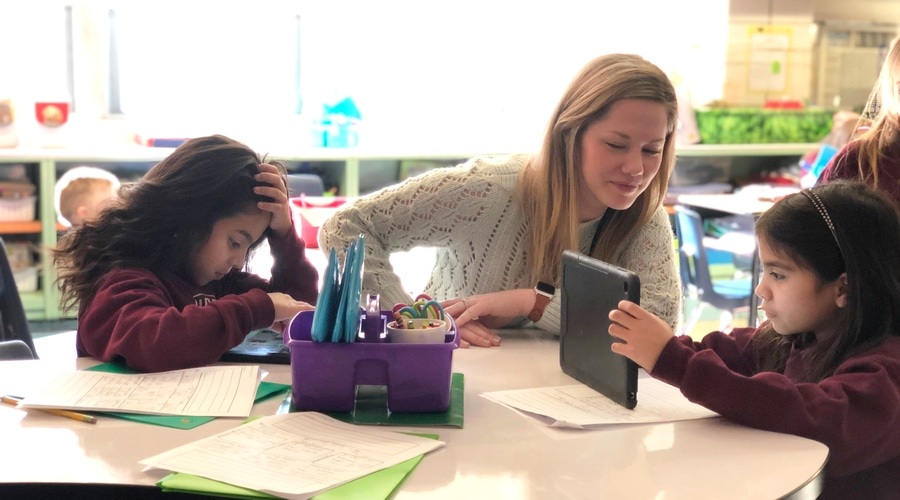 Students updating their learner profiles with support from their teacher, Claire Kreller. (Courtesy of Claire Kreller)
Each year, Claire has continued to experiment with learner profiles and, each year, has moved closer to realizing her vision. This year, Claire has found her greatest success yet using Seesaw, an online platform that allows students to create digital portfolios of their work. Seesaw also opens the lines of communication between teachers, students, and families. Since implementing Seesaw in her 2nd grade classroom, Claire has noticed an increase in student engagement and a greater sense of ownership and pride in their work.
Claire credits this boost to a few key characteristics of the learner profiles using Seesaw that were not part of the learner profiles she used in the past. By providing and encouraging parent access, and giving students the opportunity to choose how they want to showcase their learning, the profiles are far more engaging. The interactive nature of the platform has helped Claire to move the learner profile from a static document that she rarely referenced, to a key data source that helps her monitor student progress, celebrate student success, and identify student needs. She uses the platform to help students set weekly goals, to provide space for self-reflection, and to determine student groupings. Students use the tool to submit assignments and to showcase their learning in any way that works for them, such as drawing, recording a video, or writing. The student choice embedded in Seesaw is one of Claire' favorite features as it aligns to her goal of helping students understand who they are and what they need.
Claire has deepened her understanding of personalized learning and the use of learner profiles since that first year back in 2014 and I asked her to share a few key take-aways from the path she has taken. Claire offers these three recommendations:
Experiment with the tool.
Involve students.
Set weekly goals.
She suggests first, to be open to trying new things. There is no "right" way. Accept the fact that where you begin your journey is not where you are going to end. Learner profiles will change and evolve as you learn and grow, whether in how you use them to support student conversations or how the learner profile looks and functions. Often times, the most impactful insight will come from your students. "Ask questions and listen to what they have to say. Be genuinely curious and stay open to their feedback," says Claire. "The learner profile is as much a student tool as a teacher tool. If they don't understand the purpose and don't see the value, it will become just another 'thing.' Find ways to connect the learner profile to what they are learning and doing every day. Give your students opportunities to look at their information, to reflect on and celebrate their progress. Make it a part of the learning, not a separate initiative." Finally, Claire recommends that teachers set weekly goals. "Implementing learner profiles can feel overwhelming, at times. Setting incremental goals gives a sense of accomplishment and makes the process seem achievable. Each step gets you closer to goal."
Claire plans to continue to evolve her use of learner profiles, but she is proud of the progress she has made; more importantly, she is proud of the growth she sees in her students as a result. She sees the pride they take in their work, hears their honest reflection about their efforts, and enjoys seeing the different ways they choose to express their learning and thoughts.
Looking ahead, Claire is eager to move students toward even greater ownership of their digital portfolios. In the coming months, she will teach students how to post their own work and organize their artifacts into folders. "I want my students to have full ownership of the tool," she says, "to be able to look at their digital portfolio at the end of the year and be able to say, 'This is who I am.' A learner profile that affirms and reflect my students' individual identity is the ultimate goal."
---
Photo at top courtesy of Claire Kreller