Technology Tools
Outside the Boundaries: Exploring Virtual and Augmented Reality in Learning
April 14, 2017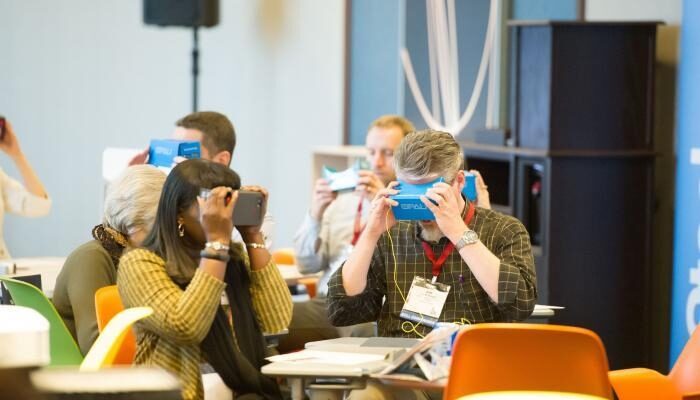 Technology Tools
Technology Tools
Educators often take advantage of educational technologies as they make the shifts in instruction, teacher roles, and learning experiences that next gen learning requires. Technology should not lead the design of learning, but when educators use it to personalize and enrich learning, it has the potential to accelerate mastery of critical content and skills by all students.
Learn More
Virtual reality, like rock n' roll, is not something that can be described well. It must be experienced in order to be fully appreciated and understood.
Virtual reality, like rock n' roll, is not something that can be described well. It must be experienced in order to be fully appreciated and understood.
Interestingly, it has been catching on among educators.
Since 2013, Emory Craig, Director of eLearning at the College of New Rochelle, and Maya Georgieva, Co-Founder and Chief Innovation Officer of Digital Bodies, have been presenting workshops on the topic. They're working with developers, researchers and educators who are embracing the immersive learning technology, which seems to be on the cusp of widespread use...as well as being on the receiving end of a lot of hype.
Around the time Craig and Georgieva began exploring this emergent medium, the arrival of Google Glass seemed to have ushered in greater popularity. Georgieva was one of the educators to experiment with Google Glass. People suddenly had a wearable ideal of what could be tapped to create an augmented reality (AR) or virtual reality (VR). The much-heralded yet now all-but-defunct product left its mark, as several key technological developments have sprung up to satisfy a new market.
One key development also came from the Internet giant: Google Cardboard. An accessible solution that was 'easy to get into the hands of educators,' Georgieva noted, it has helped to generate interest in the use of VR in the learning environment. With only a smartphone app and the inexpensive piece of cardboard, students can be transported to other worlds.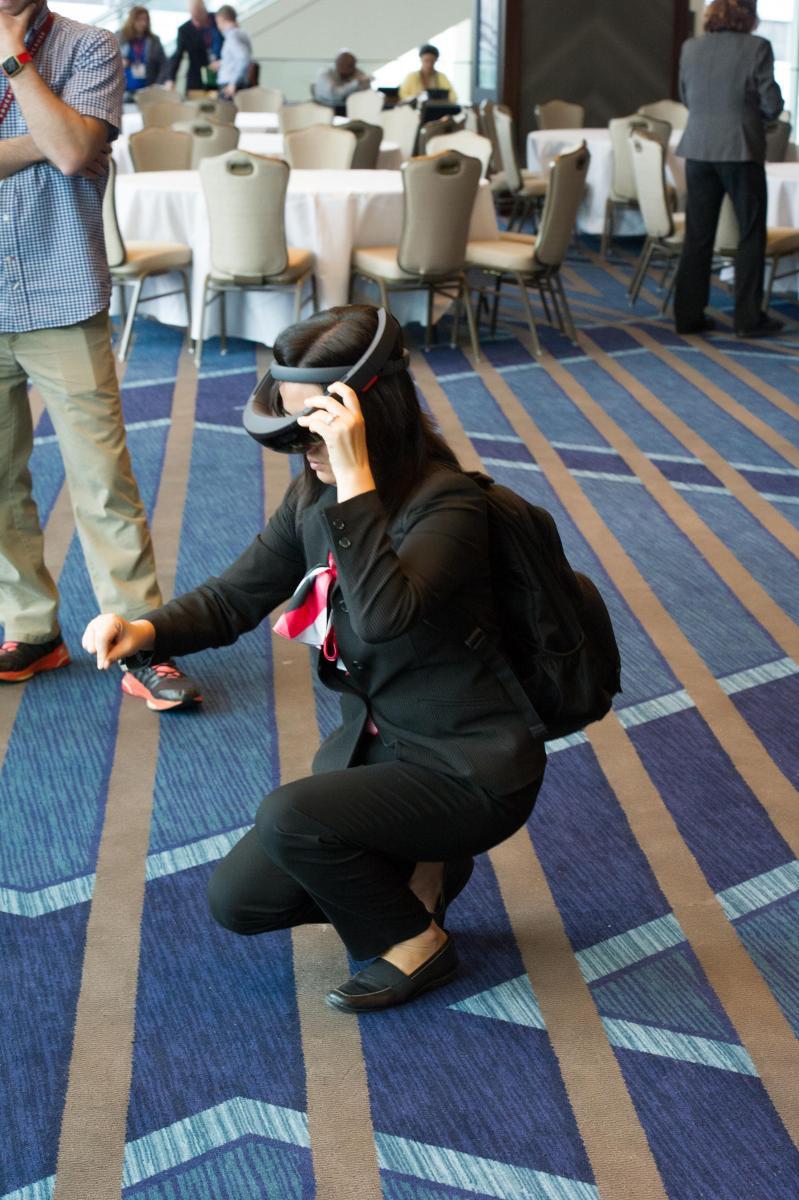 The College of New Rochelle's New York City location brought VR exceptionally close to home when the New York Times sent out an unusual promotion. Craig said, "It's fascinating that a 165-year-old newspaper—one that had recently hired a virtual reality editor—sent out this new Google Cardboard device. Some of our students live in buildings with older folks who subscribe to the paper, and couldn't see a use for the product—so they gave them to their college-aged neighbors."
Craig taught a New Media and Society seminar that made use of virtual reality in 2015. Students researched how VR will change work environments through training simulations and first hand experiences. Students saw it as a transformative development and raised profound questions about digital literacy in the future.
If one of the world's oldest and most respected news outlets has embraced VR, shouldn't academia head in the same direction? "This technology has incredible power to engage students, promoting curiosity and creativity—we've seen this firsthand," Georgieva explained. She believes that a great opportunity exists for educators as well.
"I'd like to see VR used in ways we have not been able to do with other tools in areas of experiential learning, data visualization, storytelling, prototyping and more. A generation growing up on new media is coming of age and immersive technologies are one of the new ways we will engage them." Georgieva said. "What's most telling to me is that students are much more excited by VR than faculty. My message to educators is simple: Look for places where we can bring new perspectives through immersive learning in VR and MR. Consider it an open canvas where we can create stories and bring a sense of presence and immersion for students. VR is not just about seeing the world differently, but experiencing it differently."
Like Craig, Georgieva cautions that this is indeed a new medium, and ought to be considered contextually. "You can't take the frameworks we use for flat video and apply it to VR and immersive experiences…that doesn't work," she said.
Most recently, the duo presented at EDUCAUSE Learning Initiative Annual Meeting in Houston, Texas. Actually, 'presented' might not be the right word. They led educators and technologists through a curated experience in the event's first-ever Virtual Reality Playground.
"When it came to ELI, our approach was: instead of talking to people about the possibilities and challenges, let's set up a series of playgrounds of experiential learning," Craig said. "We've all seen and heard others talking about something at a conference versus actually collaborating."
The space, which featured furniture from conference sponsor Steelcase, was "incredibly helpful and versatile," Craig noted. The Steelcase furniture promotes active learning and engagement. It brings a level of flexibility and encourages exploration which perfectly matched our session's objectives.
Many discussions ensued; attendees were intrigued, and motivated to learn more.
Craig continued. "We've been through the mobile revolution; education was largely caught unaware by that. The release of the first iPhone was transformative. Frankly, we're still having discussions about integrating mobile devices into our classrooms. So we find ourselves at a point where we're still digesting this, and we're facing the cusp of something radically new: immersive experiences through virtual and augmented reality. Educators want to be on the forefront of this effort rather than playing catch-up."
"ELI has this atmosphere of experimentation to it and willingness to discuss these topics," Craig added. "It was an ideal place to try this out."
"Since ELI, participants in the Virtual Reality Playground have continued the conversation through calls, emails and social media. It has been wonderful to witness the interest in immersive VR and MR experiences grow over the past months. There are sceptics but it is important to remember that VR/MR is in its nascent stage and we are still developing the language. It will be interesting to watch how Higher Education will respond to these new opportunities." Georgieva said. "A lot of outreach has happened; people are really interested in bringing VR to their campuses. It's a significant proofpoint. Some consider it part of a makerspace, or within the context of a specific discipline. But the technology is reaching that level where people see it becoming easier to explore on campus."
While Georgieva notes that VR may require staff members with specific skill sets, which might make campus adoption more difficult to reach, she confirms that not just the notion of VR but the technology itself is arriving on campuses across the U.S.
"There's a high level of interest—not only from technologists, but from programs including art, design, the social sciences, humanities and STEM. The thinking is that this format will offer new ways for creative expression for students, and new ways to provide engaging experiences. The tools are now becoming available for students to become producers. We're seeing these conversations reaching another level."
While content is still being developed, there is still a shortage of quality and relevant experiences for education." At the same time, Georgieva reports that "some of the journalistic content is applicable to a variety of disciplines."
Having access to 3D and immersive worlds can make a huge difference for practitioners, who enable students to experience different careers in medicine, social work, and other areas of study.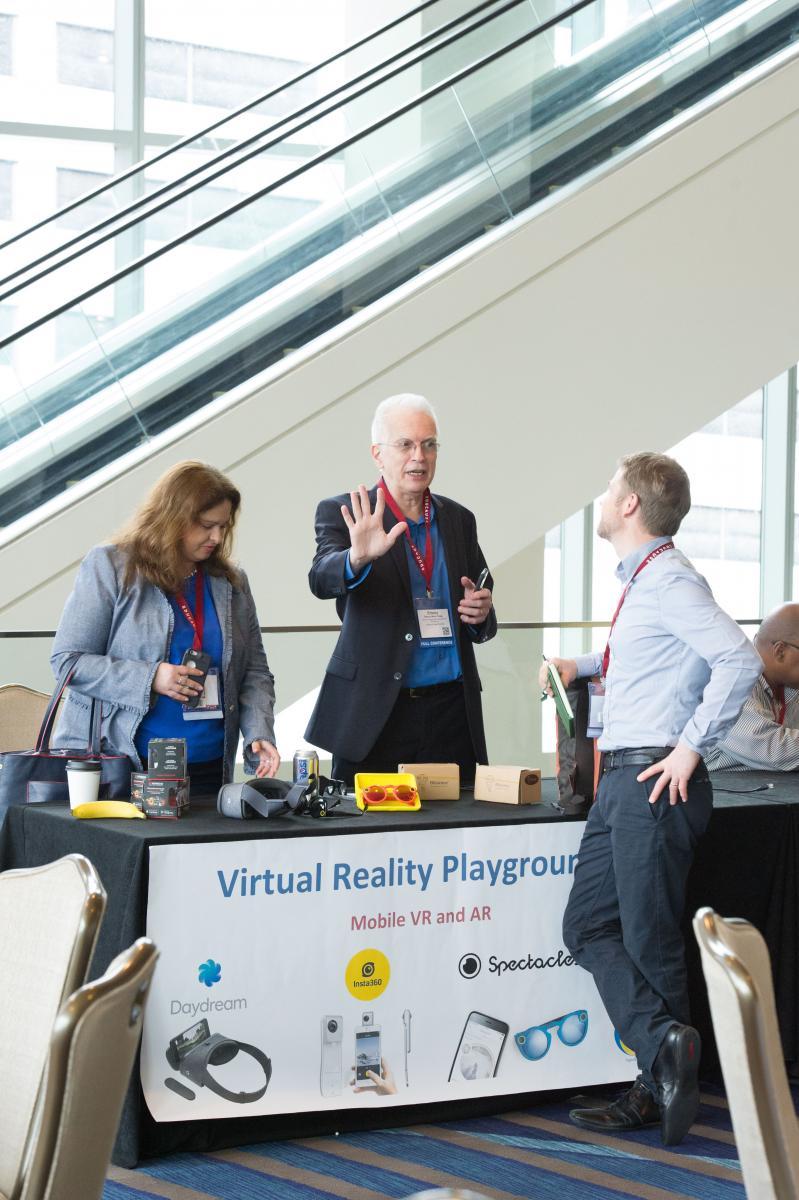 With a background in digital literacy and storytelling, Georgieva can attest to the value of AR and VR in boosting creativity in the classroom. "Imagine students being able to really demonstrate their work in a 3D world. This leads to powerful new forms of storytelling. As VR and MR continues to evolve so will the stories we can create. Our mission is to push the boundaries of the medium to move beyond the known formats and deliver on the promise of truly transformative learning experiences."
It's also a shortcut to exciting possibilities, she says. "Students can learn how to prototype their designs in a way that shortens what was previously a semester-length span for innovation."
Craig agrees. "The technology itself is absolutely fascinating, but in the end it'll be about how we structure narratives around it, and how we engage people both within and outside of it," he said. "VR and AR will ultimately converge into mixed reality devices that will incorporate AI engines. With VR, we're at the cusp of a revolution that will redefine not just media, but the very nature of human experience. Learning will become social, personal, visual and highly mobile; it is one of the developments that will transform our current model of education."
ELI members have the chance to learn more on May 1, as Craig and Georgieva present an exclusive webinar on the topic titled Virtual and Augmented Reality: Stepping Into the New Frontier of Learning.