Why Schools Need to Change
Purpose and Problem-Solving: Developing Leaders in the Classroom
April 14, 2022
Topics
Project-based Learning
Leadership
Curriculum & Instruction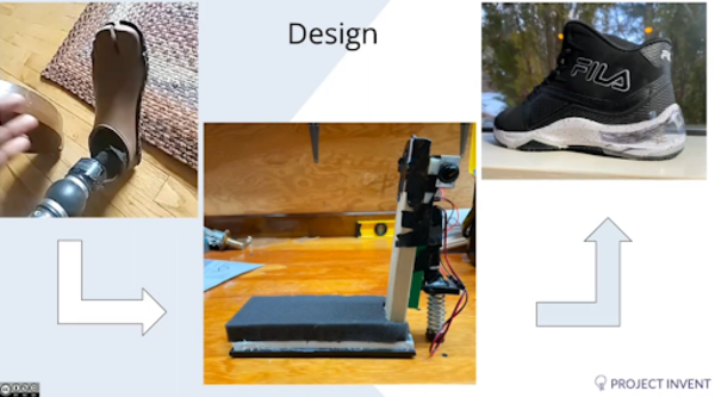 Why Schools Need to Change
Why Schools Need to Change
Today's learners face an uncertain present and a rapidly changing future that demand far different skills and knowledge than were needed in the 20th century. We also know so much more about enabling deep, powerful learning than we ever did before. Our collective future depends on how well young people prepare for the challenges and opportunities of 21st-century life.
Learn More
"Purpose is a stable and generalized intention to accomplish something that is at once meaningful to the self and consequential to the world beyond the self"
–Bill Damon, Professor of Education, Stanford University
As an educator, my purpose is to nurture and develop young talents. While I have been teaching for over a decade, I only articulated my purpose as an educator last year during my master's program in technology leadership while learning to integrate technology, strategy, and leadership. Coincidentally, I became a Project Invent fellow at the same time, which only served to embolden my sense of purpose. Clarity of purpose is a vital leadership quality that shapes my experience and something I believe ought to begin every teacher's leadership journey. While one's articulation of purpose may change over time, there's something quite powerful and differently effective about writing down and reading out loud your purpose statement. In the following reflection, my goal is to share how I approach my development as an educator and a leader as one and the same and how my experience with Project Invent's design thinking curriculum represents a continuing education in leadership.
Developing a Leadership Identity
As I work toward establishing my leadership identity and persona as an educator, I find myself reflecting on Sun Tzu's Art Of War in which he described "Leadership [as] a matter of intelligence, trustworthiness, humaneness, courage, and discipline." Additional discourses from the likes of Thomas Carlyle, Tolstoy, and Plato have all helped me arrive at an understanding of leadership as a function of nature, nurture, and situation. In addition to clarity of purpose, other leadership qualities must be deliberately nurtured through training and cultivated through practicing acts of leadership. I believe an effective leader empowers others and recognizes situations when the act of leadership is, in fact, letting others lead. This summarizes the core takeaway of my "teacher as a leader" philosophy.
In 2021, I applied to Project Invent's educator fellowship, hoping to reinforce my leadership identity as an educator. Project Invent is a nonprofit organization that trains educators in six key teacher practices, each aimed at empowering students with the mindsets to become fearless, compassionate, and creative problem solvers. As a Project Invent Fellow, I have made significant progress in mastering these six teacher practices:
Make failure okay
Push to the next level
Be a co-learner
Let students take the wheel
Leave room for exploration
Challenge assumptions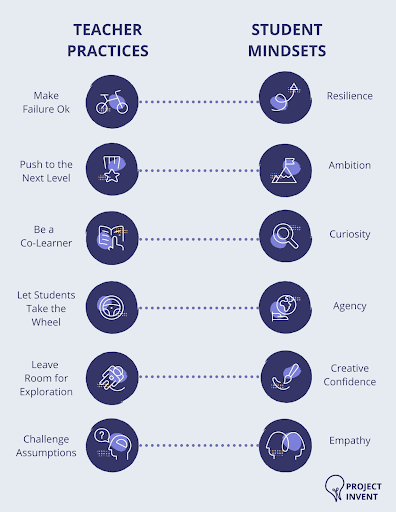 Courtesy of Project Invent
Leadership in Practice
Each of these teacher practices can occur independently but are often interrelated. Deliberately committing to one can undoubtedly lead to others. For example, being comfortable with being a co-learner allows space for leaving room for exploration of alternatives. Openness to the possibility of new alternatives begets making failure okay and also encourages letting students take the wheel and drive the process, while the teacher-leader nudges them to push to the next level. Of course, the order of these is not fixed.
I teach computer science at Pierrepont School in Westport, Connecticut. My Project Invent student teams come from two classes of juniors and seniors, who originally signed up for an Applied Data Science course. We began our journey in the second semester in January, after which the students were informed that their course name had changed from "Applied Data Science" to "Essential Skills of the Emerging Economy" which has two parts: "Critical Reasoning & Storytelling with Data" and "Human-centered Problem-solving." These are the only details my brave students had to work with. Needless to say, students had to be open-minded about how the journey would shape up. After all, it is not the first time that I would modify course requirements to marry interests and new opportunities that would benefit my students. I enjoy such flexibility and reasonable autonomy at my school; I also enjoy the flexibility and reasonable autonomy of learning as I teach. I am comfortable admitting to my students that I have absolutely no idea how to solve a challenge that I assign them, but assure them we can figure it out together… and we always do.
In January, the challenge was dauntingly ambiguous: We were going to invent a new technology intended to positively impact members of our community. Given their awareness of how little I knew about what we might need, or how to invent anything for that matter, students had to buy into taking a journey with an uncertain destination together. My job as a co-learner was to make sure to emphasize that it was all about the journey, the lessons, and the fun we have; and not necessarily the end. The humility and willingness to be a co-learner with students in the driver's seat have served me very well throughout my journey as a teacher, and I can not begin to describe the gratification of learning with and from students and seeing them rise to the challenge. This time, however, we had access to a community of resources, fellows, and mentors through the extended Project Invent team, who made it even more reassuring despite the many unknowns. From the onset of our journey, my students demonstrated creative confidence and trust in one another (most of the time) and our system as a class. Together as a team, we were ready and excited for the journey.
"Coming into this class with a limited computer science background, I was a little intimidated to embark on a project that had the potential to create such a big and meaningful improvement in our community. However, as I grew more comfortable with my team, my fears eased. I was able to develop from a quiet listener to a confident doer, not only for the duration of this project but also in my longer-term data science pursuits."
–Alexis Bienstock, Pierrepont School Junior
Project Invent as Context for Leadership Development
Human-centeredness brings a new dimension to problem-solving. It helps to establish and define a worthy purpose. My students and I began our journey on our Project Invent experience by getting to know our "client" Roderick Sewell, a Paralympic athlete and swimmer, as a person—what he enjoys doing, how he got to become a serious athlete, and what his goals and aspirations are. We focused on his abilities, accomplishments, and strengths. This set the stage for helping us—students and teachers alike—cultivate mindsets of empathy and curiosity. It is this empathic curiosity that would eventually lead to two Project Invent teams of ambitious students, who set out to address Roderick's expressed challenges of lower back pain and efficient switch from running to walking legs:
"Because there's nothing to absorb the load except for my lower back…If there was a little more cushioning on the soles to absorb the impact, then everything would be even more doable."

"I can't really run with my walking leg. One question that I always have is if something happened, how fast would I be able to get up and get away?"

–Roderick Sewell
Team SNAILS, a team of one senior and five juniors, proposed and prototyped an invention they called Quick Switch Support Shoe ("QS-cubed"), a multifunctional prosthetic foot support with adjustable springs to minimize back pain and maximize run-walk efficiency for their community partner.
Team Pierrepont Innovators with three seniors and four juniors had the ambitious goal of completely redesigning Roderick's prosthetic ankle with a dashpot or snubber mechanism and incorporating more effective shock-absorbing materials. They wrestled with disappointments as they came to terms with reality and time constraints, and the team eventually demonstrated resilience and agency as they made a pivot to capitalize on their research of Shock-absorbing materials. They developed a pitch to prosthetic companies which can incorporate their research insights to further possible impact.
The larger purpose of our 10-week journey into design thinking was our connection with Roderick's expressed discomfort. This purpose shaped our introduction to need-finding, synthesizing and ideation, idea selection and prototyping, prototype refinement, and pitching. Students persevered through their fears, disagreements, and disappointments; they made it work because they did not think it was about them but rather about what they could contribute to support Roderick.
"Our community partner Roderick Sewell is the first bilateral above-the-knee amputee to finish the IRONMAN World Championship. As a serious athlete, he needs to feel his best to perform his best—and that's our charge!"
–Team Pierrepont Innovators
"Working on Project Invent provided me with an appreciation for Roderick Sewell and the time I spend with my classmates. The opportunity to learn Roderick's story as we worked with him to develop solutions to his lower back pain proved to be the most rewarding part of the process."
–Hagen Feeney, Pierrepont School Senior
Understanding the Journey
"He who has a why to live for can bear almost any how."
–Friedrich Nietzsche
By default, as educators we teach process; learning to solve problems in several different ways is central to our training, and sometimes that dominates our lessons to students. The Project Invent experience helps educators and students alike to prioritize the "why" and "what" of our learning over the "how." The Project Invent experience added the very essential element of "purpose" which helped my students and me push the boundaries of the typical project-based, creative problem-solving classroom experience. Indeed, such an experience only thrives in and helps to foster a culture of caring, purpose, learning, and enjoyment (all in the dimension of flexibility to respond to change)—the kind of culture espoused by our school, Pierrepont culture! Through our experience with human-centered problem-solving, students and teachers alike have cultivated practices and mindsets that are necessary to become leaders.
Every Leader Needs a Community and a Support System
"Leadership without support is like trying to make bricks without enough straw. True leaders reinforce their ideas and plan with strategic partnerships, alliances, and supportive audiences."
–Reed Markham, Ph.D.
In addition to the Pierrepont culture that presented a fertile soil for the teacher practices and students' mindsets we needed, the Project Invent community and support system were so important for us. I recall the confidence boost and reassurance from our first session with a volunteer expert, Valerie Peng, an engineer who builds robots for a living. Not only did my team get to soak invaluable information that was relevant for advancing our project, but we were also all inspired by the passion with which she shared her work with us. Similarly, I found renewed strength and motivation with each conversation with Project Invent staff members and other fellows. In our shared space as educator-leaders, my co-fellows and I were able to explore possible solutions to shared challenges like keeping students motivated through their fears and disappointments, navigating operational logistics and schedule challenges, etc. I am indeed grateful for such a community as it helps to know you are not alone.
Beyond the Classroom
The teacher as leader practices cultivated during my Project Invent experience has affected my work beyond Pierrepont. With clarity of purpose and the necessary focus on impact and human-centeredness, my data science consulting company has embarked on a renewed mission to diversify the data science workforce and bridge the gap to full and equal participation in the emerging digital economy through InclusionBridge. Indeed, the Project Invent experience provided a complementary lens for me to refine my purpose—my journey—of nurturing and developing young talents through problem-solving and meaningful learning experiences. I enjoy creating and facilitating opportunities to help students become fearless, compassionate young leaders.
---
Image at top is a slide from the student project presentation by Team SNAILS, Pierrepont School.