New Designs for School
Science Leadership Academy: What Will You Create Today?
June 26, 2016
Topics
Personalized Learning
Project-based Learning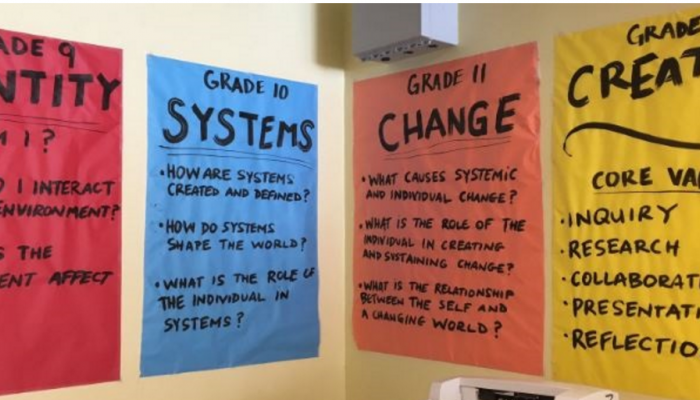 New Designs for School
New Designs for School
We've all had the experience of truly purposeful, authentic learning and know how valuable it is. Educators are taking the best of what we know about learning, student support, effective instruction, and interpersonal skill-building to completely reimagine schools so that students experience that kind of purposeful learning all day, every day.
Learn More
Practitioner's Guide to Next Gen Learning

The capstone and individualized learning plan projects at SLA allow students to craft a project that reflects their unique interests and goals.
Science Leadership Academy (SLA) is a selective district high school that opened in September 2006. "How do we learn?" — "What can we create?" — "What does it mean to lead?" These are the three essential questions that form the basis of instruction at SLA.
SLA is built on the notion that inquiry is the very first step in the process of learning. Developed in partnership with The Franklin Institute and its commitment to inquiry-based science, SLA provides a vigorous, college-preparatory curriculum with a focus on science, technology, mathematics, and entrepreneurship. Students at SLA learn in a project-based environment where the core values of inquiry, research, collaboration, presentation, and reflection are emphasized in all classes.
As part of a school tour of three innovative Philadelphia high schools last month, a group of NGLC educators were fortunate to participate as audience members when students presented their Capstone and Individualized Learning Plan projects.
"We don't teach subjects at SLA we teach students." —Jeremy Spry, Program/Excellence Coordinator, Science Leadership Academy
Senior Capstones - A Culmination of Studies for 12th Graders
The Capstone Project at SLA is an opportunity for students to demonstrate the culmination of their intellectual growth in high school. As with everything at SLA, the projects embody the school's core values. The capstone represents a synthesis of the SLA mission and vision as students attempt to answer the questions: "How do we learn?" "What can we create?" and "What does it mean to lead?" through a self-selected and self-designed independent project.
The final product looks different for each student, just as each student has a unique perspective and approach to learning. Together with their capstone advisory panel, students have the freedom to design a project that reflects their unique, individual interests.
Through the Capstone Project, students leave SLA with an original piece of work showcasing their skills of inquiry and investigation of a topic of interest. During their four years of high school, students move toward becoming independent and self-directed learners who can contribute meaningfully to their community. Students adopt an interdisciplinary approach and demonstrate a complexity of thought about their chosen topic, both during the proposal phase and as they execute the project.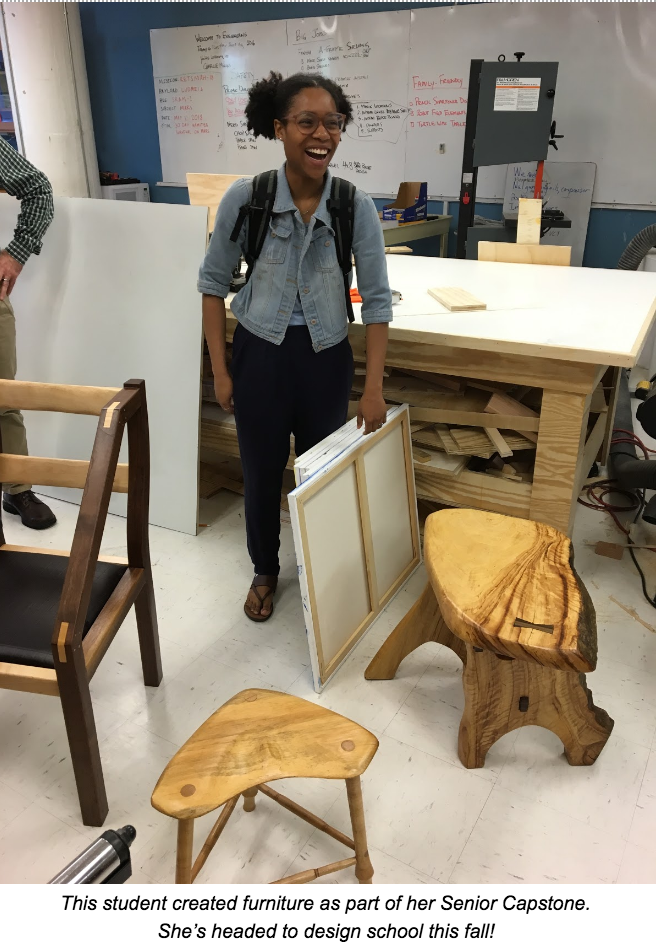 Individualized Learning Plans - Real-World Experiences for 10th and 11th Graders
The Individualized Learning Plan (ILP) Program engages students in real world work by giving them the opportunity to develop and answer questions about their career goals, gain real working experience with adult mentors, and extend the classroom into the city of Philadelphia. Tenth and eleventh grade students write their own ILP learning goals focusing on an area of personal interest and they select a site where they can achieve their goals.
Students dedicate time Wednesday afternoons to their ILP. The ILP Program partners with more than 100 site hosts throughout the city including universities, museums, hospitals, small businesses, K–8 schools, and community organizations.
Students' experiences are as varied as the partners who host them. Through the ILP Program, students have volunteered at the Veterans Affairs Hospital, The Franklin Institute, the Mütter Museum, and the Academy of Natural Sciences. Students also volunteer at law offices, day cares, and K–8 schools throughout Philadelphia.
Resources
SLA Resources
Curious about other innovative Philadelphia high schools? Read about our visits to the Workshop School, where we attended student presentations of their Gateway Project portfolios, and Building 21, where we learned about the school's competency design and dashboard.