New Designs for School
Startup Weekend EDU D.C.: Next Gen Schools
December 6, 2015
Topics
Design Thinking
Tools for Next Gen Learning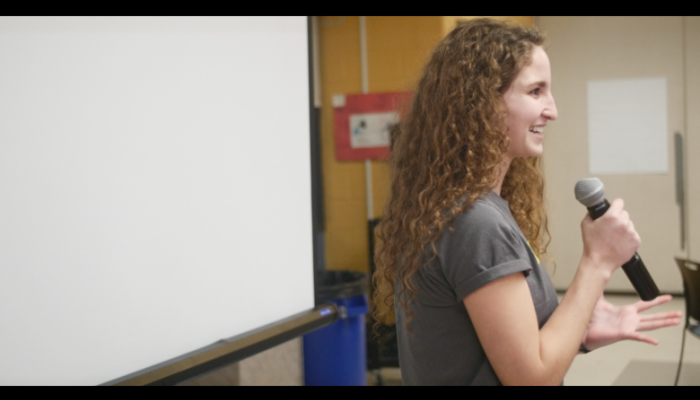 New Designs for School
New Designs for School
We've all had the experience of truly purposeful, authentic learning and know how valuable it is. Educators are taking the best of what we know about learning, student support, effective instruction, and interpersonal skill-building to completely reimagine schools so that students experience that kind of purposeful learning all day, every day.
Learn More
At Startup Weekend EDU D.C., innovators are pitching ideas for next generation schools and drawing inspiration from pop-up diners and food trucks.
Editor's Note: This post originally appeared on edinnovationdc.org on December 5, 2015.
And go … Pitch Night rocked at Startup Weekend EDU D.C.: Next Gen Schools!
Eight Startup Weekends kicked off last night across the world. Here at ours in D.C., 30 intrepid individuals stood up to pitch their ideas to a packed room. But instead of business or tech ideas, we heard pitches for next generation school ideas. Instead of a conference room, we were in the cafeteria at Columbia Heights Educational Campus. Instead of coders, we had educators.
We heard about interdisciplinary studies, arts integration, teacher-organized schools, and service learning. We heard about Maslow's hierarchy, the need for student voice, testing beyond reading and math, and making use of community resources outside of school walls. We had classroom teachers, charter school leaders, folks from the federal Department of Ed, and—for one of the highlights of the weekend—a high school senior.
Everyone voted on the best ideas and ten teams formed. They now have 54 hours to develop their idea. On Sunday afternoon, they will present to a panel of judges.
If you had 60 seconds to summarize how school can be different and serve all students, what would you pitch?
Low cost prototyping, or, what can educators learn from bulgogi tacos?
Thanks to Matt Candler at 4.0 Schools in New Orleans, we have a new mental model for prototyping ideas in education. Drawing from his extensive gastronomical experience, Matt urged the participants of Startup Weekend EDU D.C.: Next Gen Schools to start thinking about education prototypes like pop up dinners and food trucks:
It makes sense. Instead of the typical new school design process that takes many years, millions of dollars, and an extensive strategic plan gathering dust as soon as kids walk through the doors, why not start today with an idea and take it directly to families and students?
Start small like a pop up restaurant. Run a sample class at a community center or inside an existing school. If you are ready for the next level of investment, think: food truck. What next level of infrastructure or materials can you prototype out on the road? Multiple sites or multiple groups of students?
TaKorean, a local D.C. food purveyor, has food trucks and a stand at Union Market. They have grown by proving their concept each step of the way.
The teams at Startup Weekend EDU D.C.: Next Gen Schools will be judged on Sunday by their prototyping today. It's time to get out of the building and road test your ideas.
Could you be the TaKorean of schools?
That's how SWEDU it! How do you do it?