Professional Learning
Summit Public Schools CEO Shares Insights with Next Gen K-12 Pioneers
January 20, 2015
Topics
Personalized Learning
Leadership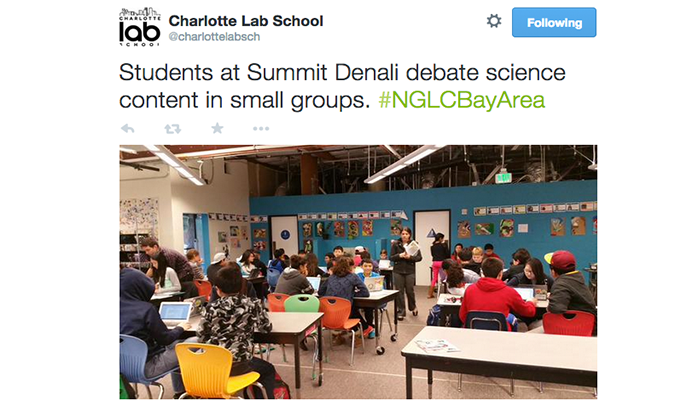 Professional Learning
Professional Learning
Educators are the lead learners in schools. If they are to enable powerful, authentic, deep learning among their students, they need to live that kind of learning and professional culture themselves. When everyone is part of that experiential through-line, that's when next generation learning thrives.
Learn More
Find out how one forward-thinking Bay Area school system manages student engagement, academic success, parent communication, and more.
Spending a week in the Bay Area in January would be a wonderful visit all on its own—but the fact that I was able to visit and learn about leading school models like Summit Denali, Alpha Public Schools, and Design Tech made it an especially fantastic one. I'd like to share some insights and takeaways with you.
Along with trailblazing K-12 grantees from across the country, my colleagues from NGLC and I were in the company of some of today's most innovative educational leaders, including Diane Tavenner, founder and CEO of Summit Public Schools. Diane kicked our week off with a breakfast visit Tuesday morning.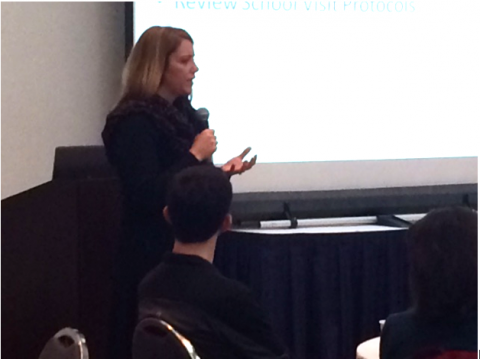 She shared the story of Summit's continued growth and evolution since Summit Denali's launch in 2013. Summit Public Schools are modeling what it means to be a learning organization.
In their own words, Summit has "flipped the traditional adult-driven school model on its head, by putting students at the center and creating an environment that enables students to drive their own learning." 
Students are paired with a mentor and an adult coach, who help them to track what they call Habits of Success; meanwhile, each student is guided by a Personalized Learning Plan, with access to all of the available learning tools and resources throughout their academic career. 
In many ways, we view Summit Denali as one of the most mature models of personalized learning.
They are, and yet, the message that Diane communicated is powerful: our work is never done. I took comfort in that. I realized that a hallmark of the best schools is evidence of growth mindset. Summit Denali staff constantly look at the data and make adjustments to their model based on how their students are doing. After all, isn't that what we want to see in our classrooms? Plan, iterate, reflect, and refine. In Diane's words: "Innovation is not a destination." We are all working toward continued improvement and progress on this journey.
When asked what they've learned after three years, Diane shared that along their journey, Summit's leaders and educators realized they needed to do a better job of communicating and engaging with parents. She offers practical tips for all next gen pioneers: 
1. Increase your contact with parents. Think about what you currently do and then double or triple your efforts. At Summit this looks like:
Taking stock of what they normally do (back to school night, orientation, etc.) and doubling or tripling the number of events. 
2.  Bring parents into the school. Engage parents in developing an understanding of what learning looks like by bringing them into the school to see the work in action. At Summit this looks like: 
Weekly teaching and learning tours for Summit parents 
Celebrations of learning every six weeks, which are led by students 
3. Develop a comprehensive communications strategy. This can include email communication in the form of consistent newsletters, text messages, or emails with school information on a regular basis that include video clips to show learning in action. At Summit this looks like: 
Every day for the first month of school, parents receive an email with video clips and a tip of the day. In the second month of school, this is shifted to every other week. Later on in the academic year, this becomes a weekly—however still informative and consistent—communication. 
Another part of their internal communications strategy includes producing a weekly newsletter, which more broadly connects all Summit faculty & schools. This way, news, announcements, educator profiles and other stories of interest are shared across the organization. 
Hear details of Diane sharing Summit Denali's strategies for increasing communication and parent engagement in this short podcast. 
Also, check out Sarah Luch's blog post to read more about our trip to the Bay Area. And stay tuned—the NGLC team will be curating and sharing out information from our school visit teams!