New Designs for School
Taking a Modern Approach to Project-Based Learning
January 6, 2021
Topics
Competency-based Education
Project-based Learning
Curriculum & Instruction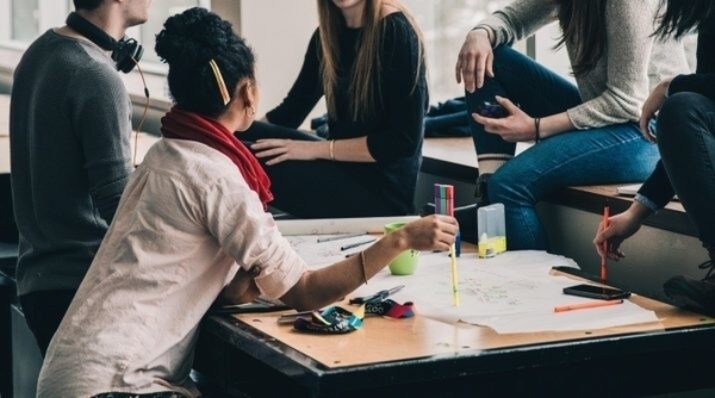 New Designs for School
New Designs for School
We've all had the experience of truly purposeful, authentic learning and know how valuable it is. Educators are taking the best of what we know about learning, student support, effective instruction, and interpersonal skill-building to completely reimagine schools so that students experience that kind of purposeful learning all day, every day.
Learn More
Can project-based learning succeed virtually, during a pandemic? It's possible, as this teacher found by fusing PBL with self-paced, mastery-based instruction.
At the onset of this pandemic, many teachers were encouraged to begin utilizing project-based learning with their now online students. As a ten-year practitioner of project-based learning, I was shocked. If you've never done project-based learning before, trying it out during a pandemic didn't quite seem like the right timing.
Nevertheless, the idea was out there and I was determined to find a way to make it work not only for myself, but so that I could educate others on how to do it, in the event that this virtual-hybrid crazy teaching scenario continued. From my experiences in the spring, I identified my biggest struggle was timing: students were all over the place in the project and I was constantly delivering the same mini lessons each week or finding videos online to send to my students so we could all be working on and learning different lessons at the same time. I jumped at an opportunity to engage in professional development around an instructional approach known as the Modern Classroom Project (MCP) that I thought could be the key I needed to help my students transition from the in-person project-based learning experiences we were used to, to a system that will work regardless of the learning environment.
Never heard of a modern classroom? New to project-based learning? Let's take a quick peek at each:
A modern classroom….
Features blended instruction
Is self-paced
Focuses on mastery of content
Project-based learning….
Is authentic
Is all-encompassing
Can be broken down into phases and milestones
Breaking down a complex project into manageable chunks is where I found the ability to fuse project-based learning and a modern classroom seamlessly.
A project naturally flows through four phases: the launch, build knowledge & understanding, develop + critique, and demonstrate + present. Each phase can be broken down into specific milestones that answer key driving questions that guide the learning. The MCP instructional approach was exactly what I needed to give support and structure to these phases in a virtual setting.
The Launch
The launch phase is where you are going to hook your students and pique their interest in the topic as you present students with the essential question that will guide them throughout the project. This is best done synchronously so you can engage students and they can feed off of one another's excitement. The launch helps you to develop and complete the Know/Need to Know activity, which I also encourage you to complete synchronously with students using tools like PollEverywhere or Nearpod. Then you, as the teacher, can refer back to students' "need to knows" when creating the video lessons that you will use to help deliver a blended-instruction experience. Pro tip from my experience: I always try to imagine the need to know questions up front, or at least as many as I can, and plan out videos ahead of time accordingly. When making the videos, I recommend you keep them content focused, not necessarily project focused so you can reuse them with other projects in the future.
Build Knowledge
Students can certainly build knowledge independently, and some of it will occur asynchronously as students engage in various blended instruction lessons you create to help address the need to know questions. This is where self-pacing comes into play. Every project has a hard deadline, but there has always been flexibility in students' progress within each project milestone. The blended lessons you develop can be completed independently and at a student's preferred pace as they work to demonstrate mastery of the content and meet the milestone deadline. As students work independently, teachers are able to work with students individually or in small groups/teams based on their progress in the project and their performance in the lessons. In the classroom, you may do this at your desk or a small-group site, and virtually, you can facilitate this with breakout rooms.
You can use the need to know questions and milestones as a Pacing Tracker during the project process. In synchronous sessions, the pacing tracker allows you to group students in breakout rooms according to the milestone they are working on, not just the individual lesson. With this approach, students have the opportunity to engage in whichever lesson they are on while collaborating and building off of one another's knowledge.
Develop + Critique
As students are working on their project milestone deliverables, they demonstrate mastery not only of the content through lesson-specific mastery checks but also of the skills and products they are working to create. Letting students know specifically which days they need to be prepared for (the firm deadlines) helps ensure they have at least something to share.
While this has always worked naturally for me in the classroom with basic protocols, since the onset of the pandemic I have always found that students (and adults!) are more apt to stay on task if you give them a breakout room deliverable to bring back to the full class. For asynchronous critique, Padlet or FlipGrid offer great ways for students to interact with one another.
Demonstrate + Present
With a project presentation, students have an opportunity to demonstrate their overall mastery of the concept as they present their response to the project's essential question. In years past, expert professionals, along with school personnel and various community members could engage in an open dialogue with students as they presented their project materials and discussed their learnings. In our virtual world, students can create video presentations using technology tools like FlipGrid and Screencastify to share their learning with a broader audience.
Thinking Forward
So much has changed in the education landscape in the last ten years, and it's changed even more rapidly in the last ten months. Engaging students with real and relevant problems and providing them the opportunity to work flexibly in solving that problem through combining project-based learning + modern classroom structure is going to set them up to be more successful in their own futures than attempting to keep all students moving at the same pace completing rote skill-and-drill lessons. With this modern project-based approach, students improve not only in critical thinking and problem-solving skills, but in self-management, collaboration, time management, and responsible decision making—all valuable assets to the workplace. The pandemic may have prompted this change, but it's one change we need to keep whenever we get back to the next iteration of normal.