Why Schools Need to Change
A Teacher's Reflection: Imminent Death for a Generation
May 26, 2022
Topics
Social-Emotional Learning
Leadership
School Culture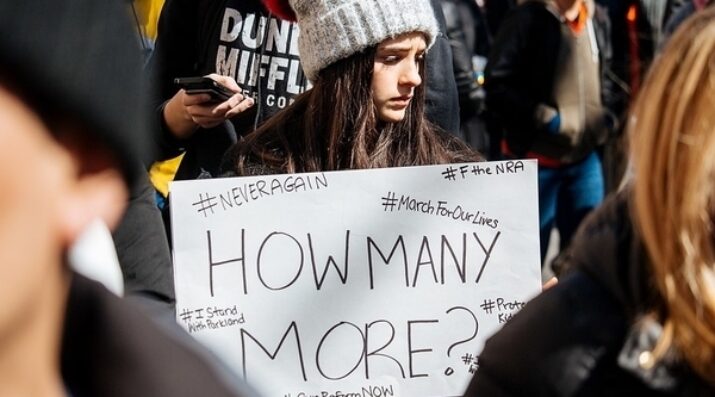 Why Schools Need to Change
Why Schools Need to Change
Today's learners face an uncertain present and a rapidly changing future that demand far different skills and knowledge than were needed in the 20th century. We also know so much more about enabling deep, powerful learning than we ever did before. Our collective future depends on how well young people prepare for the challenges and opportunities of 21st-century life.
Learn More
A teacher asks, what are we doing to generations of children who've suffered the trauma of gun violence in their schools?
The whole exchange took me by surprise. The last words were still ringing in my ear. But it happens all the time… as if this were normal. As if this was something that was acceptable. And then I thought some more, again and again, about the perspective of someone who is under the age of 20 in the U.S., and I began to understand. When you come from a generation where death is normalized, then yes, this would seem absolutely normal.
For older generations, we found comfort in the adults around us. We looked to the helpers, the people in our neighborhood, for safety. A hazy and soft nebula of promises by adults in the world who were there to protect us, correct the wrongs, take care of it, and make it better for us—even if those promises were lies—cushioned the world around us, and granted us the understanding that we, the children in our respective generation, mattered. We had so many examples, from the Children's Workshop programming to Mr. Rogers and Disney to Nickelodeon, all programming the same ideology—you are worthy, you are loved, you belong here. Even nightly reminders to our parents to ask if they "know where their kids are." It felt, for most of us back then, that someone somewhere was always looking out for us.
Yes, it wasn't ever all of us, as it's never been. Plenty of children in our respective generations were forced to deal with the harsh realities of a scary world alone, no adults to help, no cushion of purported support, no adults to continue to tell them they were worthy of being here and honored as humans. Where were their helpers? Race and class in our society made it clear that humans were separated into who was worthy of the respite and who already knew their lives didn't matter.
Study after study is available on both racial and economic disparities of what Black, Brown, Indigenous, and marginalized children in lower socioeconomic status suffer versus everyone else. As reported by New Star's Sabrina LeBoeuf during the fall of 2021, a new study found that Black, Hispanic, and economically disadvantaged youth had increased problematic grief symptoms and post-traumatic stress.
Robyn Douglas, the study's researcher and a doctoral student at Texas A&M University, further clarifies that "race is not a precursor to trauma, rather systemic racism often places people of color in situations prone to trauma results."
But it has and does happen all the time… now.
My initial shock at this statement was quickly converted to anger and frustration. How could a child so young react so flippantly, without empathy, without any emotion? But after meditating on their reaction, I realized I was the one who was wrong. What else would we or should we expect from a generation of kids who have been taught from cold, hard, reality that they are just a dollar sign? Their lives don't matter. They are lobbying chips exchanged over and over for capital. It's not a surprise they feel like a token, an object that can easily be discarded in a capitalist society with little recourse or accountability.
Psychologically speaking, the impact of teaching children that they are solely responsible for preventing and defending themselves against a threat so easily remedied if only any adult in charge would bother has long-lasting effects.
This generation doesn't even have false hope to believe in. The privileged perspective of not knowing death in your youth, not experiencing loss so young, no longer exists. No matter your socioeconomic status, no matter your race, ethnic, or cultural identity, no matter your geographical location, the death of someone you know in school or outside it, be it a church, a playground, or a grocery store, is all but guaranteed. No longer if but when. When will it come for me and those I love? When will it be my turn? Do I get a chance to decide?
Behind all the protesting, behind all the chanting, behind all the posting, this generation's youth is asking to matter. They just want to matter in the eyes of the community of adults who are supposed to ensure their protection—understanding that as a human they are valued. But who is telling them that they do?
The monster isn't something that hides under their bed, or somewhere deep in the recesses of their closet, or in the storm drain… it's us. I have to count myself too, as you do. We are the adults now. And what work have we done to be the helpers?
Behind all the protesting, behind all the chanting, behind all the posting, this generation's youth is asking to matter.
Youth look to us and wonder where is the anger, where is the outrage now? Not for a book, or a belief, or a way of being, but for the unacceptable loss of life?
Nothing has made me angrier this week than the adults who feel this isn't a problem they can do anything about. I offer those individuals this truth: this is not a problem children should fix, and if you think they should be fixing it, if you're refusing to be the leaders, the helpers, the adults who can fix this problem, you're missing the point entirely.
Small choirs of voices rise up after mass deaths by guns in the U.S. Adults scream about what they (the elected officials, those with control, those obsessed with keeping control of tangential, ineffective, and unimportant items) should be doing.
Yesterday, Senator Chris Murphy took the floor asking the same questions we've all been thinking, saying the same things we've been saying: "This only happens in this country and nowhere else... and it is a choice, it is our choice, to let it continue." Echos of this can be found across communities, social platforms of the famous, and even in the NBA, but the question remains: What are we doing? What are we doing to generations of children who've suffered these traumas?
You are the ones who need to help yourself, and if you can't figure out how to outrun a bullet, that's on you.
When death is more frequent than days in a year, watch all the life drain from those around you whenever available. Become desensitized. You'll barely notice at all that it keeps happening.
The messages we are sending to this nation's young people are clear:
Nothing.