New Designs for School
The Promise of Graduation
June 28, 2018
Topics
Student Success
College & Career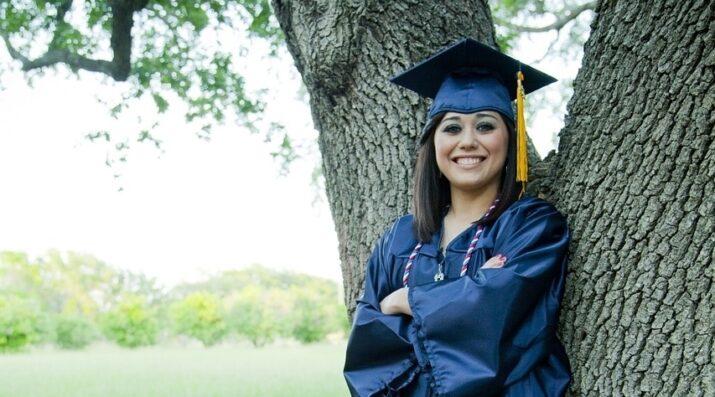 New Designs for School
New Designs for School
We've all had the experience of truly purposeful, authentic learning and know how valuable it is. Educators are taking the best of what we know about learning, student support, effective instruction, and interpersonal skill-building to completely reimagine schools so that students experience that kind of purposeful learning all day, every day.
Learn More
Graduation represents a major milestone for high school students across the country. Here, educators reflect on its deeper significance for young people in 2018.
Graduation season is upon us! The buzz of students making last minute preparations for finals, getting fitted for caps and gowns, finalizing college acceptance requests, and thinking about the next chapter in their lives fills the air. While all of this is important and memorable, we find ourselves reflecting on the true promise of graduation. We believe that it is less about the diploma and more about the graduate. After many years in the profession, we are inclined to say that the promise of graduation is a 'talent ready' young adult who has made relevant connections to career pathways that align to their strengths, interests, and passions. In other words, a graduate who is self-confident, engaged, and committed to embracing the challenges of the increasingly complex and shifting world of work.
Educators and schools from across the United States have embraced this new promise and have made tremendous progress developing graduates who possess talent that is relevant to globally signficiant, emerging career pathways. In this blog post, we describe the progress we have made as a school district implementing Talent Cities, a new talent development project created by Gerri Burton from New Learning Ventures that is aimed at delivering on the promise of graduation. Talent Cities is just one aspect of Vista Unified's approach to providing relevant real-world experiences for students. The goal is to engage every middle school student in connecting their strengths and interests to the opportunities of the future careers available in our region's growth sectors.
Last month, Vista Unified was honored to receive the Classroom of the Future Foundation's Innovation in Education Award for its work piloting the Talent Cities project; students who participated in the project accepted the award. The project is all about our students and their potential impact on the future of the San Diego workforce and economy. Talent Cities is a new approach to the world of work relying on a strong public-private partnership where educators, employers, and community leaders collaborate on defining the path to successful careers. As unemployment in San Diego County continues to fall, the demand for quality talent needed to keep our economy strong rises. Talent Cities is an inclusive project that invites all students to join in an exploration of the world of work.
So far, our students have had some compelling experiences at companies like Apple, Solatube, Datron, Watkins Wellness, Vista Community Clinic, and Cal State San Marcos. Visits to companies that we refer to as 'experienceships' are eye opening and provide a very special opportunity for Vista Unified students. Data shows us that middle school is where students may begin to feel that school is not relevant and tune out as a result. A real picture of the future brings relevance to classes that may otherwise seem abstract and not meaningful.
In order to paint a more realistic picture of the Talent Cities experience, let's experience a recent trip to a local business called Taylor Trim and Supply through the eyes of Jesse, a Vista Unified middle school student.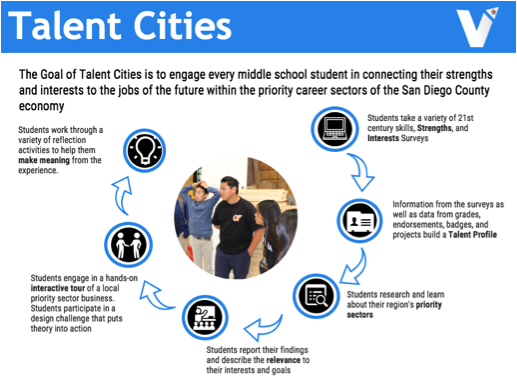 For Jesse, the experience begins in the classroom. She takes a variety of surveys and assessments to identify her unique strengths and interests. Then she conducts targeted research on jobs, careers, and priority sectors that align to her personal traits. Jesse also begins to research the essential skills that employers require all new employees to possess. This information is translated into a brief report that she presents in class, further building her classmates' knowledge base of available career opportunities.
The next stage for Jesse, along with 30 of her classmates, is to venture out of the classroom and into a local priority sector business. Here she meets executives who give her an overview of the industry and the company's operations. Jesse and her classmates are then taken on a tour of the facility. They are shown every aspect of the business and given opportunities to ask questions and hear about the education, training, and personal histories of employees—many of who are graduates of the same schools in Vista.
It is an eye-opening experience for Jesse to hear from employees and see how many different specialties and careers make up each business. She cautiously raises her hand and asks, "So, your job is to go on Facebook?" You could practically see the wheels turning in her head when the employee answered, "Yes! As a marketing coordinator, I handle social media for the company." At that moment, Jesse began to make connections between something she enjoyed and a career choice she had never considered. After the trip, she remarked, "I never thought I'd be able to take something I'm good at, photography and storytelling, and put that to work in an area I'm interested in, green energy." These aha moments for our middle school students are one of our key indicators of success. Students develop a much more relevant connection to possible futures they see for themselves in the world of work.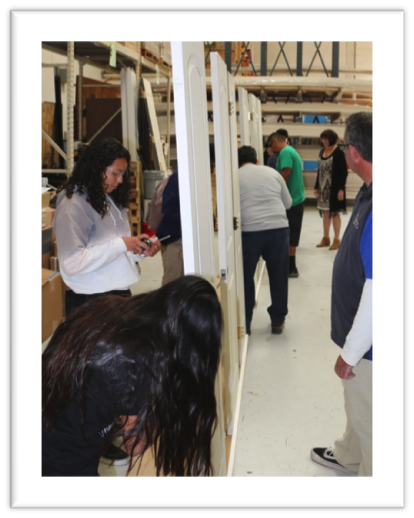 The business excursion wraps up with a hands-on design challenge that incorporates what Jesse has learned during the visit. She works with her classmates and employee mentors to design a new product that will appeal to kids her age. Jesse presents her group's idea and receives constructive feedback. Finally, when she returns to school, she works through a variety of reflection exercises to help her make meaning from the experience and apply it to her developing learning pathway.
We know that our future and children's futures are changing at an accelerated rate. The jobs of today may not be here tomorrow. Talent Cities focuses students on building the essential skills of tomorrow's workplace, folding in a true understanding of the high priority sectors of San Diego County. Our goal is to ensure that our students will be employable the first day after graduation. Armed with a thirst for lifelong learning and solid 21st-century skills, they will be ready to fill the talent needs of the future.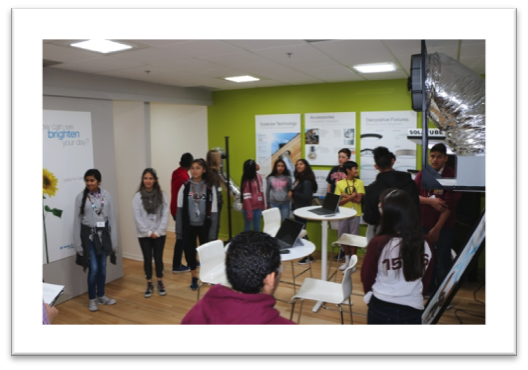 Next year we plan to expand Talent Cities. In close collaboration with the San Diego Workforce Partnership, we aim to involve more employers that are willing to provide hands-on, on-location experienceships for our students. From the inception of the pilot through this semester, the number of participating employers expanded from five to over 30 businesses. These employers represent the five key priority sectors of the growing San Diego economy: advanced manufacturing, clean energy, healthcare, information and communication technology, and life sciences.
We also plan to expand the number of students who benefit from the experience. Since its inception, the number of students participating in Talent Cities has grown by 300 percent; this expansion has included participation from all of our middle school campuses. Talent Cities has maintained its promise to include all students regardless of academic or socioeconomic background. Pre- and post-surveys show us that students with strong parental role modeling and influence tend to favor highly traditional career aspirations while at the other end of the spectrum, students with less parental guidance may exclude themselves from the world of work. Talent Cities is designed to show all students that there is a future career for them—not just for those with the best academic performance and not only in traditional job categories. The goal of Talent Cities is not to identify jobs, which will come and go with greater frequency in the future. Rather, the goal is to prepare students with skills, knowledge, and a thirst for lifelong learning. In other words, students need to become flexible, nimble thinkers, and carry this mindset into their postsecondary lives.
---
Learn more about Talent Cities at Vista Unified in the NGLC Practitioner's Guide "It Takes a Village."