Why Schools Need to Change
What Learners Need to Thrive in a World of Change—MyWays
November 7, 2017
Topics
Competency-based Education
Tools for Next Gen Learning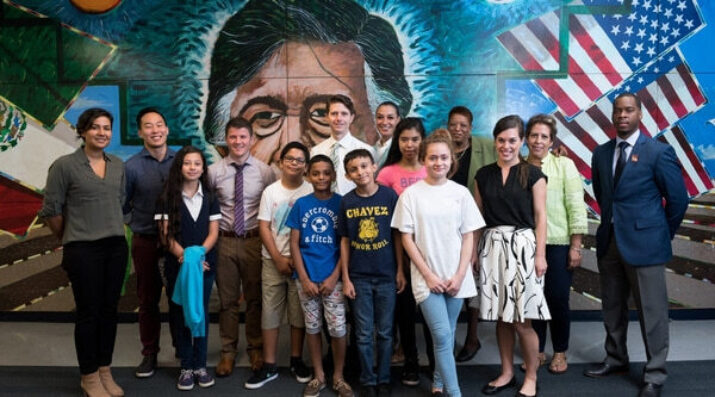 Why Schools Need to Change
Why Schools Need to Change
Today's learners face an uncertain present and a rapidly changing future that demand far different skills and knowledge than were needed in the 20th century. We also know so much more about enabling deep, powerful learning than we ever did before. Our collective future depends on how well young people prepare for the challenges and opportunities of 21st-century life.
Learn More
You're a K-12 educator or community leader with a deep conviction that more is possible. Not just possible: urgently and vitally necessary. Enabling young people to develop 21st-century competencies requires a thorough reimagining of the goals, processes, and structures that define our public schools. NGLC's MyWays Project is here to help.
The students you're serving will graduate into a fragmented and risky postsecondary landscape, an immensely challenging job market for young people, and a world of accelerating change. The challenges they encounter, and the life and career choices they will face, demand a learning orientation and problem-solving navigational skill set that makes their current experience in your school seem outdated and narrow.
You are ready to consider making some major changes. But there's a problem. How do you sift through the confusing blizzard of frameworks that are out there and decide on a new, 21st-century goal-line of success for students? And then: what are the true implications of that new definition of success? How can your schools proactively and explicitly help your students develop the broader, deeper set of competencies represented in this new North Star?
And: who's got time to even ask these questions, much less answer them?
You've come to the right place.
Nearly three years in development, the non-profit MyWays Project from Next Generation Learning Challenges has been designed with you in mind. It assembles, distills, and presents exhaustive research on the four essential questions that every American K-12 educator should be asking right now:
The schools we studied for this project—including many that were catalyzed in part by competitively-awarded grants from NGLC's $45-million investment in next gen, "breakthrough" schools over the past four years—have worked extraordinarily hard to develop and continuously refine their models. The lessons they have learned, which we have consolidated and applied throughout the MyWays materials, will serve you well. But these pioneers would be quick to say to you: There are no shortcuts in implementing these forms of learning. The road to next gen learning environments—and outcomes—for students begins with deep, community-wide awareness of the reasons to transform, and thrives on the agency-fueled commitment of everyone involved.
Here's what that process looks like, at a high level, and how MyWays can help.
Create a sense of urgency around the need to transform. Study Part A of the MyWays Student Success Series: "Adolescence in an Age of Accelerations." Find your fellow travelers from the schools, your community, employers. Localize the data and storytelling! Use the customizable presentations and discussion-generating resources, including this video, which you'll find under Tools at the MyWays site.
Build and maintain the diverse Guiding Coalition you'll need to lead the change. Read John Kotter's Accelerate!, some of the best thinking out there on leading complex change successfully (and the basis for this short process guide of bullet points).
Formulate a strategic vision and set of change initiatives. Use the MyWays series' Part B, "Broader, Deeper Competencies for Student Success," to collectively reimagine what student success means for your community. That vision will be your initiative's North Star.
Communicate the vision and the strategy to create buy-in and attract a growing volunteer army. As Kotter says: "Sufficient urgency around a strategically rational and emotionally exciting opportunity is the bedrock upon which all else is built." The army you need to enlist will show up, if the opportunity is extended compellingly.
At that point, the work is launched. There obviously remains an enormous lift in making your vision real for students. The MyWays Student Success Series Part C, "Redesigning the Learning Experience" (see Learning Design and Assessment Design), and the wide range of tools and lessons-learned narratives you can find at the MyWays and NGLC sites will help you. Your coalition will encounter challenges at every step. But if you've laid sufficient groundwork, established a strong vision and momentum, and your change processes reflect the nature of the agency-driven learning that lies at the heart of all of this, you've given yourself a chance to succeed.
We are firm believers that next gen learning—learner-centered, personalized, competency-based, experiential, tech-enabled, organized around richer/deeper definitions of student success—takes root in a genuine way only when everyone involved, from the adults to the students, has sufficient agency in the work to own it, or at least an appropriate share of it. Simply buying and implementing a personalized learning platform, or incorporating a few project-based learning units into your curriculum, or adopting a new success definition without deep engagement from staff and community won't do the job. That's why the MyWays Project's tools are mainly designed to invite, catalyze, and inform discussion and input from stakeholders.
We've also come to understand, through study of our pioneering school-design grantees, that this work will never be "finished." Improvement and openness to change become hardwired into the core DNA of schools, CMOs and districts adopting this vision. It's the same for MyWays; it will never be "finished," either. We welcome you to join the emerging community of practice that is already forming among educators, researchers, policymakers, reformers, and funders who are studying, adapting, and applying MyWays to their work. We encourage you to regard MyWays as more critical-friend than blueprint; more learning-community than report; more journey than destination. By helping you connect with others who are making that journey, and by providing an interoperable framework to act as a translator across the many exciting new expressions of student success, we hope to support and enable the K-12 education field's capacity—and likelihood—of reimagining itself.