Technology Tools
Classroom Inc.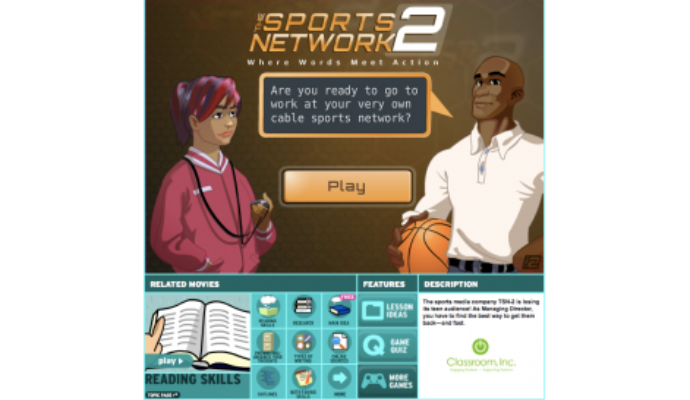 Technology Tools
Technology Tools
Educators often take advantage of educational technologies as they make the shifts in instruction, teacher roles, and learning experiences that next gen learning requires. Technology should not lead the design of learning, but when educators use it to personalize and enrich learning, it has the potential to accelerate mastery of critical content and skills by all students.
Learn More
The Innovation: The Sports Network-2 (TSN-2)
"This game addressed the Common Core more than anything else I am doing."
-Denise McBroom, Teacher, DePriest Elementary, Chicago Public Schools
Real world context adds relevance and purpose to course material, potentially engaging even reluctant learners. The Sports Network-2 (TSN-2) uses online role-playing to motivate disinterested 8th and 9th graders in building critical literacy skills. Set in a simulated sports network office, students play the role of managing director and solve the problem of a dwindling teen audience by reading workplace texts and conversing with colleagues.
Students learn within the context of an authentic workplace, with realistic scenarios vetted by experts in the industries portrayed. The benefits of this setting, documented by years of research, include:
Students who are frustrated and/or bored with traditional classroom education enjoy working in the virtual workplace and taking on their responsible workplace role.
Students are typically able to complete the realistic and challenging workplace tasks, gaining confidence as they play the game and see themselves as capable of academic and career success.
Individual students receive feedback on their work and the teacher dashboard provides real time individual and class progress and performance.
Common Core State Standards: Reading Informational Text, RI 8.1-4: Key Ideas and Details (RI 8.1-3), Craft and Structure: Word Meaning (RI 8.4)
Results Achieved
Most teachers who evaluated TSN-2 either agreed or strongly agreed that TSN‐2 was a valuable and engaging educational experience for students.
Over three-quarters (78%) agreed or strongly agreed that TSN-2 has a strong connection with the Common Core State Standards.
Two-thirds agreed that TSN-2 meets their students' learning needs and their students enjoy using the game.
Strong correlations between students' scores on the TSN-2 embedded assessments and MAP reading scores offer evidence that the game addresses and assesses reading comprehension. Students on average completed more than half of the items correctly on the main TSN-2 activities, which were written at the 8th grade level. This provides evidence that struggling readers can read challenging text when it is presented in an engaging learning game.
Sorting Organizer Feature
The Grant Project
NGLC funding allowed Classroom, Inc. to create TSN-2, to spur its organizational learning, and to hone its strategic focus. It laid the foundation for its latest suite of middle school-level learning games that align to the Common Core State Standards, leverage the latest in game design mechanics, and improve upon the teacher resources that were available for TSN-2.

Classroom, Inc. received a grant in 2013 from the Gates Foundation's Literacy Courseware Challenge to develop additional literacy learning games.
In 2014, Classroom, Inc. launched After the Storm, a game where students play the role of editor-in-chief of an online magazine the day after a major storm hits the community.
Principal Investigator: Jane Canner, Ph.D., Senior Education Advisor, jcanner@classroominc.org

Long term Goal: To continue to create high-quality literacy learning games so all students can unlock the power of reading, and to develop effective professional development for educators to leverage technology.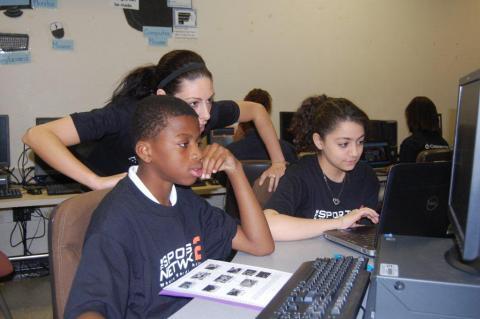 Students playing and learning with TSN-2
People Working On This Challenge
See More