Why Schools Need to Change
Activate Your Graduate Portrait: Teaching, Learning, Culture, and Conditions for Student Success
May 16, 2023
Topics
Student Success
School Culture
Tools for Next Gen Learning
Curriculum & Instruction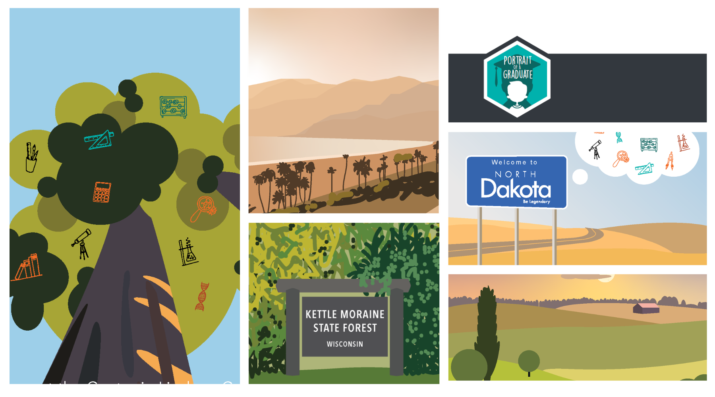 Why Schools Need to Change
Why Schools Need to Change
Today's learners face an uncertain present and a rapidly changing future that demand far different skills and knowledge than were needed in the 20th century. We also know so much more about enabling deep, powerful learning than we ever did before. Our collective future depends on how well young people prepare for the challenges and opportunities of 21st-century life.
Learn More
Explore a sampling of the many examples, tools, student work, and instructional strategies in The Portrait of a Graduate in Practice stories, offering valuable insights and resources for any school community that is moving from #PortraitToPractice.
Have you been involved in developing a Graduate Profile, Portrait of a Graduate, Learner Portrait, or something like that? Or have you had deep conversations about what skills the learners in your schools need to thrive in this world?
Are you involved in decisions about gathering and assessing evidence of competencies within your district's portrait?
Are you wondering how this portrait will change instructional practices in your classroom?
Are you designing learning opportunities that will support all students to develop these competencies, not just those participating in specific programs or activities?
In other words, are you moving from #PortraitToPractice?
This month, NGLC released five case studies that illustrate what it looks like to do the work, and experience the changes, and reflect on the progress of moving from portrait to practice—from multiple perspectives including students, teachers, instructional coaches, school and district leaders, even parents and others.
We invite you to explore The Portrait of a Graduate in Practice with five sites, each one quite different from the others: Northern Cass School District (North Dakota), Da Vinci Schools (California), Kettle Moraine School District (Wisconsin), Lindsay Unified School District (California), and Bullitt County Public Schools (Kentucky).
Their stories offer any school community that is moving from #PortraitToPractice many examples, tools, and first-hand narratives about using their portrait in learning design, instructional practice, student work, and gathering evidence. The people we talked to also highlighted the professional learning, organizational systems, and culture that they credit with sustaining the educational shifts that their graduate portrait demands.
Take a look at just a few examples of the many treasures you'll find in the stories. They are organized around three strands that are explored in each case study:
Painting a shared purpose for student success
Delivering on the promise of the portrait of a graduate
Creating the conditions to activate their portrait of a graduate
Painting a Shared Purpose for Student Success
Each site has a unique origin story for their graduate portrait. Based on their experiences, they all describe the central importance of an inclusive process—at every stage. Teachers. Industry partners. Families. And most of all, students themselves. The stories explore how the sites have authentically involved those whose voices are often marginalized—they are actively doing something different rather than relying on traditional approaches to change that have yet to resolve the intractable inequities that pervade our nation's K-12 system. At the same time, the stories relate how their portrait became hyper-local because of the broad community involvement, providing their community with a shared purpose that defines their unique identity and mission.
Bullitt County Public Schools
"We have to understand that kids are growing up in a world that's totally different from what we grew up in. They're not as eager to learn the way that we did, and if we continue to teach the way that we've always taught, we're not gonna reach those kids. School has to evolve and change because society is evolving and changing."
–Kim Ludwig, Math Educator, Bullitt Central High School, and President, Bullitt County Education Association
Lindsay Unified School District
Listen to a one-minute clip where Lindsay Unified's superintendent Tom Rooney describes why schools need to attend to Lifelong Learning Standards in addition to academic achievement.
Northern Cass School District
The Northern Cass Portrait of a Learner reflects the ideas and goals of learners and resonates with parents. As the superintendent Cory Steiner explained to us, parents support the Portrait skills as "the most important outcomes for ensuring their kids can be happy, healthy, fulfilled human beings."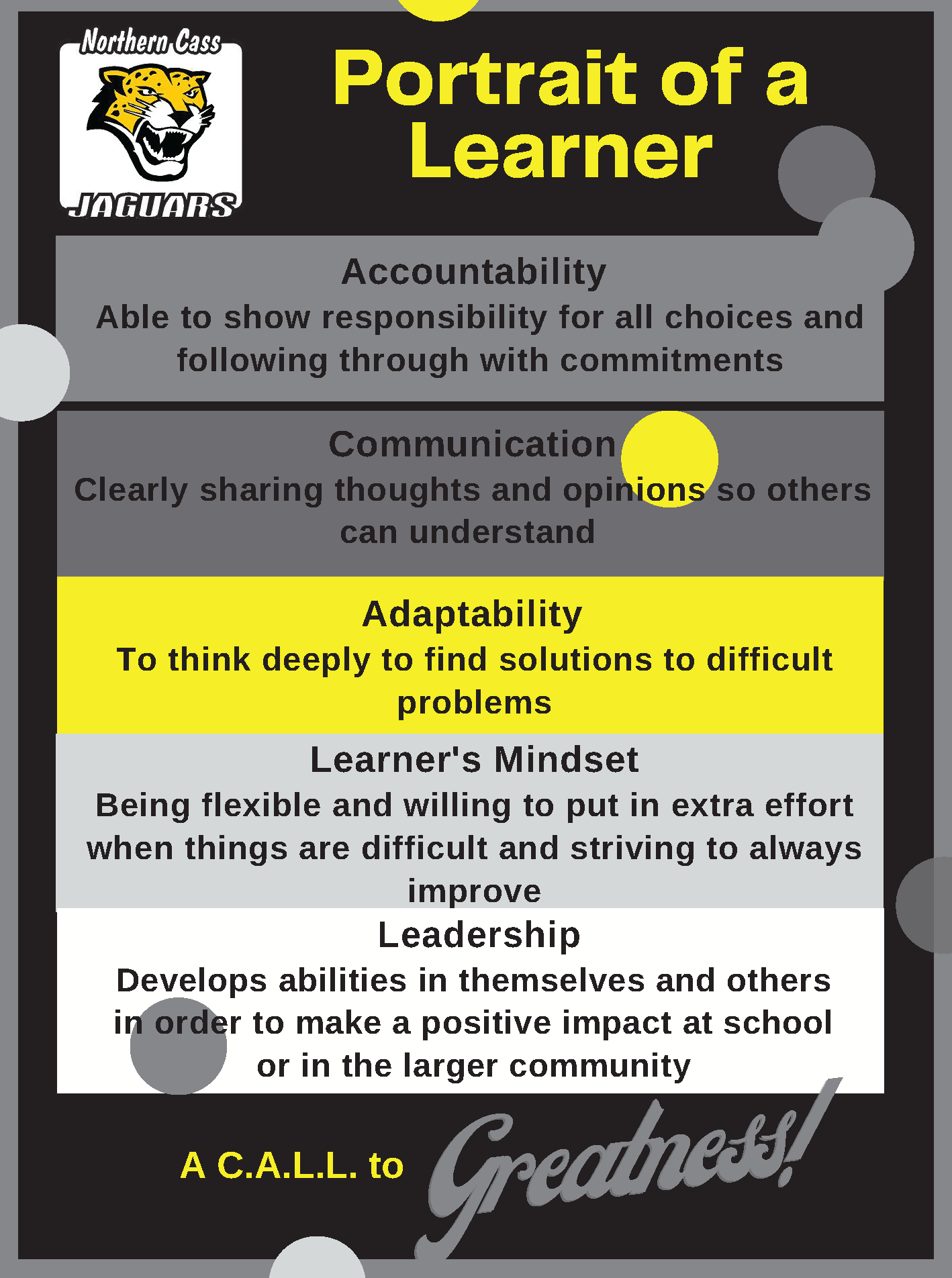 Da Vinci Schools
See a Da Vinci RISE student's presentation with reflections on learning from their exhibition that highlight skills in the RISE Graduate Profile.
Kettle Moraine School District
The Kettle Moraine Graduate Profile Continuum categorizes each component of the profile into grade-appropriate skills. "Pulling the community together again, looking at it with our leadership eyes and then building it out into a continuum felt like a really good kind of Graduate Profile 2.0 work," shared Laura Dahm, the director of elementary education for Kettle Moraine.

Delivering on the Promise of the Portrait of a Graduate
The heart of the stories is the learning experience—new learning designs for a new definition of success, deliberate teaching and learning practices for deliberate development and growth of portrait of a graduate competencies. Every day, the five sites are taking action to make sure that their portrait is not just a poster on the wall but a true expression of their vision for student success. Their teachers and students are leading the way with intentional opportunities to learn, develop, practice, and reflect on the competencies in their portrait in multiple contexts in all subjects and grades. The stories provide many examples of learning opportunities, like capstone projects, that are specifically designed to develop and demonstrate growth in the portrait. They also describe how educators are integrating portrait skills into classroom content.
Northern Cass School District
"We know that our transition from eight to nine is big. Even though we're in the same school, there's a lot of changes that happen academically and maturity-wise. We go through our Portrait of a Learner skills [with level eight learners], we have them reflect on what they are going to need to do to get more prepared for their freshman year, and we design activities and lessons to get learners to engage with those and prepare for their gateway project."
–Tom Klapp, Director of Personalized Learning, Northern Cass School District 97
Da Vinci Schools
Providing real-world audiences for learners, such as public exhibitions and performances of learning, is one of the Signature Practices that defines Da Vinci Schools.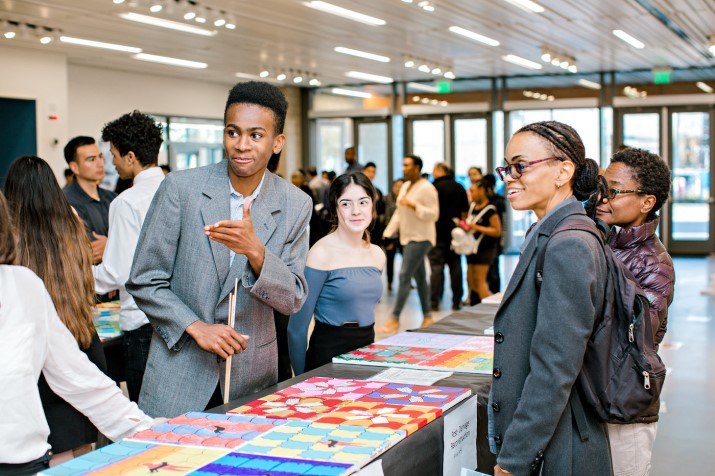 A Da Vinci learner presents to parents and community members during exhibition night. Credit: Da Vinci Schools.
Kettle Moraine School District
In an eight-minute podcast, listen to two learners in KM Global high school describe different learning experiences that have helped them develop the skills in the KM Graduate Profile, from inquiry projects to service-learning to capstone projects and more.
Lindsay Unified School District
"I feel like they automatically set us up for success because there's no excuse to not be able to get a good education. Because they have all the doors open for us."
–Jesrael Cabrera Luna, Learner, Lindsay Unified
Bullitt County Public Schools
"We looked at [the design of the passion project] the same as we did the Graduate Profile: if we want to make something that is authentic to the community, ask the community. So in this case, for us to try to make something that's authentic to student learning, we had to ask students what it should look like."
–Beau Kaelin, Instructional Coach, Bullitt County Public Schools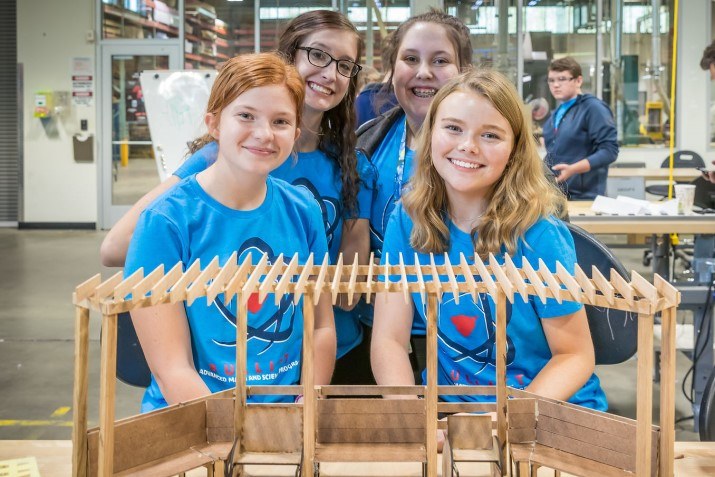 Bullitt County Public School learners display their project model. Credit: Bullitt County Public Schools.
Creating the Conditions to Activate Their Portrait of a Graduate
Doing this portrait-to-practice work is challenging. It can be complex, complicated, and slow. The people we interviewed all point to the conditions that have helped them make progress and get better at bringing their portrait to life and all students experience the success it promises. They also described how they worked to create the conditions if the conditions didn't yet exist. The stories are filled with descriptions, resources, and strategies the sites used to create a culture of agency and trust—for learners and adults—to provide opportunity for those closest to the work to bring their unique knowledge, skills, and experiences to decision-making and operations, and to support teachers through continuous improvement strategies, network connections, and professional learning.
Da Vinci Schools
"Traditional systems are created to keep people away from the people who make the decisions. We do the opposite. My office was always right in the main corridor, door always open, where I could see and hear everything happening on that campus…. Those logistics make a really big difference regarding who has a voice within a school community."
–Michelle Rainey, Da Vinci Connect
"We do what's called hiring symposiums where students interview our candidates and do round tables with one another around what they see as a positive strength, what they see as areas where maybe they have some flags and we want to know more. And then they report back to our staff. It's really powerful."
–Erin Whelan, Da Vinci RISE
Bullitt County Public Schools
BCPS teachers elect to join professional cohorts to learn and to lead work that they are passionate about. Participation in a cohort is voluntary, and teachers are given time, space, and support from internal and external experts, as well as stipends for taking on these roles as learning designers and leaders.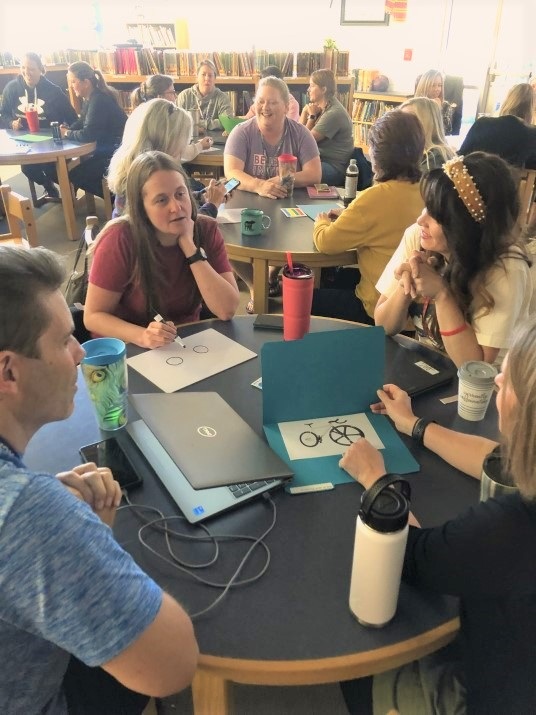 BCPS educators from the Graduate Profile cohorts collaborate to unpack the competencies. Credit: Bullitt County Public Schools
Kettle Moraine School District
"We shifted to [instructional coaching] because we realized that we've got these pockets of great things happening all across the building, and we have incredible teachers. Instructional coaching has really allowed us to scale and leverage the strengths of the people in the building. I see my role as knowing what's happening in all the different parts of the school and making connections and opportunities for collaboration. Because, like anywhere else, we all think we're struggling with different problems, but they're really the same."
–Jill Gilbert, English teacher and Instructional Coach, Kettle Moraine School District
Lindsay Unified School District
Bookmark Lindsay Unified's "Instructional Look Fors Guide," a key resource that learning facilitators use to find a natural fit between the district's Lifelong Learning Standards and their own subjects and approach to teaching. The guide presents learner behaviors related to each outcome, videos of teaching practices, a research summary, and suggested actions for learning facilitators that are "quick wins."
Northern Cass School District
In this one-minute clip from a six-and-a-half minute podcast, listen to Northern Cass School District graduating seniors describe the real-world professional skills, self-awareness, and other skills in the district's Portrait of a Learner that they developed in their "Introduction to Teaching" course.
Moving Your Vision of Student Success into Practice
Now it's your turn to explore The Portrait of a Graduate in Practice and discover the insights, resources, examples, and strategies within them that can help your school community take the next step in your #PortraitToPractice journey!
---
Graphic at top by NGLC of publication covers by Gather & Create.
The team at NGLC expresses deep appreciation to the five sites for their partnership; Amanda Avallone, recently retired from NGLC, for her leadership and storytelling; and the Barr Foundation for their funding and support of this project.