Enabling Change
D.C.-Area K-12 Changemakers featured in Michael & Susan Dell Foundation podcast
January 21, 2015
Topics
Change Management
Leadership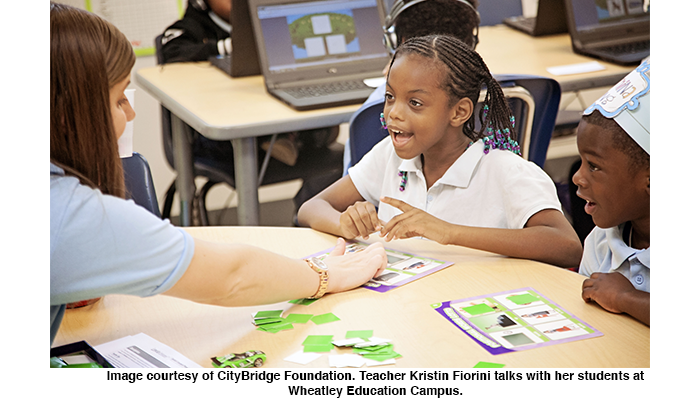 Enabling Change
Enabling Change
Next generation learning is all about everyone in the system—from students through teachers to policymakers—taking charge of their own learning, development, and work. That doesn't happen by forcing change through mandates and compliance. It happens by creating the environment and the equity of opportunity for everyone in the system to do their best possible work.
Learn More
CityBridge's Margaret Angell joins Principal Scott Cartland in a podcast on personalized learning in the nation's capital.
Yesterday, the Michael & Susan Dell Foundation published the second post in its new Personalized Learning series. In it, we hear from Margaret Angell of CityBridge Foundation, a vibrant D.C.-based nonprofit organization selected by NGLC as one of two 2013 pilot sites in its Regional Funds for Breakthrough Schools initiative. After leading a regional K-12 grant competition, CityBridge subsequently funded 18 D.C.-area schools to employ next-generation learning models. The goal? To facilitate the transformation of over 100 of the area's highest-poverty and lowest-performing schools into high-performing schools.
Joining her is principal Scott Cartland of Wheatley Education Campus, one of the schools awarded a grant and other professional support from CityBridge.
"Once you think about how school needs to change to meet the needs of kids, it's hard NOT to move in that direction."
-Scott Cartland