Why Schools Need to Change
NGLC hosted two webinars on MyWays this week; Recordings now available
January 12, 2018
Topics
Student Success
Change Management
Tools for Next Gen Learning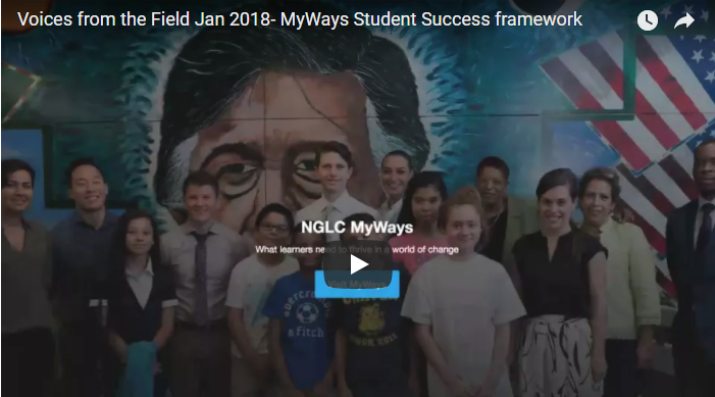 Why Schools Need to Change
Why Schools Need to Change
Today's learners face an uncertain present and a rapidly changing future that demand far different skills and knowledge than were needed in the 20th century. We also know so much more about enabling deep, powerful learning than we ever did before. Our collective future depends on how well young people prepare for the challenges and opportunities of 21st-century life.
Learn More
Get an overview of what NGLC's MyWays project offers and hear from educators who are using MyWays in their school redesigns.
Anytime, anywhere learning works for busy educators too. NGLC thanks our partners, iNACOL and Reimagine Learning at New Profit, for making the video recordings (and slides) from their respective webinars on the NGLC MyWays project available on demand. Watch them at your convenience.
What Learners Need to Thrive in a Changing World: Building Richer Definitions of Student Success
iNACOL Leadership Webinar, January 10, 2018
View Webinar (You will first be prompted to download Blackboard Collaborate.)
Andy Calkins, NGLC
Ellen Hume-Howard, New Hampshire Learning Initiative
Scott Frauenheim and Jennifer Ferrari, Distinctive Schools
The MyWays Student Success Framework
Reimagine Learning's "Voices from the Field" Virtual Learning Series, January 9, 2018
View Webinar (YouTube)
Andy Calkins, NGLC
Amanda Rychel, Executive Director of Art in Motion, a high school opening in Chicago in fall 2018 that incorporated MyWays into the school's design process
About the MyWays Project
We already know what skills our schools should focus on, what kinds of learning experiences are most enduring, and how good assessment helps us learn. Just ask any room of adults what skills today's kids need to develop when they graduate from high school. Ask them to describe the most powerful learning experiences from their own K–12 years. Ask them to name something they're good at, and how they came to know that they were getting better at it.

Now education and community leaders need to build the broad, deep stakeholder commitment necessary to help local public schools better match what it is we already know. The MyWays project from NGLC offers the tools to do just that.
MyWays doesn't provide silver bullet answers, models, or checklists. Instead, MyWays offers a framework for redefining student success for today's world. We explored the conditions of this modern "age of accelerations," the current research on adolescence, and the science of learning a broader, deeper set of competencies. MyWays asks the biggest questions facing education today and offers tools to help you and your community answer them. To create the kinds of local, public schools that become what learners need to thrive in a world of change.
After watching the webinars, learn more about MyWays and access the free reports and tools at https://myways.nextgenlearning.org.