New Designs for School
NGLC Updates Profiles of 27 Breakthrough Schools
December 10, 2013
Topics
Competency-based Education
Personalized Learning
Project-based Learning
Social-Emotional Learning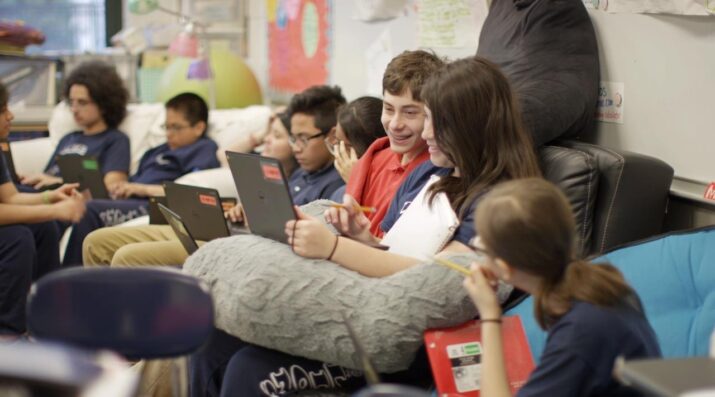 New Designs for School
New Designs for School
We've all had the experience of truly purposeful, authentic learning and know how valuable it is. Educators are taking the best of what we know about learning, student support, effective instruction, and interpersonal skill-building to completely reimagine schools so that students experience that kind of purposeful learning all day, every day.
Learn More
These one-page snapshot publications provide a quick overview of K-12 grant recipients' personalized learning models and their plans for breakthrough change.
Last November, NGLC put a set of publications out into the world—very brief, one-page front-back profiles of our newest grantees&mdaash;and the response was overwhelmingly positive. The publications are a mix of narrative, graphic images, and at-a-glance numbers that give educators a glimpse into what a breakthrough school model looks like. The feedback we got indicated a hunger for just such a resource to better understand how schools can personalize learning through blended, competency-based, student-centered learning approaches. From these profiles, you can learn the vision and what the models are trying to achieve, what tools are used, how classrooms are set up, what the roles of teachers are, which students are served, and how the schools manage the costs of tech and of human capital.
But a lot happens in a year. The developers of the new, innovative, never-been-done-in-quite-this-way-before schools that we had funded continued to learn what students needed, what teachers needed, and what their models needed to be successful. As half of them served students in 2012-13 and the other half continued to plan for school launch in 2013-14, they refined their model, they addressed challenges of implementation, and they tested new ideas.
And then NGLC went ahead and funded eight more school developers. The eight new grant recipients launched their new or completely redesigned models this school year, further diversifying the K-12 landscape with more promising examples of breakthrough schools.
As a result, the profiles we had were out-of-date. They needed to be dusted off, revised, and updated, so that's what we did. Today, we share with you the resulting set of NGLC K-12 Breakthrough School Model profiles. The 2013 edition incorporates the eight new grant recipients. It gives you the most up-to-date information about all 27 breakthrough school models in the same easy-to-read at-a-glance format. We organize the grant recipients by their launch date. We also include a quick Key Features guide to each profile so you can browse the profiles in search of the features you are most interested in.
Key Features
The schools are New, Turnaround efforts of low-performing schools, or Complete Redesigns of existing high-performing schools
The schools are categorized by the blended learning model type that they are using (as defined by the Christensen Institute): Lab Rotation, Station Rotation, Flipped Classroom, Individual Rotation, Flex, A La Carte, or Enriched Virtual
Each profile also characterizes the models with up to three features from this list: Civic Orientation, College Readiness & Success, Competency-Based Learning, Early College and Dual Enrollment, Flexible Learning Spaces, Higher Education and Community Partnerships, Next Generation Staffing Model, Project-Based and Experiential Learning, Social-Emotional Development
So, go ahead and dig in!
Breakthrough Models for College Readiness (download the complete set of individual profiles, plus a quick but comprehensive overview of the portfolio)