Enabling Change
The Question Everyone in Public Education Should Be Asking Right Now
January 26, 2021
Topics
Change Management
Leadership
Curriculum & Instruction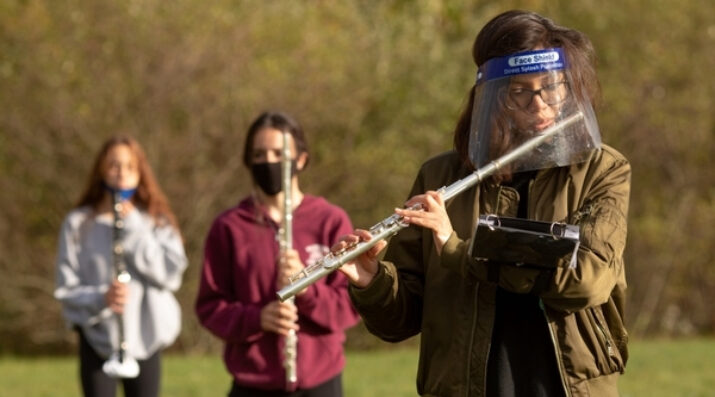 Enabling Change
Enabling Change
Next generation learning is all about everyone in the system—from students through teachers to policymakers—taking charge of their own learning, development, and work. That doesn't happen by forcing change through mandates and compliance. It happens by creating the environment and the equity of opportunity for everyone in the system to do their best possible work.
Learn More
What can we learn from those public schools and districts that pivoted creatively and effectively in the face of COVID-19? The answer should shape public education for decades to come.
What's the most important question we should all be asking, in public education, as a New Normal beckons on the far side of the pandemic?
How about this one: What made them so prepared?
Every single educator I know, bar none, says this has been their most challenging year—personally and for their students, school, district, and community. Despite good intention and much valiant effort, for far too many of the 57 million people of all ages who are directly involved in U.S. public schools, 2020 was a lost year: dispiriting, disconnected, unmoored, unproductive.
But: this was not true not for everyone.
Not for many students and teachers in Shelby County, Kentucky; this district seized the moment and moved to more project-based learning amid school closures last spring, supported by teacher-produced "Shelby Speaks!" vodcasts on the innovative practices they were exploring and discovering. Not for the Kettle Moraine School District outside of Milwaukee; this district confronted the pandemic by re-examining their Learning Without Boundaries graduate profile and asking: which of these 21st-century skills and habits of mind might we emphasize during this Year of Doing Things Differently?
Not for the students and teachers at One Stone, a free-admission, student-centered school and nonprofit in the Idaho mountains whose board is led and chaired by students. "We didn't really skip a beat," agreed one student and a teacher from the school last spring on a national webinar. "About the only thing we're really missing right now is the hugging."
What made these schools and districts so prepared?
That is the name and focus of a year-long study that Next Generation Learning Challenges (NGLC) kicks off this month, in an unprecedented partnership with eight other organizations, all of which share our conviction that public education in the U.S. needs fundamental reimagining. The partners include:
This is urgent and timely research. The pandemic presented every school and district in the U.S. with a test. How are you building the resilience, wide-ranging skills, problem-solving capacity, and creativity to respond effectively to complex and rapidly shifting challenges?
Answers to that question could stand as the definition of student success we need for the New Normal ahead of us. It is the very point of personalized, student-centered, deeper, next gen learning: enabling every student to find their voice and develop the skills and mindsets needed to thrive—and contribute to society and their community—in very challenging times.
Whatever it was that enabled some districts and schools to rise and meet the pandemic with resilience and adaptive creativity: that's what every student in the U.S. needs to be experiencing every day.
Schools and districts that had fully committed to effective forms of next gen learning before the pandemic should have been able to pivot more capably to high-quality, equitable remote/hybrid learning in the face of the coronavirus pandemic. Their learning models and their professional structures and cultures are designed to value adaptive problem-solving, resilience, and self-direction.
Have they in fact proved better able to adjust? This project will explore if that is what played out and if so, what were the most important capacities, conditions, and cultural or pedagogical hallmarks that enabled them to adapt so adroitly. The extraordinary set of partners will deepen every facet of the project, starting with the outreach to next gen schools and districts all the way through the analysis of what we learn from them. We'll be sharing results widely with the field over the course of 2021. We thank the Leon Lowenstein Foundation for funding the project.
What Made Them So Prepared emerged from a nearly year-long volunteer effort by the partners and other like-minded organizations to Do Things Differently, spurred by the pandemic. Amid the national shutdown last spring, NGLC established an informal network of nearly 20 organizations to meet every other Friday and ask: "How might we learn from and connect with each other as humanely as possible in this moment of extreme hurt; and how might we productively collaborate, in this moment when there is no time for anything less than the maximum?" After George Floyd's killing at the hands of the Minneapolis Police, this alliance joined in the national reckoning on systemic racism. We called it the All in This Together network, and over the course of 2020, it spawned a number of initiatives in addition to the What Made Them So Prepared project:
This Is Our Chance!, a virtual film festival focused on the intersection of race, youth empowerment, and school redesign (with Fielding International, Ed Reimagined, and XQ Institute, among other partners)
The design and presentation of an entire track of sessions on Innovation Amid Adversity for the recent REMOTEK12 Summit hosted by Arizona State University (with reDesign, The Learning Accelerator, and Educating for Good, among others).
An initiative, still developing, to significantly diversify school, district, and organizational leadership in the next gen learning community nationwide (with Transcend, the Rennie Center, Aurora Institute, and the Memphis Interfaith Coalition for Action and Hope, among others).
All of these efforts are borne out of a recognition that none of us can keep on doing things in the same way. A New Normal must replace the most disabling and outmoded aspects of the old one. Our challenges are too deeply embedded, our institutions too flawed or mired in obsolete practices, and our understanding of enduring transformation strategies still too nascent to accept anything less.
Here's the deal, as this country's just-inaugurated president might say. Whatever it was that enabled some districts and schools to rise and meet the pandemic with resilience and adaptive creativity: that's what every student in the U.S. needs to be experiencing every day. It's not going too far to say that the future of human life on Earth may depend on it.
---
Photo at top by Allison Shelley for American Education: Images of Teachers and Students in Action.