Why Schools Need to Change
22 Ways This October to Open Eyes, Hearts and Minds to Systemic Racism and the Need to Reimagine Schools
September 29, 2020
Topics
Learner Agency
Design Thinking
Change Management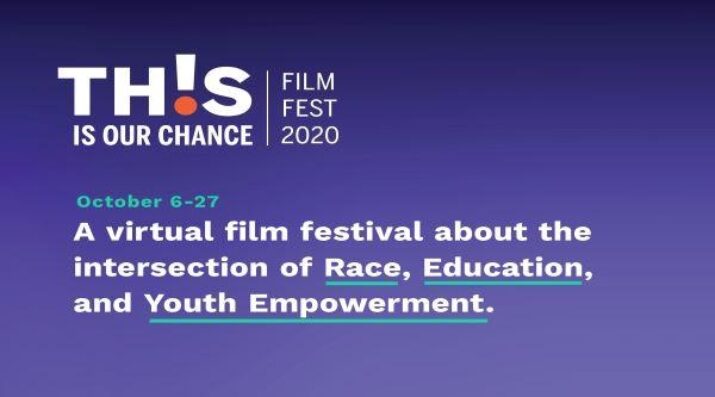 Why Schools Need to Change
Why Schools Need to Change
Today's learners face an uncertain present and a rapidly changing future that demand far different skills and knowledge than were needed in the 20th century. We also know so much more about enabling deep, powerful learning than we ever did before. Our collective future depends on how well young people prepare for the challenges and opportunities of 21st-century life.
Learn More
This Is Our Chance!, a free virtual film festival, begins October 6. It's our chance for constructive conversation and building hope for the future of public education.
Take a breath, United States of America. Join us this October at the corner of race, school redesign, youth empowerment—and great storytelling. It's time for the first-ever This Is Our Chance! virtual film festival. It's time to invent a brighter future for all of us.
"Not everything that is faced can be changed, but nothing can be changed until it is faced."
–James Baldwin
"Patriotic moms and dads are going to demand that their children are no longer fed hateful lies about this country. American parents are not going to accept indoctrination in our schools."
–Donald J. Trump, September 17, 2020
"The COVID-19 pandemic has up-ended the regular school experience for nearly 2 billion young people worldwide. At the same time, communities are confronting the insidious realities of systemic racism and grappling with how it shows up in schools. Both crises demand we step into a new future where the mindsets, structures, policies, and habits that have perpetuated educational inequities for centuries will no longer pre-determine the fates of future generations. This FREE film festival is designed to support that new future."
–This Is Our Chance! Film Fest, October 2020
Out of urgency and emergency, sometimes, comes a readiness for transformation—a level of change that doesn't have a chance to take root in more complacent times. In 2020, this nation finds itself literally burning up with calamity and tension. Unprecedented economic, pandemic, and climatic calamity; nearly unbearable political, cultural, and racial tension.
Where are we ever going to find the path to constructive conversation, to acknowledging the extent of the work to be done, and to reimagining ourselves toward a brighter and better future?
One way: through the power of stories.
Storytelling is one of the oldest and most powerful human activities. When we share stories, we build empathy, connection, and understanding. We build bridges. We find common purpose.
This October, nine education organizations including NGLC are sponsoring the This Is Our Chance! virtual film festival, with all of the above in mind.
This Is Our Chance! Film Fest 2020
The virtual film festival runs October 6-27 and is free with registration.

Learn More
All of these organizations, and the educators and community members we work with nationwide, see a future made brighter and more equitable for everyone because our public schools redesign themselves to help make that happen. They enable our kids to think critically, listen openly, care broadly, and solve creatively. We all see this future because it is already here, in the hundreds—perhaps thousands—of schools that have reimagined their work around goals like these.
Some of these schools will be part of this film festival, in the form of short videos that will widen eyes, hearts, and minds to what we can actually hope for from public education. They are joining the "headliners" in the festival: a carefully curated set of amazing, powerful movies that tell the story behind the enormous challenge facing our schools today. In a nutshell: our schools were designed for a vastly different world than the one we live in today. They were designed to sort White children (primarily, at first, the males) to fuel a segregated, White-dominant, industrializing economy.
That is not a racist statement. It is an historical observation.
The film festival opens October 6 with new release BLACK BOYS.
Likewise: cultivating a broader, deeper understanding of the nation's long, slow, painful (especially for some), and entirely unfinished journey to fulfilling the self-evident truth enshrined in the Declaration of Independence that "all men are created equal" is not, with all due respect to the president, a "hateful lie" or a form of "indoctrination."
It is an imperative, if we are to make any progress at all on that unfinished journey.
At the film festival website, you'll find short descriptions of the 22 films and videos of "schools doing school differently;" questions to spark reflection and conversation about the stories you'll be watching and hearing; and resources to help educators, parents, students, and others take action in your own communities to build momentum for school change. We encourage you to set up family, school-wide, neighborhood, or community watch parties—virtually—and post about them on the festival's Facebook page.
SKOOL, one of seven feature films available through This Is Our Chance!, is about youth seizing power over their own lives and place in society.
Is honest, open dialogue about such a fraught topic even possible right now, in this country?
It has to be. For inspiration, we need only look to our north, where Canada is showing the way. A 2015 Truth and Reconciliation Commission issued a groundbreaking report on that nation's racist treatment of Indigenous people. That report has paved the way for substantial change, including in the ways the public schools teach Canadian history.
Just last week, Dan Levy, star and co-creator of the Emmy-winning, super-empathetic Canadian show "Schitt's Creek," invited his millions of followers to join him in taking a free online 12-session course on "Indigenous Canada." Why? Because, as he put it in his Instagram post: "If 2020 has taught us anything, it's that we need to actively re-learn history—history that wasn't taught to us in school—to better understand and contextualize our lives and how we can better support and be of service to each other."
We couldn't have said it better ourselves. See you at the festival—and for all the hard but inspiring work that needs to follow.