This Is Our Chance Film Fest
What will you do with your chance?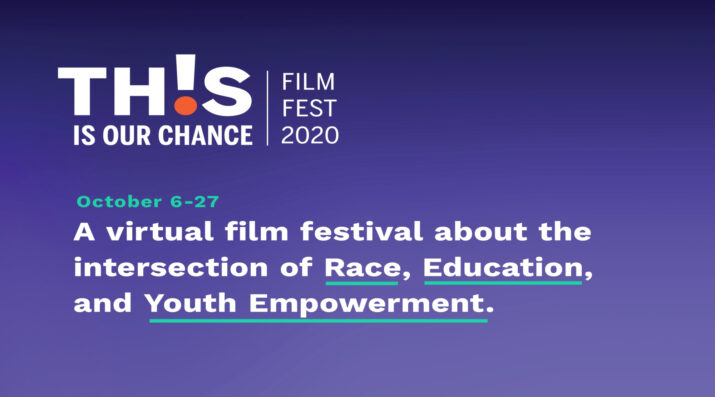 We're glad you're here. You have found your way to this site from the world's first virtual film festival focused on the intersection of race, youth empowerment, and school redesign.
We can help you learn more and perhaps to take some steps to advance your own community's or school's work. How can schools truly prepare young people for the challenges of these times? How can they help tomorrow's leaders bring us to a more inclusive, more just society that celebrates the U.S.'s diversity as a strength, rather than cling to old systems and mindsets of racial oppression?
The answer is: they can do this work. Some public schools already are.
If you are interested in school redesign in general:
Next Generation Learning Challenges (NGLC) has a lot here for you to absorb. We are a nonprofit organization, launched in 2010, that has been a national leader in helping educators and communities design and launch schools that look and operate fundamentally differently than traditional U.S. public schools—or help current schools move in that direction. Here are some resources on our site that will deepen your understanding of this growing, deepening current of change, happening all across the United States.
What Learners Need, to Thrive in a Changing World
What New Schools Look Like and How They Work (and here)
What Successes We're Seeing in Next Gen Learning Schools
How Communities Can Get Started in Moving Toward Next Gen Learning
What True Next Gen Learning Really Requires
How We Are Re-Learning to Measure Student Progress
If you are interested in the aspects of next gen learning that confront racism:
This is central to the work of redesigning schools in every way.
How to Redesign Schools in an Equity-Seeking Way
A Guide for Inclusive School Redesign
Open-Source Ideas and Resources to Advance Equity-Seeking Schools
Voices, Tools and Resources for Equity in Education
If you are an educator:
We recommend that you start in on the links above, and then look through the Challenges that next gen educators are working together to solve. You will also find many resources and educator perspectives in our Resources and Blog section; use the "My challenge is…" and "I'm interested in…" buttons to narrow your search to topics of greatest interest and use.
If you are a parent:
We recommend that you also start at the links above, and then click through this search-result for the resources on our site that pertain most to parents.
If you are a student:
We recommend that you start with resources and blog posts on our site that focus on student voice. In next gen learning schools across the country, students are playing very active roles—not only in managing and shaping their own learning, but frequently in the work that their schools are doing to learn, redesign, refine, and improve.
If you are a community member:
We recommend that you begin with this story of one Colorado community that has thoroughly transformed its schools and the very relationship the community has with its schools over the past dozen years. Then click through the resources you'll find at this search-result and this project-site, both of which discuss how this kind of change happens in a community and its schools—what's required and where the opportunities and pitfalls lie.
Thanks for visiting NGLC! Make sure you join our mailing list to stay abreast of everything that our educator-partners in communities just like yours are learning.