Enabling Change
Advancing Public Education Together: Parent Leadership, Powerful Messaging, and the Strength of the Community
August 1, 2019
Topics
Change Management
Leadership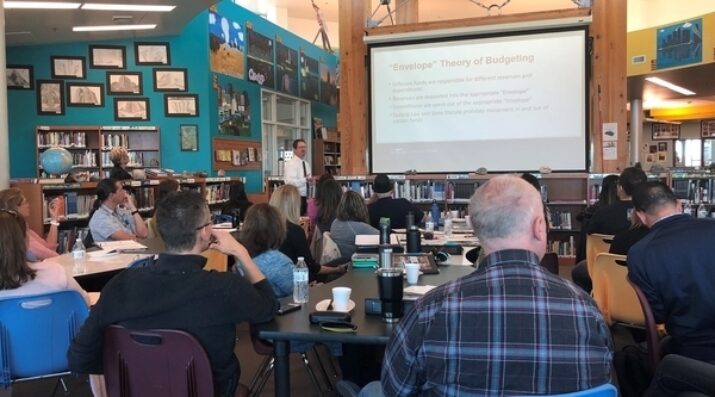 Enabling Change
Enabling Change
Next generation learning is all about everyone in the system—from students through teachers to policymakers—taking charge of their own learning, development, and work. That doesn't happen by forcing change through mandates and compliance. It happens by creating the environment and the equity of opportunity for everyone in the system to do their best possible work.
Learn More
High levels of community support for St. Vrain Valley Schools are accelerating innovation and student achievement in the district. Here's how the district engaged its community.
"Ask not what your country can do for you; ask what you can do for your country." The famous line from John F. Kennedy resonates with many who understand the impact our communities can have on advancing the greater good.
Our communities play a significant role in either accelerating or slowing the advancement of our public schools. An informed public who believes in the mission of education and understands the value of high-quality public schools bring to their lives (regardless if they have school-aged students) provides a foundation from which our education system can strengthen our society. Without their trust, investment, and support, we cannot remain successful in our mission to provide all students with the education and opportunities that will give them a strong competitive advantage in a complex, globalized world.
St. Vrain Valley Schools—the seventh-largest district in Colorado and home to more than 33,000 students across 13 communities—has spent more than a decade cultivating a relationship with its community that has been the nexus for implementing systemic and strategic change. This has forged a path toward transformation from a school district on the brink of bankruptcy to one that is nationally and internationally recognized for innovation and parent leadership.
A District at a Crossroads
In 2008, St. Vrain found itself at a crossroads. It had stabilized its budget after making significant sacrifices and staffing cuts following a $13.8 million shortfall in 2002 and was preparing for a looming national recession with expected significant additional cuts to education funding in Colorado. Revenues would need to increase if the district wanted to provide the high-quality education that our students deserve, but community trust and support was at a low.
In Colorado, tax increases to fund services such as roads or schools cannot come directly from the state legislature but instead must go to a public vote, which has been historically difficult to pass at the state level. School districts can increase revenues at the local level through bonds (capital expenses) and mill-levy overrides (operational expenses), both of which, when well-planned and strategically implemented, can be instrumental in increasing opportunities for students, elevating the quality of our learning environments, and strengthening our public schools.
By 2008, the St. Vrain Valley district had not passed a mill-levy override after several failed ballot initiatives in previous years. With new district leadership (Superintendent Don Haddad, began his tenure in 2008) and a small group of concerned parents, a coalition came together to define a strategy that would forever shift the trajectory of St. Vrain from a district with low community trust and financial instability to one with national and international accolades as a world-class educational institution.
Shifting the Message
One of the most significant changes the St. Vrain Valley school system has made since 2008 was shifting our message and our value proposition across the community. At the core of any relationship—whether it is between spouses, friends, or a parent and child—is a foundation of trust and how each person in the relationship perceives each other in the context of their values, priorities, and beliefs. The same holds true for organizations and the greater public. Your brand is built on the public's perception of your value in their lives. Do you enrich my life? Are you trustworthy and follow through on your mission? Do your core values align with my core values?
Leading into 2008, St.Vrain's messaging had focused on a deficit mindset: Our schools do not have enough resources to adequately serve our community, so we need you to invest more. With the previous failed ballot initiatives, it was clear that this approach was not working.
Public education is the only industry that tries to inspire support by emphasizing perceived deficits. It would be the same as a car company showing an ad with a car lacking all necessary safety features and asking you to spend more to purchase it so that it could build a better car in the future. If we want to truly engage our community in our mission and our greater value, we must ensure that we are aligning our message to that purpose.
We looked to the famous John F. Kennedy quote, and instead of asking the community what they would do for us, we told the community what we were going to do for them. The quality of our public schools strengthens the economy, increases residential and commercial property values, builds the workforce of the future, enhances public safety, and is the cornerstone to a strong democracy.
Not only did we educate and inspire our community to believe in the value and purpose of public education—we passed both a bond and mill-levy override in 2008 with a majority of community support—we also followed through on promises made to show our voters that their investment in our schools is an investment in a more vibrant community.
Cultivating Informed Parent and Community Leadership
A shift in messaging should not focus on a single campaign or objective. Authentic and sustainable change must become part of the fabric of your organization and be a consistent priority. From the parent leaders who were engaged with district leadership in 2008 to address school funding issues, a call to action emerged to empower more informed leadership across our parents and community to advance our public schools. From that momentum, Leadership St. Vrain was born.
Leadership St. Vrain is a program designed to provide parents and other community members the opportunity to deepen their knowledge of our district's mission, operations, and strategic priorities. The program is especially beneficial for those who want to obtain a foundation in district operations and governance and become more active participants in St. Vrain Valley schools and the community. Each year, the program cohort is selected through an application process and represents a diverse community that spans all schools in St. Vrain. Participants meet monthly during the school year with district and community leaders to discuss topics that include district budget and financing, governance, legislation, community engagement, hiring, assessment, special education, student services, school safety, operations, technology, and more.
Entering its 11th year this fall, Leadership St. Vrain has hundreds of graduates from the program who have gone on to be informed and powerful advocates. It is no longer just the district championing the quality and value of our public schools but an entire community that is invested in our continued success.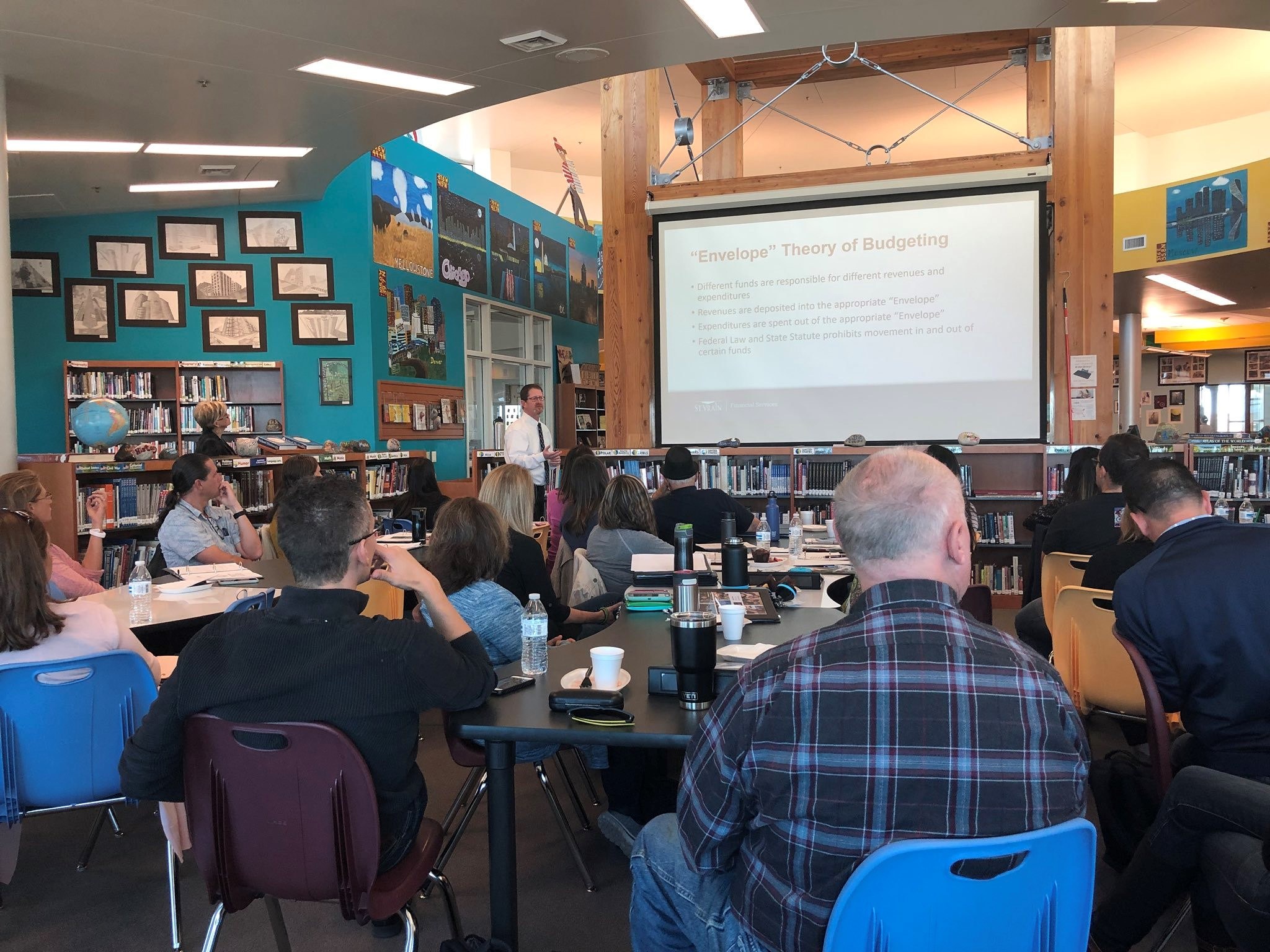 Greg Fieth, the chief financial officer for St. Vrain Valley schools, presents the district budgeting process to the 2018-19 Leadership St. Vrain cohort. (Courtesy of St. Vrain Valley Schools)
Strengthening Our Communities
After the success of the 2008 ballot initiatives and the implementation of programs such as Leadership St. Vrain, the St. Vrain Valley community also passed a mill-levy override in 2012 and a bond initiative in 2016.
While there are numerous initiatives, partners, and programs that have significantly contributed to the success of St. Vrain Valley schools over the past decade—including our industry, corporate, and nonprofit partners; implementation of full choice across 70 instructional focus programs; and earning the prestigious federal Investing in Innovation (i3) and Race to the Top grants—aligning our messaging to our purpose and engaging our community as true stakeholders was instrumental to the high levels of support that are accelerating innovation and student achievement across our schools.
Building a foundation of community support through messaging and community engagement is something that all districts can do to advance public education across our nation.
Resources for Further Reading