Access and watch recordings of workshops, conference sessions, and webinars with NGLC and partner districts!
Bravely Activate Your Portrait of a Graduate—NGLC Workshop
On June 13 and July 19, 2023, NGLC hosted a 1-hour workshop to help school communities activate their own graduate portrait. Participants were introduced to best practices drawing upon NGLC's decade of experience working with schools and districts that are bringing their vision for student success to life. Participants then explored resources, tools, and advice from The Portrait of a Graduate in Practice and guest speakers—June 13: Nicole Allard, Vista Unified School District; July 19: Theresa Ewald, Kettle Moraine School District (ret.).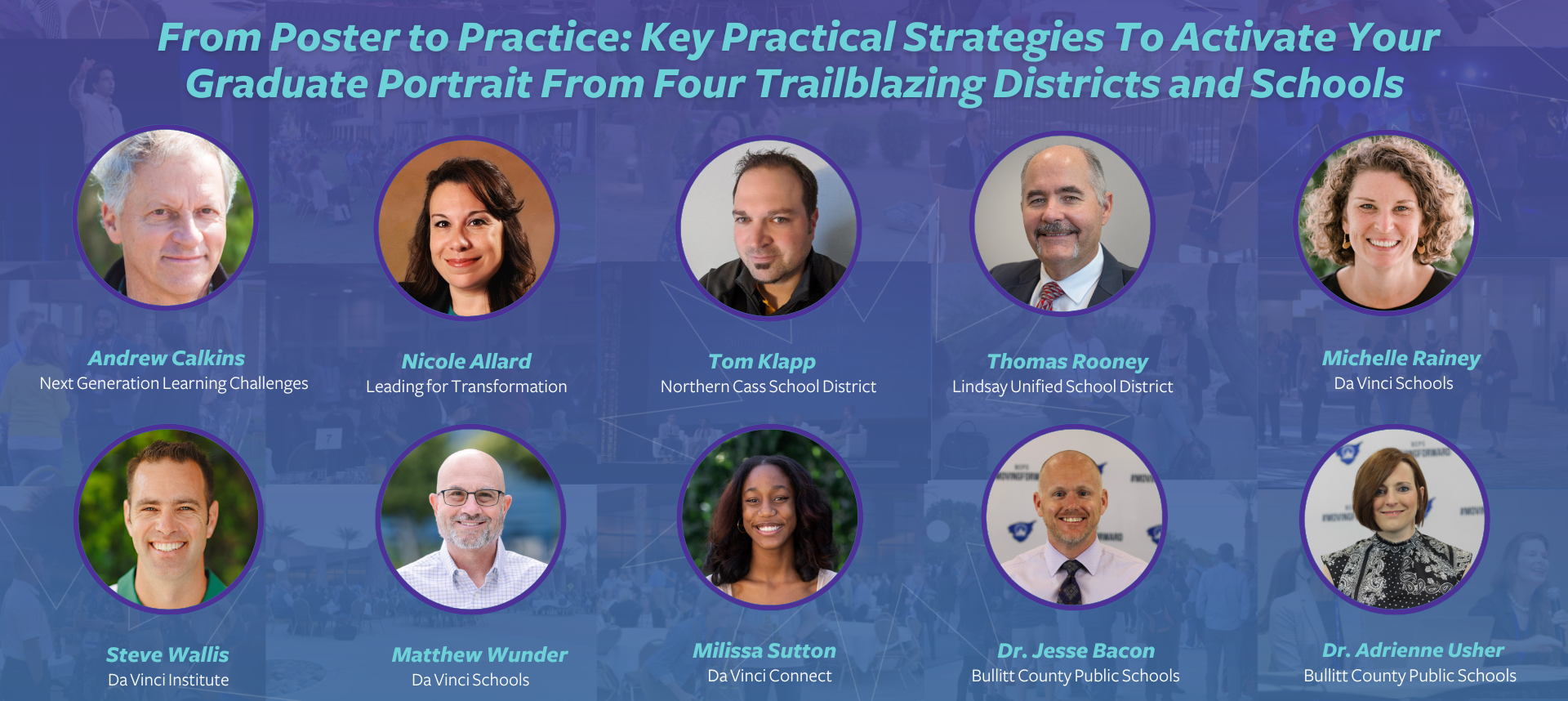 From Poster to Practice—Aurora Institute Symposium Session
Creating a graduate portrait is the first step in the complex journey to transform student learning around whole-child, 21st-century definitions of student success. The hard part is what follows. On Monday, October 16, 2023 in Palm Springs, California, participants in this immersive How-To Implementation Workshop enjoyed the 90 minutes of their dreams: practical guidance from four schools & districts that have emerged from this work as national exemplars. Participants left the session with a clear set of ideas about how to bring their reimagined vision to life, for adults and students alike. SEE THE SLIDE DECK
Presenters: Tom Klapp, Northern Cass School District; Tom Rooney, Lindsay Unified School District; Michelle Rainey, Steve Wallis, Matthew Wunder, and 12th grader Milissa Sutton, Da Vinci Schools; Jesse Bacon and Adrienne Usher, Bullitt County Public Schools; Andy Calkins, NGLC.

Getting Smart Town Hall
On Thursday, June 22, 2023, participants connected with Getting Smart team members, NGLC, Portrait of a Graduate in Practice educators, and a Nevada state education partner for an informal discussion about ensuring all students have high-quality learning experiences that help them continuously develop the competencies in a graduate portrait. We sought to answer the question: How might a unified vision for student success... change learning experiences? shape relationships with community? evolve professional learning opportunities? redefine culture? WATCH THE RECORDING

Guests: Brandy Howard, Bullitt County Public Schools; Andi Kornowski, Kettle Moraine School District; Jeanine Collins, ed.Xtraordinary; Kristen Vogt, NGLC. Facilitator: Victoria Andrews, Getting Smart

Graduate Portraits: How to Move from Poster to Practice—Transcend Webinar
On Wednesday, September 27, 2023, webinar participants heard directly from educators, a learner, and a recent graduate about the shifts they are making as they breathe life into their communities' graduate portrait. In this interactive and engaging workshop, we explored how their portraits are changing teaching and learning and how teachers and students are leading the way. Participants also learned about tools and resources available in NGLC's The Portrait of a Graduate in Practice stories and Transcend's Graduate Aims Library; these tools can help your school community activate your portrait in your own learning spaces.
Featured speakers: Milissa Sutton & Michelle Rainey, Da Vinci Connect (California); Isaac Johnson, Mackenzie Tadych, & Tom Klapp, Northern Cass School District (North Dakota); Kristen Vogt and Andy Calkins, NGLC; Cynthia Leck, Transcend. Facilitator: Sarah Akhtar, Transcend

---
The Portrait of a Graduate in Practice was developed by Next Generation Learning Challenges with funding provided by the Barr Foundation. NGLC extends our appreciation to Amanda Avallone and Stefanie Blouin for their contributions to this project.