New Designs for School
A Student's Perspective: Some Truths About Real-World Learning
January 29, 2018
Topics
Learner Agency
Student Success
School Culture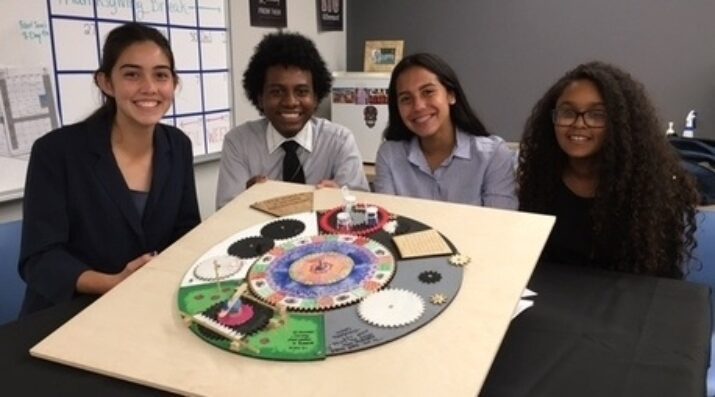 New Designs for School
New Designs for School
We've all had the experience of truly purposeful, authentic learning and know how valuable it is. Educators are taking the best of what we know about learning, student support, effective instruction, and interpersonal skill-building to completely reimagine schools so that students experience that kind of purposeful learning all day, every day.
Learn More
Practitioner's Guide to Next Gen Learning

This week's edition was written by Ricky Sierra, a student at Da Vinci Extension. Here she shares her experience in the innovative learning environment at Da Vinci Schools.
Student voice and agency are at the heart of many next gen learning models, but giving students a voice in their education is only valuable if we adults listen to what they have to say. In the spirit of listening to students about how they experience learning, this week's edition of Friday Focus: Practitioner's Guide to Next Gen Learning was written by Ricky Sierra, a student at Da Vinci Extension, a postsecondary program built on partnerships between Da Vinci Schools in Los Angeles and universities.
As part of her real-world learning at DVX, Ricky interned with Next Generation Learning Challenges this past fall. Today she tells the story of her experiences at Da Vinci Schools, including:
How a project-based school like Da Vinci differs from traditional high schools
The importance of strong relationships with educators
The memorable real-world project she and classmates accomplished her senior year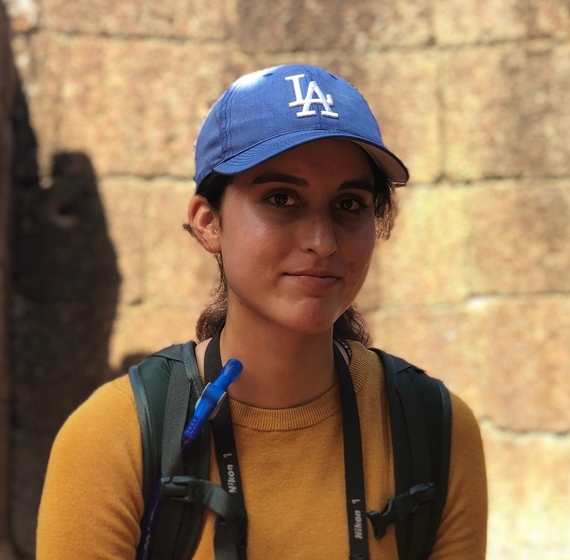 Living in the Wiseburn School District since the day I was born, I attended Wiseburn schools from kindergarten to high school graduation. Having experienced traditional schooling until I was in eighth grade, my first day at Da Vinci in 2012 was quite interesting.
Not Your Typical High School
Research studies show that doing "hands-on" work instead of reading from a textbook is more effective and aligned to brain development. However, I realized that until I got used to this new way of learning, it was going to be a bit difficult to adjust. One new aspect was that everyone at Da Vinci was on a first-name basis, teachers and principals included, which was strange at the beginning. On the first day of school, the teacher said, "Hello, my name is Frank." I was surprised to call him nothing but his first name.
Da Vinci was different, very different from your ordinary high school, and I did miss out on some traditional high school things. I never got to experience homecomings, football games, being on a sports team or anything you might see in your typical high school romance movie. In addition, there were no textbooks to be found anywhere, no tests or finals, no eight-to-three schedule, no football, baseball, or soccer team, no physical education, no bells ringing to start and end classes, and, most importantly, no memorizing.
Instead there were teachers' and students' murals painted on the walls, with a new mural added each week. The classrooms were filled with books offering different perspectives on the subject matter, as well as fun reads, and reading areas where students could hang out and feel comfortable. Teachers would even bring their pets to school—it was always exciting to have dogs running around the campus.
[H]onest accounts from kids...are so obviously missing in the current policy debate. What they tell us – if we will listen – is that school in general and teachers specifically have the power to make a great difference.
–Grant Wiggins

A Safe Place to Express Creativity
Da Vinci was a safe place to express your creativity and be free to do whatever you want within limits. For example you were allowed to just start painting or drawing on walls; it was the norm. There was also an iPad or laptop available to every student, which gave us access to endless resources on topics we would discuss in class. This may sound a bit strange to someone who attended traditional schooling, but it was a community, where adults and students felt safe to be their creative and unique selves.
Another advantage of being a Da Vinci student is that we were able to experience advisory. This was a class every Friday morning that consisted of students from all grade levels bonding over group activities. In addition, we went to school from 9:00 to 4:00 Monday through Thursday and went in at 10:00 every Friday. This allowed us to get extra hours of sleep that we all very much needed because our brains were still developing.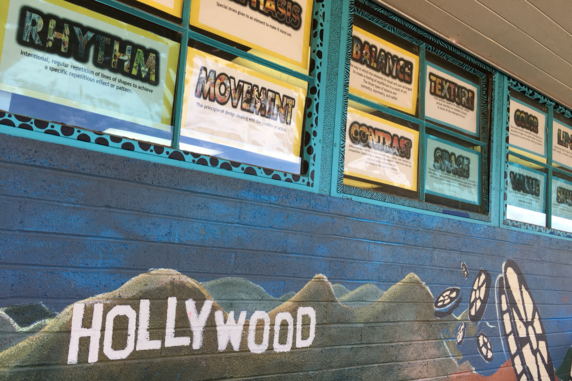 Murals painted by students line the hallways at Da Vinci.
Strong Relationships with Educators
We also got to build relationships with teachers and principals that you could not experience at any other school. Students had many of their teachers' personal phone numbers so they could call or text them regarding a school issue or even a personal problem. We knew that we could trust them with issues we were having with family or friends outside of the classroom.
For example, I connected with a few teachers where I felt comfortable enough to talk to them whenever I had a fight with my boyfriend or best friend. I have continued this friendship with one of my former teachers. Even after graduation we still meet up for coffee or lunch every so often just to hang out. Many students develop some sort of relationship with a teacher that is strong enough to continue after graduation. These friendships are one of the things that brings Da Vinci together as a community.
Project-based Learning
Another difference about Da Vinci is the way we did projects. Twice a year, we would formulate a massive project that groups of students would work on for about six to eight weeks. The projects were then displayed on Exhibition Night. Students would be under massive stress and pressure to finish their projects on time while still trying to achieve the best presentation. The stress of these projects came from having to meet the content expectations from the teachers and display the content in the most aesthetic way—both grades were important.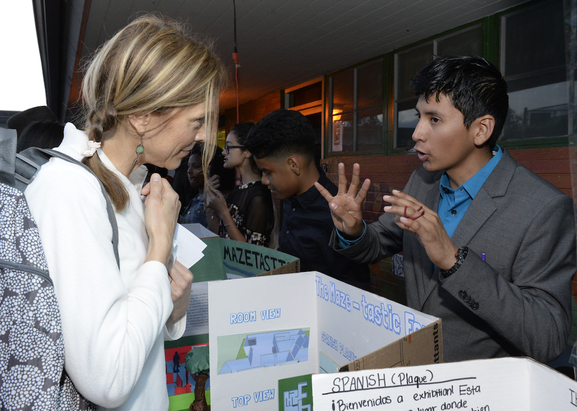 A Da Vinci student explains his project to a visitor at Exhibition Night.
After nearly two months of work, seeing your project finally come together on the night of the exhibition and drawing in crowds of people who are interested in your project is a huge pay off. Projects addressed all kinds of topics: some consisted of creating a business and having to sell products. Others involved learning how to survive an apocalypse—including building your own home to sleep in for the night—or even making a change in the community that would have a lasting impact even after graduation.
For my senior year project, four other students and I decided to rescue two dogs with serious medical issues from a high-kill shelter and rehabilitate them so we could adopt them out to new homes. We documented the whole change in the dogs, from defying death in the shelter to being spoiled rotten in their new homes. We even got featured in the local newspaper, The Daily Breeze, twice, (once for rescuing Piper, the chihuahua, and once for Fetty), which had a lasting impact in our community. Our project was a huge success. We ended up raising $1,800, which was more money than we needed, so we donated the leftover funds to a local rescue organization.
This experience shows how extraordinary a school like Da Vinci is, a place where project-based learning really does more than just stay inside the classroom. Da Vinci was a safe environment where everyone was welcome, regardless of race or religion. One can only truly get to know the ways of Da Vinci's model or design or approach by being there to enjoy its magic of learning.
Final Thoughts for the Field
The 21st century has brought new advancements, ranging from technology, engineering, design, and also in education. As more and more K-12 schools implement this kind of real-world, hands-on learning into their schools, colleges and universities may soon have to start rethinking their teaching techniques as well. People learn differently. If more schools and colleges changed their way of teaching and learning from textbook style to project based, more students might be successful and graduate.
Education is shaping the future of this country; the next generation will determine which direction America is headed toward. Students who graduate from next gen schools like Da Vinci leave with the lasting impact of real-world experiences they can use in life, not just in school.
Resources: