New Designs for School
In One Year, SC Turnaround School Pulls a Stunning 180
June 13, 2014
Topics
Competency-based Education
Personalized Learning
College & Career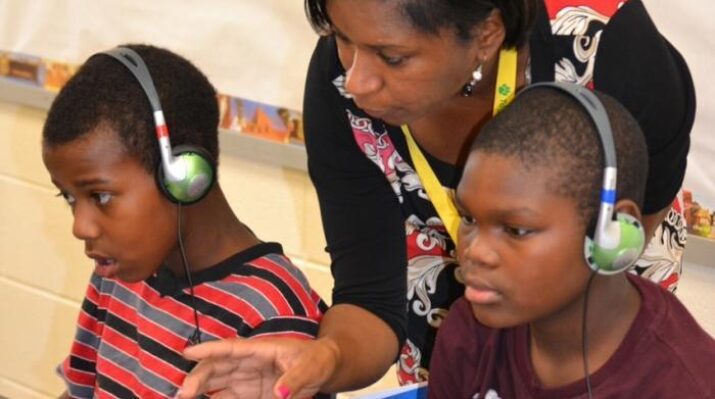 New Designs for School
New Designs for School
We've all had the experience of truly purposeful, authentic learning and know how valuable it is. Educators are taking the best of what we know about learning, student support, effective instruction, and interpersonal skill-building to completely reimagine schools so that students experience that kind of purposeful learning all day, every day.
Learn More
If 40,000 kids' lives could be changed through education better tailored to their needs, would you believe it?
Imagine if you were part of a group that was least likely, statistically speaking, to graduate high school within four years. What would you expect for your future?
If anything, the words 'low performing, high poverty' convey an image of a dire academic environment. In South Carolina's Horry County School District, this unfortunately had been a reality for students in one middle school. Historically, they performed near the bottom rungs of national evaluations, and by senior year, many may have never even set foot on a college campus. Nearly nine of out ten qualify for free or reduced lunch.
If you were raised here, what would your ambitions be? College may seem like a far-off prospect. In the increasingly competitive Information Age, finding gainful employment after high school could be very difficult.
But what if an entire school district could be reworked—that is, totally reimagined—based on one successful pilot project for middle school students?
If you discovered that the school that sparked all of this transformation went from a 'D grade' to a 'B grade'—nearly failing to above average, in just one academic year—would you think it was possible?
That change is happening right now, in the small southern town of Conway, South Carolina. Judy Beard, principal of Horry County School District's Whittemore Park Middle School, is on a mission.
In the turnaround school she leads, sixth graders are known as first year students since they are learning within a variety of grade levels according to their individual ability. They're also acquiring skills and dispositions critical to lifelong learning. And 75% of the time they spend in literacy and math classes, they're using digital content that both enhances and personalizes their learning experience.
They're taught in rotations by new and existing teachers. All teachers interviewed to specialize in teaching the new 'iCAN' model, which promotes 21st century skills such as digital literacy, communication, teamwork, and project management. (iCAN is an acronym for the model's central elements: individualized, college and career readiness, aspirations of students, and network of support.)
The model is anything but rigid; in it, students' time is governed by personalized learning plans, which means that beyond core classes they can choose to study anything from choral music to robotics. They shift from using digital content to undergoing skill-based project- or performance-based tasks or small group instruction. They're able to pursue their interests and hone their talents during class time, gaining insight from remedial or accelerated instruction as needed.
Students are provided with social and emotional support from community and college student mentors. Support includes a pedagogical component as well, as structured professional development has connected teachers with blended learning and school culture experts, enabling them to incorporate new methodologies through internal leadership academies.
Clear initial success indicators exist: Whittemore Park has strong teacher and student satisfaction, which extends beyond the school to parents and the greater community.
Beth Havens, who assists with innovation projects in the district, is excited about the transformation at Whittemore Park. "Student achievement has truly accelerated," Havens said. "Because of the holistic approach we've been able to adopt, our kids mature quickly and become independent learners. I have always believed that reinvention could happen in public schools if people had the will to do it; there is so much potential."
"We've had enthusiastic support from our school board, our superintendent, our district staff, families, and the greater community. Without the NGLC grant and its opportunities to connect to a larger network, however, this would likely have been a 50-year journey. Now, we're scaling blended learning models that accelerate achievement, increase engagement, and individualize instruction across 54 schools. It's all happened so much faster than we hoped."
With Whittemore Park's inside-out whole school turnaround model in place today, if you were raised in Conway, South Carolina, what would your ambitions be?