New Designs for School
3 Personalized Learning Schools in Chicago
October 14, 2015
Topics
Personalized Learning
Tools for Next Gen Learning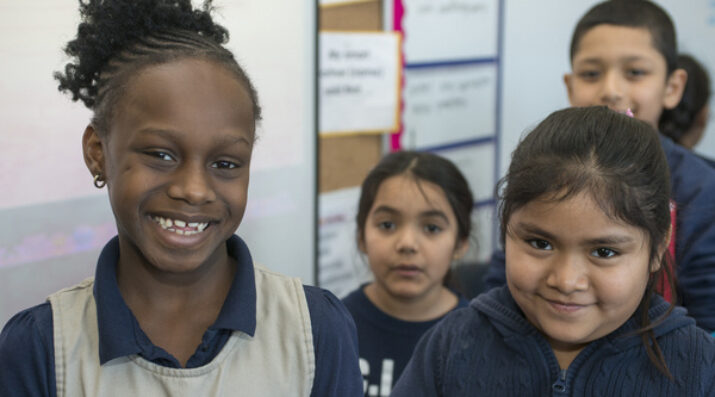 New Designs for School
New Designs for School
We've all had the experience of truly purposeful, authentic learning and know how valuable it is. Educators are taking the best of what we know about learning, student support, effective instruction, and interpersonal skill-building to completely reimagine schools so that students experience that kind of purposeful learning all day, every day.
Learn More
Practitioner's Guide to Next Gen Learning

Chicago is known for how it does pizza (deep dish), sports (Michael Jordan, Wrigley Field), and comedy (The Second City). Do you know how the third largest city in the U.S. does personalized learning?
Chicago is known for how it does pizza (deep dish), sports (Michael Jordan, Wrigley Field), and comedy (The Second City). Do you know how the third largest city in the U.S. does personalized learning?
Take a look inside three schools I toured last month when NGLC and LEAP Innovations co-hosted a convening of over 90 educational leaders from across the country: Cesar Chávez Multicultural Academic Center, Intrinsic Schools, and Chicago International Charter School (CICS) West Belden. Chicago does personalized learning through a combination of creative use of space, personal relationships, support for teachers, data, blended learning, and personalized learning plans. Here's how.
Cesar Chávez Multicultural Academic Center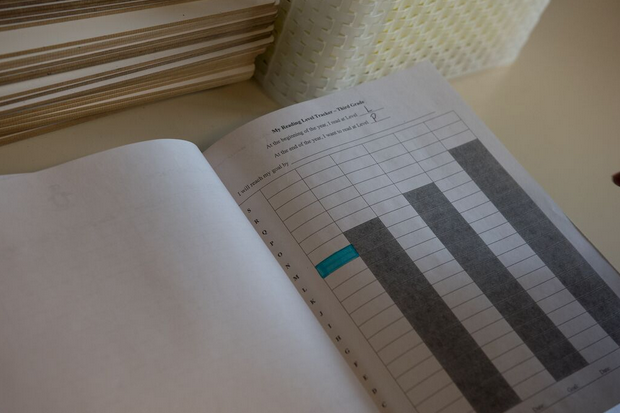 Yellow folders—students' personalized learning plans—support the emerging competency-based approach at Cesar Chávez
Cesar Chávez is a district school with a 99 percent low-income and 95 percent Hispanic student population. The school is situated in one of Chicago's toughest neighborhoods. To punctuate this fact, Principal Barton Dassinger started our tour by handing out a sheet of paper listing a staggering number of shootings in the area—the Back-of-the-Yards neighborhood measuring just a mile by a mile and a half. And yet, Chávez is among the most advanced schools in Chicago when it comes to executing blended instructional approaches at scale and has recently committed to implementing competency-based strategies for enabling students to show what they know and move at their own pace through the curriculum.
On the tour, participants saw the data dashboard—an Excel spreadsheet that captures key metrics like attendance and scores on assessments. Barton updates the data frequently, and he must, to keep up with the high mobility rate of the student population. In this short video, Barton describes how Chávez uses the data.
Participants in the site visit noted that, because of personalized learning, the students knew where they were in their learning and where they needed to improve. This knowing is facilitated by the school's use of yellow folders—the personalized learning plan, a critical component in their competency-based approach. Playlists for students with real-time feedback enabled teachers to plan for personalization. Additionally, students were deeply engaged in their learning. There was evidence of student goal setting and notable student progress as measured by formal assessments. Last year, Chávez students performed in the 97th percentile in reading and in the 96th percentile in math on the NWEA-MAP test.
Additional Resources
CICS West Belden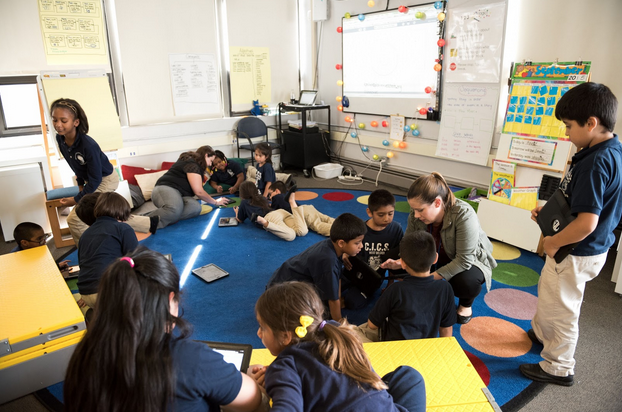 CICS students engaging in small group and independent blended learning
Chicago International Charter School (CICS) West Belden, managed by CMO Distinctive Schools, is a K-8 school with a 95 percent low-income population and 91 percent Hispanic student population. As of this fall, CICS has transformed the school to fully blended with embedded tactics and strategies to personalize learning for every student. The leadership and staff at CICS began the journey last year with next gen learning pilot classrooms. Based on the successes they had with the pilots, they fully scaled their new model across the entire school. Watch Principal Scott Frauenheim and his staff describe their journey and their model.
One of the first things you notice when you walk into the school is how welcoming it is. Each class has student greeters who welcome every visitor into their classroom and describe what they are doing and learning. Even the school's instructional coaches who are frequently in classrooms are greeted by a student when they enter a room.
The staff explained how they intentionally created flexible and engaging learning environments through a design thinking process. We saw a variety of comfy and inviting places for students to read and engage in independent and collaborative learning. In every classroom. There were pillows, couches, area rugs, worktables, and different types of chairs. A 4th grade teacher explained that students could work at the teacher's desk if they wanted to. She also explained that the students took pride in their room and all pitched in to straighten up the furnishings and tidy up the room at the end of the day.
A striking aspect of the school's academic model is the multi-age, co-teaching classrooms. The school groups grades into blocks (1-2-3, 4-5, and 6-7-8; Kindergarten is not grouped). The building is a traditional school with individual classrooms; some doors were added to make it easier for students and teachers to weave in and out of the rooms. Sometimes, students are in their grade-level cohort, sometimes they are mixed. It depends on the lesson, the subject, and the learning needs of the students.
I was intrigued by the cross-grade level "crews" in the 1-2-3 block. Each crew consists of a first grader, second grader, and third grader. They are matched up for peer learning and peer mentoring opportunities. In one classroom we observed the second and third graders helping the first graders in their crews log in to a learning app on their iPad and learn how to navigate within the app.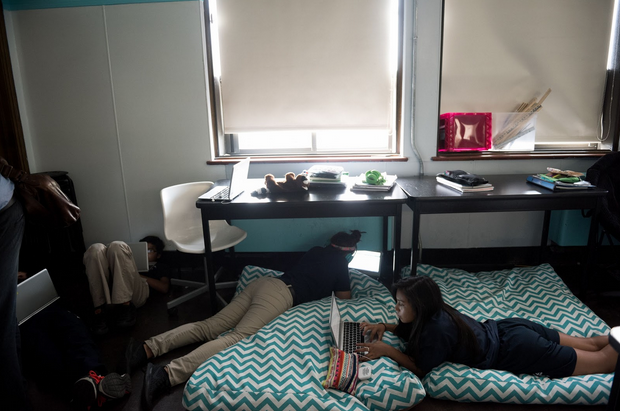 One of the flexible and engaging learning spaces at CICS West Belden
There is an energy in the school that is palpable. On the tour, we saw students engaged in a variety of digital and adaptive programs, collaborating with peers, participating in 1-on-1 tutoring sessions, and joining in small-group instruction with an instructional staff member. This variety of activity was well-orchestrated, guided by individual learning plans and coordinated by teacher teams. We were impressed that students and teachers knew the routines and expectations so well just one month into the school year—that's one month into the new school model! Personalized learning is making a difference for the students at CICS West Belden.
Additional Resources
Intrinsic Schools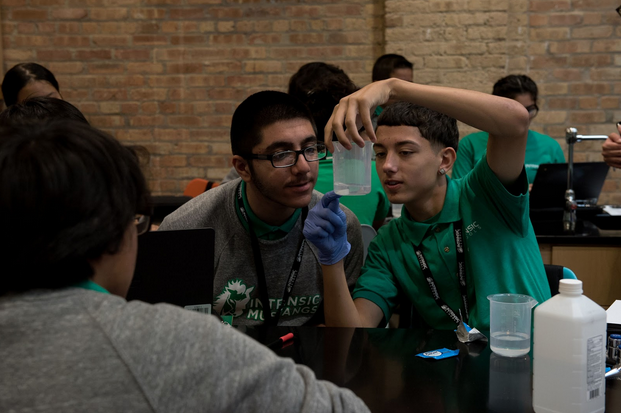 Collaborative investigation during the STEM block at Intrinsic
Intrinsic Schools is a grade 7-12 charter in its third year of operation. Each student has a six-year individualized learning plan that outlines a path to postsecondary success and cultivates more student ownership of progress toward learning goals. Students spend half of the day in a humanities block, and the other half in a STEM block. Within the block, a wide range of learning modalities are employed (small group collaboration, teacher direct instruction, independent work) and these require flexible learning spaces which the school has created to accommodate their vision and conditions for learning.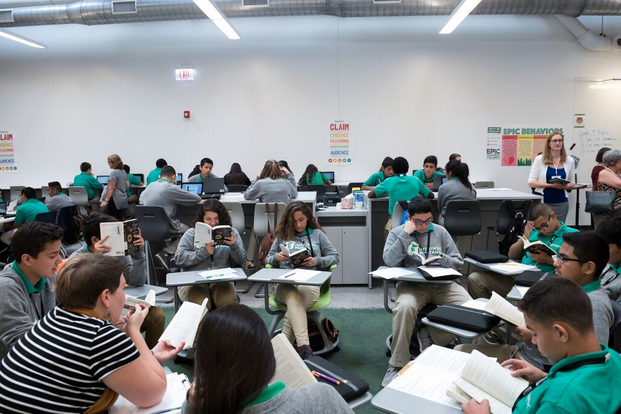 Learning pod at Intrinsic
The first thing you notice when walking into Intrinsic's building—a lumber yard renovated specifically for Intrinsic's model—is the thoughtful design and use of space within its math and ELA learning pods. In the 9th grade ELA pod we visited, students were reading and analyzing Sherman Alexie's The Absolutely True Diary of a Part Time Indian. We watched students engage with the text, with each other, and with their teachers in a variety of modalities throughout the pod: independent learning in the coastline which stretches along the wall, collaborative peer work at the counter-height tables in the middle of the pod, and two simultaneous small-group instruction groups wherever the flexible chair-desks are circled together.
We saw a similar arrangement and learning rotation in the adjacent 9th grade STEM pod. When we entered, different groups of 9th graders were simultaneously learning algebra at various levels of differentiation, based on data from formative assessments. The whole spectrum of algebra was covered, based on students' proven mastery and current mathematical understanding. A smaller group of 9th grade students focused on a social studies lesson in an enclosed room between the STEM and ELA pods, and another group of students was conducting a science experiment dissolving Alka-Seltzer tabs in the adjacent science lab.
In addition to innovative use of space, Intrinsic uses a team teaching approach. Intrinsic's model was built to sustain teachers and engage students. There is continuous teacher observation and support in a growth mindset environment. In this short clip, Melissa Zaikos explains embedded teacher development, a key feature of the Intrinsic model.
Additional Resources