New Designs for School
Chicago International Charter School (CICS) West Belden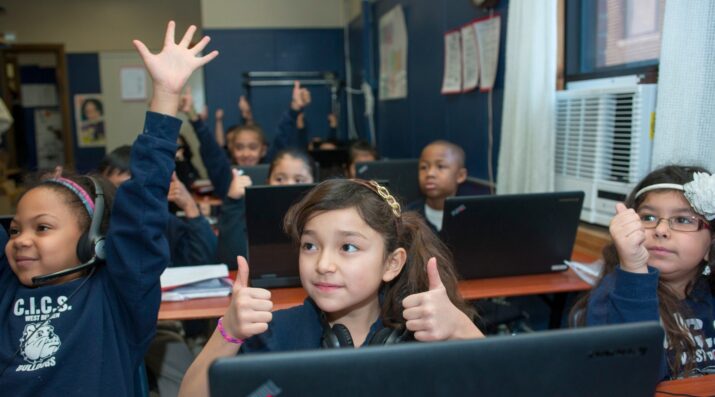 New Designs for School
New Designs for School
We've all had the experience of truly purposeful, authentic learning and know how valuable it is. Educators are taking the best of what we know about learning, student support, effective instruction, and interpersonal skill-building to completely reimagine schools so that students experience that kind of purposeful learning all day, every day.
Learn More
School: Chicago International Charter School (CICS) West Belden
Grades Served: K-8
Location: 2245 N McVicker Ave, Chicago, IL
Operator: Distinctive Schools
Operator Type: Charter
Setting: Urban
Students at Start: 950
Students at Capacity: 950
Hallmark Feature: Transition to a Personalized Learning Culture
This redesign effort will transform the school as it becomes fully blended, with embedded tactics and strategies to personalize learning for every student.
Students will progress through their individualized learning plan during three-hour rotational labs, where they will learn through digital and adaptive programs, collaborate with peers, and participate in individual tutoring sessions and small-group instruction.
The model will expand new professional development opportunities created in the 2013 Summer Design Program. Already these efforts, which launched in fall 2013, include virtual instruction and increased teacher collaboration time.
CICS West Belden's student population is 95 percent low-income and 91 percent Hispanic.
CICS West Belden is a part of the CICS network of charter schools and is operated by Distinctive Schools. As such, the school will receive substantial support from both organizations as it embarks on a process to inform redesign of the Distinctive Schools model for teaching and learning.
Our process will provide important lessons regarding strategies and approaches to effectively transition an existing high performing school to a personalized learning culture with students at the center and higher levels of satisfaction levels for teachers.
People Working On This Challenge
See More