New Designs for School
Celebrating XQ Super Schools with NGLC Roots: Brooklyn LAB
October 20, 2016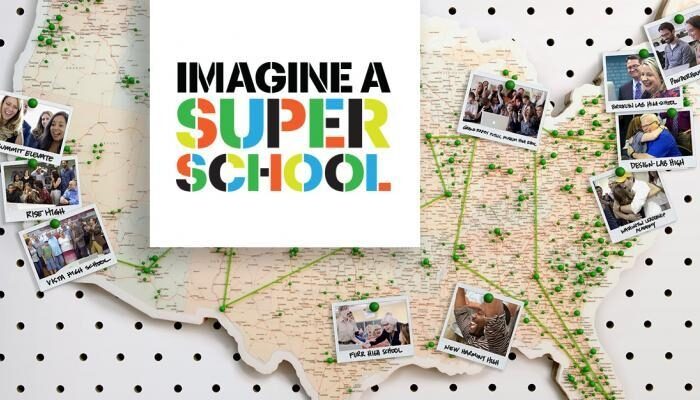 New Designs for School
New Designs for School
We've all had the experience of truly purposeful, authentic learning and know how valuable it is. Educators are taking the best of what we know about learning, student support, effective instruction, and interpersonal skill-building to completely reimagine schools so that students experience that kind of purposeful learning all day, every day.
Learn More
Learn about the history of innovation behind $10M XQ Super School winner, Brooklyn LAB.
Last month, XQ announced ten winners of its super-competitive $10 million Super School grant program. Half of the winners have NGLC roots: Summit Elevate, Brooklyn LAB Charter High School, Powderhouse Studios, Washington Leadership Academy, and RISE High. We think that's something to celebrate.
This blog series takes a look back at the influence the leaders behind these winning designs have had on next gen school design and the future of the American high school. Today, we celebrate Brooklyn LAB Charter High School.
Brooklyn LAB Charter High School
XQ Super School Description: Imagine students in a school in the shadow of a bridge that lights the path to the future.

Brooklyn LAB will unleash the untapped potential of its community to build new bridges to student success.
Despite living in the center of Brooklyn's tech triangle, local students too often grow up isolated from the industries and opportunities surrounding them. Brooklyn LAB will break down these barriers, partnering with industry, universities, the arts, and more to build bridges to connect students with the new economy. Students will learn at the highest levels of rigor with personalized and integrated student supports. What's more, Brooklyn LAB will share its lessons learned—and its commitment to the local community—through a rigorous teacher-training model and a residency program. (Source)
Interview with Brooklyn LAB's Founders
What are you most excited about with your XQ SuperSchool design?
XQ represents the next step in the journey for Brooklyn LAB. We've been inspired and humbled by the thousands of people who participated in XQ and communicated their hunger for creating new pathways to success for adolescents. We envision the school as a hub of community with high academic achievement and focus on rigorous post-secondary preparation. By creating deep and meaningful partnerships, our high school aims to connect community with students and creates an environment that gives students a real path to success.
With the support of XQ, Brooklyn LAB has the opportunity to continue to iterate upon the work that we have started at the middle school level and reimagine what high school is and does for students and their families. We are particularly excited about building an effective human capital model that supports personalized learning and creates new pathways for a diverse group of professionals to enter the field of education and become effective teachers and leaders. We are also equally focused on reworking time, space, technology, and our systems for assessing student and teacher performance to ensure we best meet the needs of the young people that we serve.
We intend to use feedback systems, powered by Cortex, to encourage fundamental literacy, content expertise, original thinking, generous collaboration, and lifelong and life-deep learning. To help our students achieve at the highest levels, we will provide students with agency in their own learning process and accurate data on where they stand and where they still need to improve to be ready for success in college and beyond. Our aim is to not just empower students to get to college but to get through college.
Most of all, we aim to inspire our high school students to take responsibility for, and find joy in, their education by encouraging entrepreneurial attitudes, cultivating dispositions for lifelong learning, and fostering leadership and a commitment to social justice.
How has your thinking evolved or been inspired by your involvement with NGLC?
Brooklyn LAB would not exist but for NGLC's first planning grant. The support of NGLC made possible the launch process for a network of schools that was able to hire a highly qualified founding team, recruit high-need scholars from around Brooklyn, open its doors to its first class of 6th graders in the fall of 2014, grow to serve 479 6th, 7th, and 8th grade scholars in the current school year, and begin the important planning process for launching our first high school in the fall of 2017. Our peer relationships fostered in the NGLC cohort continue to thrive. In our high school planning process, we value the community of practice that we are a part of through NGLC. We continue to value advice, counsel, and fellowship with so many thought partners and leaders in the field who are doing truly challenging and innovative work.
One of the key things we have learned alongside our NGLC community is to limit the vectors of innovation within our model; that is, to create a consistent core experience and then to innovate and iterate within only a few places—personalization, human capital, and positive youth development.
What motivates you personally to be an innovator? What drives your team's passion?
One of our guiding principles at Brooklyn LAB is to ensure that we are creating a school we would send our own child to—one that honors the diversity of the neighborhood in which we are raising a family but also serves students who are not traditionally well served by other educational institutions. Eric's own experiences as a complex learner with several profound learning disabilities that went undetected until his freshman year in college has deeply influenced our continued commitment to serving all learners, with a specific focus on complex learners. 
We meet every student where they are through the design of teaching and learning experiences that promote personalized education.
We seek to level the playing field for all our scholars, irrespective of race, socio-economic background, and special education requirements. We meet our students where they are, and offer them agency, a series of tailored learning experiences and real-time assessment to ensure their mastery of content and overall progression. This means a personalized learning experience which privileges technology alongside small group instruction.
We are thrilled with and encouraged by our results to date: In 2016, our 6th and 7th grade scholars experienced an average of 3 years of growth in reading and math as assessed by Northwest Evaluation Association Measures of Academic Progress, making Brooklyn LAB one of the highest performing middle schools in the country.
Our objective in launching the XQ Super School is twofold: 1) to extend our personalized learning model through grade 12, which is designed to both accelerate learning and use recuperative strategies to help underprepared students catch up; and 2) to build a durable public institution that challenges us to rethink, reimagine, and evolve high school to address and meet head on the changing world in which we live.
NGLC Roots
In July 2013, NGLC awarded InnovateEDU, Inc. a $100,000 planning grant to support the development of a new school model for Brooklyn Laboratory Charter School, fondly known as Brooklyn LAB. Then in May 2014, Brooklyn LAB was one of 16 school models selected by NGLC for a $450,000 grant to launch the school that fall. Congratulations to Erin Mote, Eric Tucker, and the LAB design team for your leadership in reinventing the American high school!
More XQ Super Schools with NGLC Roots