New Designs for School
Celebrating XQ Super Schools with NGLC Roots: RISE High
October 17, 2016
Topics
Competency-based Education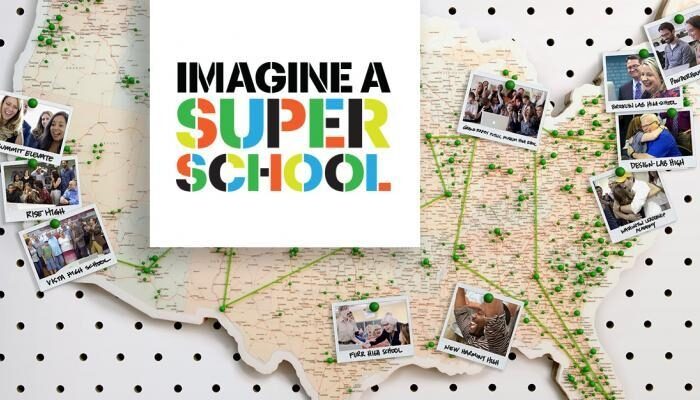 New Designs for School
New Designs for School
We've all had the experience of truly purposeful, authentic learning and know how valuable it is. Educators are taking the best of what we know about learning, student support, effective instruction, and interpersonal skill-building to completely reimagine schools so that students experience that kind of purposeful learning all day, every day.
Learn More
Learn about the history of innovation behind the design of RISE High, recently recognized with a $10 million grant to rethink high school.

Last month, XQ announced ten winners of its super-competitive $10 million Super School grant program. Half of the winners have NGLC roots. We think that's something to celebrate. This blog series takes a look back at the influence of the leaders behind Summit Elevate, Brooklyn LAB High School, Powderhouse Studios, Washington Leadership Academy, and RISE High on next gen school design and the future of the American high school.
To mark the leadership of the innovators behind the five XQ Super Schools, we share with you their winning design along with their own thoughts about reimagining education and their NGLC roots. Today, we celebrate RISE High.
RISE High
XQ Super School Description: Imagine students in a school that meets disconnected young people where they are and helps get them to where they need to go.

RISE High will meet students who are disconnected from school where they are, geographically, academically, socially, and emotionally; and will open up clear pathways to college and career.
RISE High will show what is possible when a network of youth-development agencies, educators, municipalities, and social-support centers break through silos to create a truly student-centered ecosystem. School sites will be embedded within multiple social-service-provider locations to create a citywide campus allowing RISE students to master a college- and career-ready curriculum in the ways, and at the places, that work best for them. If a student isn't near a brick-and-mortar campus, RISE's mobile resource center will drive to the students—so nothing can stop these students from becoming college-, career- and life-ready. (Source)
Interview with RISE High's Kari Croft
What are you most excited about with your XQ SuperSchool design?
There are lots of pieces of our design that we're excited about, but one piece in particular is the mobile learning center. Gensler—a leading architecture and design firm, and one of our partners—worked so hard to create a space that would feel welcoming and safe for students. The end design was even better than we'd imagined, with a washer and dryer, in-unit shower, charging stations and Wi-Fi, and multiple spaces for students to work and collaborate. It will be amazing to see it come to life and be used to literally meet students where they are.
How has your thinking evolved or been inspired by your involvement with NGLC breakthrough school model grantee, Da Vinci Schools?
There would be no RISE without Da Vinci. Matt Wunder [CEO of Da Vinci Schools], the school principals and leaders, and all the Da Vinci teachers and students welcomed me into their community all last year to learn from them. They opened up their offices and classrooms so I could see Project-Based, Real-World Learning in action. They walked me through Mastery-Based Grading, taught me the ins and outs of Independent Study and hybrid learning, and allowed me to be a part of the beautiful culture they've created alongside students.
Several teachers and staff—Maigon, Rey, and Scott—were official members of the XQ team and attended multiple design nights and work sessions, lending their expertise and Da Vinci experience to the creation of the RISE model. The final school design has Da Vinci DNA all over it: RISE will incorporate the Project-Based and Real-World Learning and will strive to emulate the strong staff and student culture that exists among the Da Vinci schools and programs.
What motivates you personally to be an innovator? What drives your team's passion?
For so many students, the traditional system of schooling fails to meet their unique needs. Our team worked with students to innovate out of necessity to meet those needs. Just as our students drove the work of innovation, they drove, and continue to drive, our passion for this work. They make it fun to be here every day and constantly remind us what a privilege it is to work alongside them.
NGLC Roots
Da Vinci Schools' Kim Merritt offers some background:
"Matt Wunder, CEO of Da Vinci Schools, has been passionately working to organize dedicated people to help address the gaps in education access that homeless and foster students often face. To this end, Da Vinci Institute brought on our first Da Vinci fellow, Kari Croft, to take the work to the next level.
"Kari spent time across the Da Vinci ecosystem, learning signature practices and absorbing the culture. She then took this, her research about the homeless and foster population, her experiences with kids, and her other considerable skills to the task of organizing a team and designing a school that will make a positive impact on many students lives!"
NGLC awarded Da Vinci Schools a $450,000 grant in 2012 to launch Da Vinci Communications in fall 2013. The design for the new high school integrated blended learning, early college, and real-world experiences with the project-based approach of its three existing charter schools. Project-based learning (PBL) is the "driving mechanism" of Da Vinci Schools' academic model. We know PBL is hard to do well and Da Vinci Schools is leading the NGLC network in whole-school PBL design and practice.
You can read more about RISE High's school design in a LA Times article and an Education Post article about its XQ Super School award.
Congratulations to Kari, the RISE High design team, and Da Vinci Schools for your leadership in reinventing high school for today's youth!
More XQ Super Schools with NGLC Roots