New Designs for School
Celebrating XQ Super Schools with NGLC Roots: Summit Elevate
October 5, 2016
Topics
Personalized Learning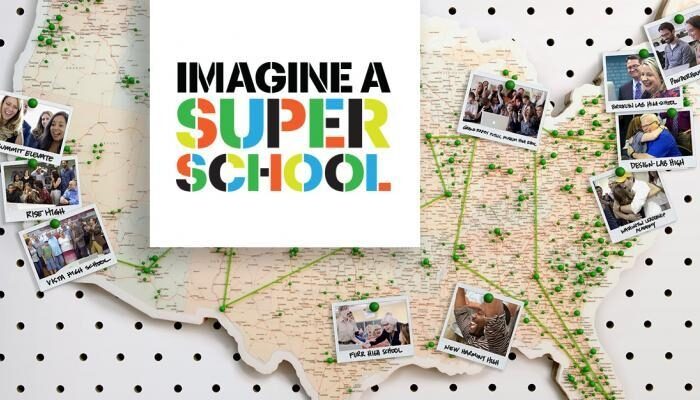 New Designs for School
New Designs for School
We've all had the experience of truly purposeful, authentic learning and know how valuable it is. Educators are taking the best of what we know about learning, student support, effective instruction, and interpersonal skill-building to completely reimagine schools so that students experience that kind of purposeful learning all day, every day.
Learn More
With $10 million to work with, the leaders of Summit Elevate are reshaping the future of high school. Learn about their history of innovative, personalized learning school design.
Last month, XQ announced ten winners of its super-competitive $10 million Super School grant program. Half of the winners have NGLC roots. We think that's something to celebrate.
As a result of the XQ award, the leaders behind Summit Elevate, Brooklyn LAB High School, Powderhouse Studios, Washington Leadership Academy, and RISE High have emerged as influencers in the national conversation about the future of the American high school. This blog series will take a historical look at their influence on next gen school design by tracing their NGLC roots. (This is a slightly melodramatic statement given that the timeline is only four years long, but the pace of change has been substantial, so bear with me!)
To mark the leadership of the innovators behind the five XQ Super Schools, we share with you their winning design along with their own thoughts about reimagining education and their NGLC roots. Today, we celebrate Summit Elevate.
Summit Elevate
XQ Super School Description: Imagine students in a school already at the forefront joining with a college of arts and an urban district to build the next frontier.

A city on the Summit.
The natural evolution of Summit's effective personalized learning model, Summit Elevate will empower Oakland students to be "in the driver's seat" of their own education—whether that's selecting their own network of personal advisors, spending more time in the community, or identifying career trends and setting individual goals, students will develop critical thinking skills and practice habits of success that will equip them with the skill set to succeed in college, career and life. (Source)
An Interview with Summit's Leaders
What are you most excited about with your XQ SuperSchool design?
We, along with our network of partners, are thrilled to be part of a network of change, playing an integral role in creating a systemic shift in education to ensure that every single student has the support to be set up for success in life. Summit Elevate students will set individual goals, develop cognitive skills and practice habits of success that will help them succeed far beyond school and college. Summit Elevate will empower students to drive their learning and own their success through personalized learning—enabling students to make the connection between what they learn in school and how it will help them achieve their aspirations in life.
In what ways has your involvement with NGLC springboarded Summit to where it is today?
The support we received from NGLC was critical to the evolution of our model. It came at a time when we were transitioning from a more simple blended learning classroom model to the personalized learning approach that we use today. It enabled us to implement personalized learning in our first middle school, and from there we have had the opportunity to not only expand it across all Summit schools but share it with over 100 partner schools across the nation today. Summit Elevate is the natural evolution of our current Personalized Learning model.
What drives your team's commitment and passion for this work?
At Summit, we believe that all students can reach their full potential, and we're deeply committed to preparing them to succeed not just in school, but in college, career, and life. This belief drives everything that we do.
NGLC Roots
In 2012, Summit Public Schools was awarded a $450,000 grant from NGLC to launch a new middle school, Summit Denali, in fall 2013 with a new school design. It has been a leader within the NGLC network ever since.
You may have heard of flipped classrooms, but Summit went big and flipped their entire school. Students are unwaveringly at the center, driving their own learning with a thoughtfully designed set of supports provided by teachers and enhanced by the structure of the school day, the facilities, and the technology.
One key factor in the NGLC Breakthrough Schools grant challenge was a scalable and sustainable design. With a commitment to open educational resources, learning and refining and evolving as an organization, and sharing its philosophy, approach, and resources more broadly, Summit has scaled its personalized learning model both within the charter network and beyond. Today, Summit is partnering with more than 100 public schools across the nation—district and charter—through Summit Basecamp.
In addition to revolutionizing the direction of next gen technologies (see Building an Aligned System of Digital Content, Individualized Student Playlists, and Deeper Learning Assessments and Summit Personalized Learning Platform), Summit is leading the way in better understanding how to help students develop Habits of Success and how educators can measure growth in this critical area of student development. Through the Assessment for Learning Project, they are creating a systemic way to support the development of Habits of Success that includes developing an assessment system of formative and summative measurements. Learn about their approach to measurement and access their tools in Summit's Measures That Matter Most case study.
Congratulations to Summit Public Schools and its partners for leading the reinvention of the American high school!
More XQ Super Schools with NGLC Roots