Building Community
Coaching from Within: A Hybrid Model of Teachers Coaching Teachers
May 30, 2019
Topics
Change Management
Leadership
Staffing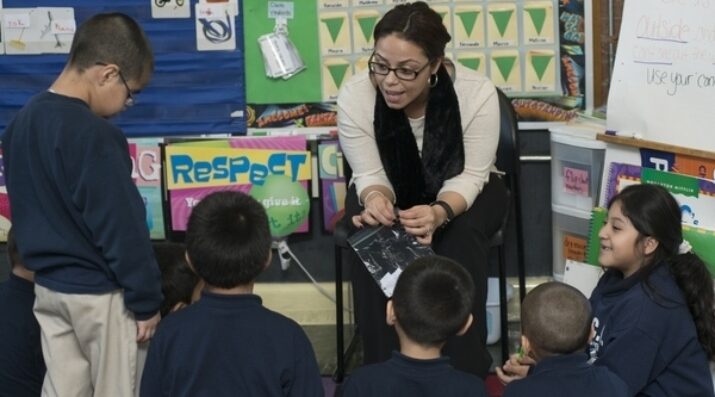 Building Community
Building Community
When educators design and create new schools, and live next gen learning themselves, they take the lead in growing next gen learning across the nation. Other educators don't simply follow and adopt; next gen learning depends on personal and community agency—the will to own the change, fueled by the desire to learn from and with others. Networks and policy play important roles in enabling grassroots approaches to change.
Learn More
Teachers who take on instructional coaching responsibilities at Distinctive Schools deeply understand the next generation learning model and can better support other teachers in strengthening their craft.
"The instructional coach is a teacher talking to another teacher."
—Jim Knight
Developing a craft like teaching is challenging work. Developing it in an innovative, unfamiliar next generation model can be even more demanding. To support teachers to grow their practice, the Distinctive Schools teaching model employs instructional coaches who partner with teachers to give feedback through observations and conversations. The coaches' role has evolved as our model has evolved to become more student-centered. At Chicago International Charter School Bucktown, managed by Distinctive Schools, instructional coaches Rachael Beucher and Blair Burson have coached from within the classroom, balancing teaching and coaching responsibilities. These coaches each have a resident teacher in their classrooms who they help develop so the resident can lead the classroom while the coach provides support to other teachers. The hybrid role has allowed them to deeply understand our next generation model to better support teachers in strengthening their craft.
As instructional coaches, Beucher and Burson serve as supports and partners for teachers through a variety of methods, including serving as a sounding board, modeling strong instructional practices, providing feedback through observations, and partnering on lesson planning. While implementing new curriculum and personalized instruction programs as teachers themselves, Beucher and Burson developed a deep empathy with the teachers they supported, which in turn gave them high teacher buy-in.
"It helped build strong relationships with my team members," Burson reflected. "You can be a model. Coaching from within has really helped with my understanding of what is being taught and what supports students' need because I'm teaching it every single day. That makes me feel more connected and understand better how a teacher might need to reteach a lesson or extend it."
This strong understanding of the teacher experience also facilitated giving feedback to teachers. "I'm teaching alongside my teachers," Beucher said. "When I am giving them feedback, it is not a top-down approach. They know I have faced similar challenges." As a result of this relationship-building, teachers were more trusting and willing to ask for advice. Just as teachers need to develop deep relationships with their students to best understand their strengths, interests, and areas of development to provide them the best support, coaches must do the same with their teachers.
Jane Szot, the director of instructional coaching and development for Distinctive Schools, notes that this is especially crucial at a network like Distinctive Schools. Many new teachers were trained in a more traditional model, so new teachers may have a surface-level understanding of personalized learning. "When they see a personalized learning classroom in action, I think there is an assumption that there is less structure since students are moving freely in a flexible learning environment and working on different tasks," Szot said. "Oftentimes, a new teacher may perceive this as not needing to institute rules and practice—but it is the exact opposite. These become even more important in a personalized learning classroom."
Coaches support teachers transitioning to this model by introducing them to the language and delineating what personalized learning is and is not. Professional-development sessions and readings help support this, but even more beneficial is seeing it in action. Teachers can observe their coaches implementing personalized learning at a high level. Coaches then serve as a sounding board and encourage teachers to put aside their fears and try some personalized learning structures.
Balancing these dual roles does come with some challenges. Coaches do have dedicated time in their schedules to attend to their coaching duties. A resident teacher covers the classroom during this time. "It is definitely hard when in the classroom to support all of your teachers," Beucher explained. "Kids always come first, so it is about trying to balance meeting every teacher's need and every student's need." Burson described how students also had difficulties understanding the dual role; she has had to explain that her job is one that helps teachers and students, which means she will be out of their classroom at times. She also noted that the empathy goes both ways; teachers sometimes may be less prone to reach out since they know their coach has a lot on their plate.
While there are some challenges, the benefits that these dual roles play in personalized learning schools are huge. "Personalized learning is always evolving," Szot shared. "In order to truly understand what it looks like, you have to be a teacher and live it every day. Coaches can field-test and pilot new strategies to see what works and be a model classroom for their peers. By learning about personalized learning alongside their peers and knowing more of the research as a leader, coaches can be a valuable resource for the network and for their peers."
---
Photo at top, courtesy of Distinctive Schools