New Designs for School
Creating Community Problem-Solvers in a School Makerspace
March 2, 2022
Topics
Project-based Learning
Student Success
Design Thinking
Curriculum & Instruction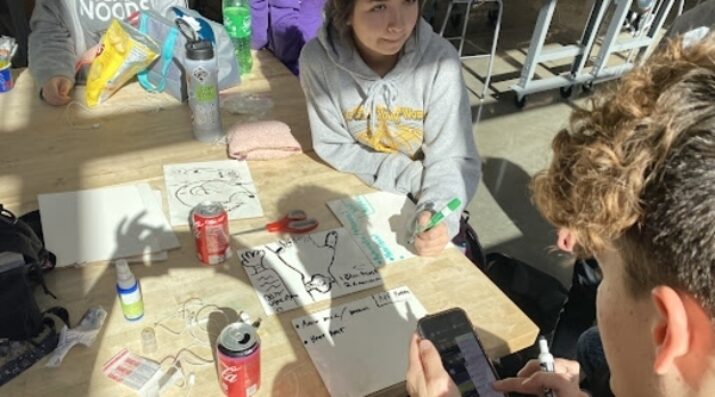 New Designs for School
New Designs for School
We've all had the experience of truly purposeful, authentic learning and know how valuable it is. Educators are taking the best of what we know about learning, student support, effective instruction, and interpersonal skill-building to completely reimagine schools so that students experience that kind of purposeful learning all day, every day.
Learn More
Students beg for learning that connects to their lives. With a makerspace and community partnerships, students can solve real-world problems in their communities.
When I first began my career as an English teacher, I remember my students asking me questions like, "How will this content matter to me after I graduate? Why should I spend time memorizing concepts for a test that I will forget about?" I know that these questions ring through the hallways of schools across the country. So why do we ignore them?
Instead of ignoring my students' questions, I started asking questions of my own: If I want to nurture citizens with the courage and confidence to change the world, how do I need to change my classroom experience? How can I infuse content with purpose and joy? How can I help my students draw connections between curriculum and the problems they see outside of our school walls to help add relevance to the school experience?
I am confident that students have the curiosity and the ability to address real-world problems. I meet and work with students who have ideas for their future and have already started their own businesses (and some of these students are the same ones failing the curricular test prep!) Our students beg for their learning to connect to the world outside of the classroom but many encounter disconnected standardized practices.
In the 21st-century classroom, educators have a responsibility to revolve learning around real-world problems. The classroom should center on problem solving; when students identify flaws in their world, they will know that they can work to be a part of the solution. At Anna Independent School District (ISD) in Anna, Texas, we are fusing community and classroom within our learning laboratory in the makerspace. The makerspace offers a ready answer for students about why their learning matters; I don't have to explain the importance and relevance of the content because the students experience it directly.
The makerspace offers a ready answer for students about why their learning matters.
From Afterschool Makerspace to Curriculum-Based Making
In 2019, Anna ISD added a makerspace to the STEAM & CTE program and added my role as makerspace integration technology specialist. Before this, I spent many years as an English teacher, then a media resource specialist in the library. To start fostering a maker mindset, I offered after-school opportunities for students to "make for a cause" and explore their passions. We called it MakerCARE.
When our makerspace lab opened, the students in our after-school club were so excited to have a designated area devoted to their purposeful and exploratory making. With equipment such as 3D printers, sewing machines, a Cricut, laser engraver, routers, and woodshop tools, they now could explore prototyping and manufacturing at a more industrial level. They embraced this new space to get messy and build bigger.
Our makerspace has become a hub for the exploration of MANY career pathways—STEAM, manufacturing, design, entrepreneurship, IT, education, fashion design, inventory and resource management, and more! Through the makerspace, we support students pursuing careers with a STEAM focus and also allow open access to training for every student and staff member in our public high school. We offer makerspace integration to all content areas, and by integrating, we offer more students opportunities to gain interdisciplinary experiences and 21st-century industrial skills.
Every integration activity we plan supports our Anna ISD makerspace mission:
Invest, Instill, & Inspire students to engage in & develop an ADAPTABLE Mindset, Critical Thinking, Effective Communication, Innovative Problem solving, & Responsible Citizenship through...tinkering to discover, making to learn, & applying skills to connect to the community & beyond.
Our makerspace mission statement has been intentionally aligned with our district vision and Anna ISD portrait of a graduate as well as MakerEd approaches. As an integration specialist, I support the mission statement with the following questions in mind:
How can I help support the school and community with industry experts related to any makerspace resources?
Where are there needs and problems that we can help solve through making? Design thinking?
How can I build bridges between the makerspace and our broader community here in Anna, Texas?
How can I get students involved and give them more choice so they own their learning through their voice so learning can be authentic? (See the COVA Approach developed by Dwayne Harapnuik)
Around 2019, I began experimenting with embedding design thinking into curriculum to create challenges and scenarios where students were not only making projects for grades, but also solving real problems while building those very projects.
From Makerspace to Designing through Community Partnerships
I was introduced to Project Invent in fall 2019, during a webinar I attended about Makey Makey. When I heard what Project Invent was doing to get students designing and engineering for social good through community partnerships, I knew right away that I wanted to connect. The following summer, I went through Project Invent's Summer Institute for Fellows and was able to gain a deeper understanding of design thinking. I learned how to facilitate and lead a student team to create a community partnership, work through the design thinking process to solve a real-world problem, communicate by presenting their own unique ideas to get feedback from an idea review committee consisting of industry experts, and to develop a pitch for their prototype they build with their hands!
Today, a little more than halfway through the program, I am seeing that Project Invent actually combines and fulfills all of the goals that pertain to not only our district vision but also the Anna ISD makerspace mission. Here is what I have observed so far:
I see students excited to connect to the outside world. For example, they're developing confidence, leading effective interviews on Zoom to learn more about their community partner who is a veteran and member of the Wounded Warrior Project.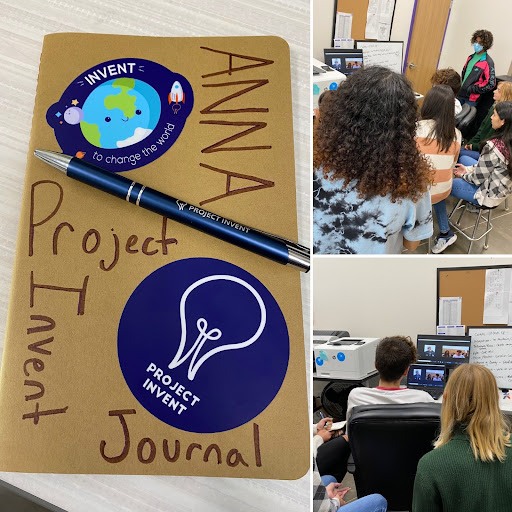 Students lead an interview and discussion with their community partner who is affiliated with the Wounded Warrior Project.
I see students owning their learning through their own voice and choice and becoming adaptable and innovative problem-solvers, working through their differences in how and what they want to invent to solve their community partner's problem.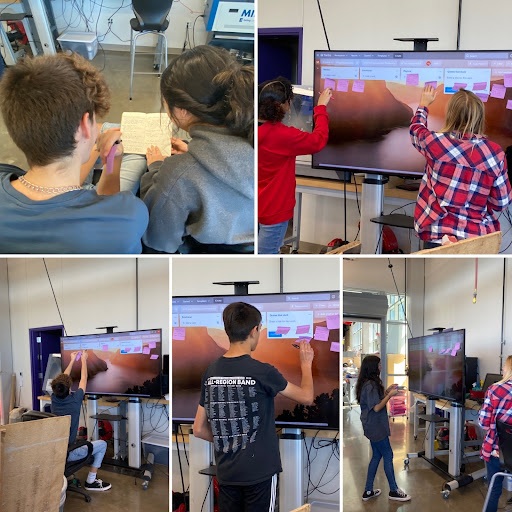 Students brainstorm solutions to their community partner's problem.
I see students connecting with industry experts by getting real and applicable feedback so that they can revise their ideas to best solve not only one person's problem but a more global problem.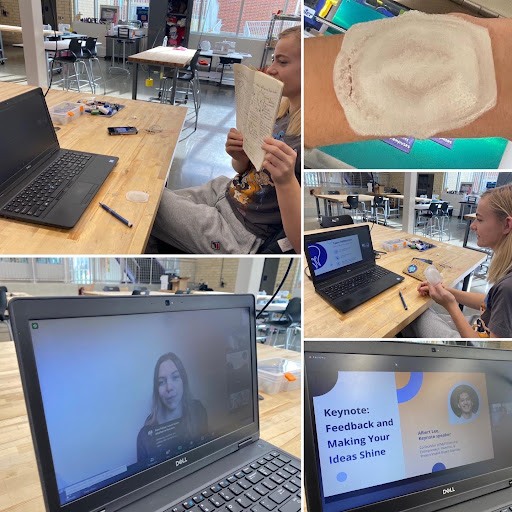 Students get feedback on their idea from an expert from Ford and begin the prototyping phase.
I see students utilizing the makerspace tools and resources to make with purpose, utilizing skills that they learned through the Project Invent curriculum as well as skills that they've learned in other courses such as engineering, ELAR, and others.
Integrating Design Thinking and Community Partnership across the Curriculum
Project Invent has helped me actualize our district vision and makerspace mission to make the world a better place by showing students how to be responsible citizens equipped with skills to conquer the challenges of education, work, and life.
As an educator and integration specialist that collaborates with many teachers, I can't help but think: How can I embed this design thinking combined with community partnership practice into more classrooms and content? With the help of some other teachers who I consider innovative risk-takers, we have managed to take what Project Invent is offering and connect it to other content areas. Some example projects have been as follows: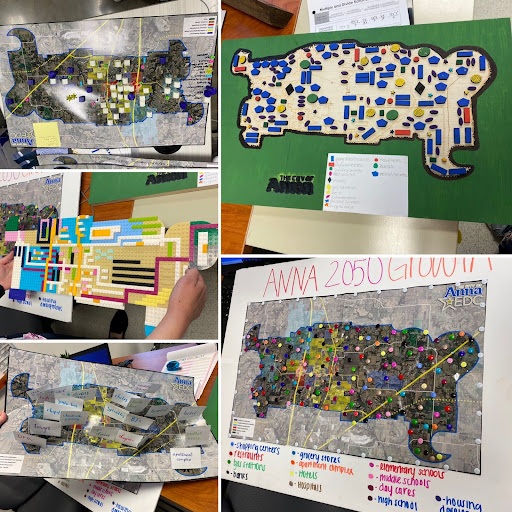 These maps, created by students, depict plans for what their city will look like in 2050.
Algebra 2 Class "Project 2050 EDC Exponential Growth Map"
Last spring, Lauren Patton's Algebra 2 classes connected with our local Economic Development Committee (EDC) to learn how exponential calculations are used to estimate the future population growth. They started with creating a community partnership with Taylor Lough, the City of Anna economic development manager who spoke about her career and how the EDC uses exponential growth to plan for the future of the city. Taylor kickstarted the project by prompting students to make a map showing what they think Anna will look like in the year 2050. Using no tech to high tech resources in the makerspace, as well as a lot of calculations and research of other comparable cities, students created plans and maps of what they think their city should look like in 2050. The maps were then delivered to the EDC to vote on best map and best city plan. After this project, parents said it was great to hear their students get so excited when new businesses popped up because they felt like they had a say in what was happening in their own community. We look forward to improving this project by adding in the design thinking skills and strategies that Project Invent has equipped us with.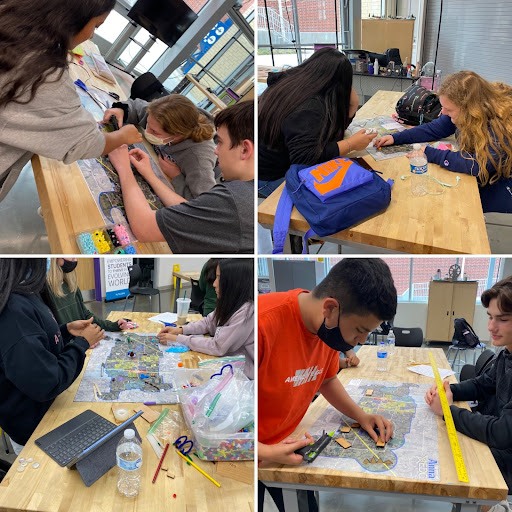 Students work to plan out and create maps to present to the local Economic Development Committee.
Counseling & Mental Health Class "Project Therapy Toy"
In the world of makerspace integration at Anna High School, Barbara Coleman's Counseling & Mental Health classes recently came to the makerspace for an integration project to create play therapy toy prototypes to be used and tested at toy therapy rooms in Anna elementary schools.
AISD Director of Counseling Vince Sharp was chosen as community partner for this project. He kickstarted the project by explaining how play therapy toys are used for various behaviors and scenarios. Students were able to empathize with their users through the eyes of an expert working directly with the children with needs. After delivering the project objective, he worked with the groups of students during their ideation rotation process. At the end of the project build, Anna ISD therapists and administrators were impressed when they visited the class for idea review. These professionals gave feedback as the students proudly demonstrated their toy prototypes during the hands-on presentations. "The students' empathy and excitement for their end-user shined through their thoughtful and unique toy creations," said AISD Communications & Marketing Coordinator Melane Woodbury. "It's such a treat to see our students collaborate with and learn from professionals on such a meaningful project."
Mrs. Coleman's students look forward to getting feedback from play therapists after elementary students have tested the toys during their play therapy. And after the project, Mrs. Coleman has reported many of her students are begging to come back to the makerspace to make something to solve a real-world problem.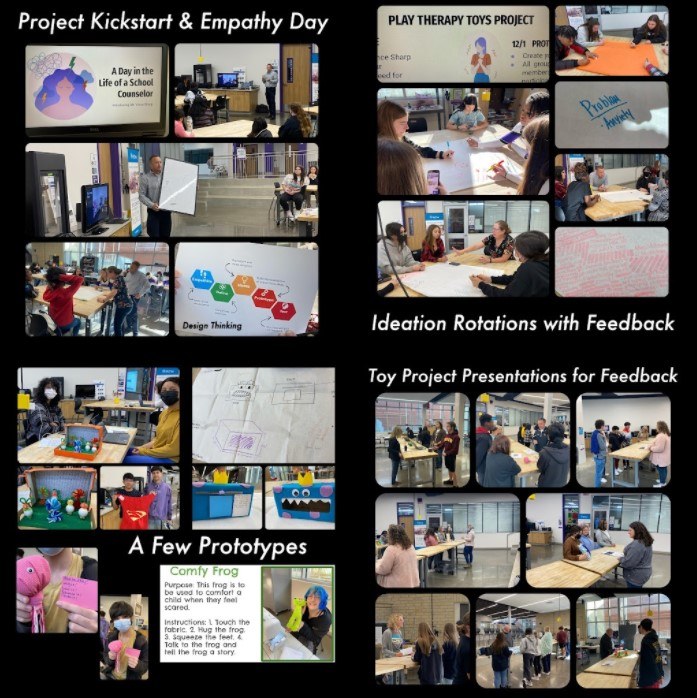 Students work through the design thinking process to make play therapy toys for the district's elementary students to use.
As our makerspace programming continues in the future, I look forward to getting more classrooms involved in real-world, project-based learning. Our students are not going to stop asking us to answer, "Why?" It's time to start providing them with relevant answers.
---
All photos courtesy of the author.