Designing for Equity
We Need More Empathy - Why it's Essential that We Craft Diverse and Collaborative Learning Environments
September 16, 2017
Topics
Learner Agency
Design Thinking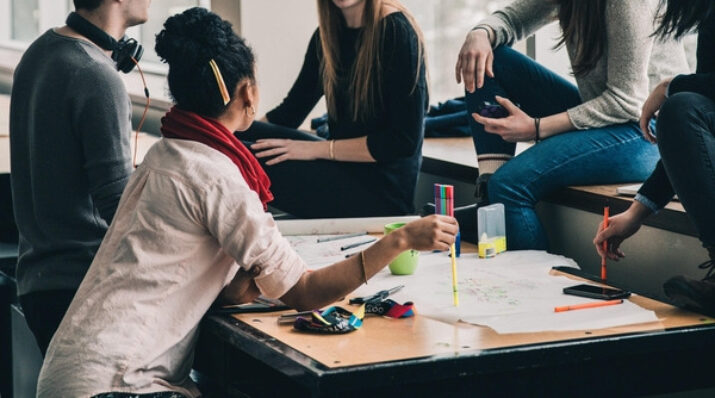 Designing for Equity
Designing for Equity
Together, educators are doing the reimagining and reinvention work necessary to make true educational equity possible. Student-centered learning advances equity when it values social and emotional growth alongside academic achievement, takes a cultural lens on strengths and competencies, and equips students with the power and skills to address injustice in their schools and communities.
Learn More
To teach software engineering, Flatiron School designed a pedagogy that supported the development of empathy, self-awareness, humility, and agency.
At Flatiron School, every day we spoke to industry leaders about their hiring needs. Apart from technical skills, employers consistently sought candidates who are capable of working effectively with a wide range of people. This means that in order to create classrooms that meet demands of a complex global society, we must intentionally field classrooms where students come from a wide range of backgrounds and teach them to collaborate effectively. During my tenure as the Head of PreCollege (now Upperline Code), that is exactly what we set out to do.
We taught software engineering to over 2,000 students in 13 cities across the country: 51 percent of our students were girls, and 25 percent came from underserved backgrounds. Students in our classrooms ranged from 13 to 18 years old, and of course they also came in with a variety of skill-levels and interests.
Supporting heterogeneous classrooms is hard, but it's important—especially in technology education. The soaring influence of the technology sector and its growing pervasiveness in our everyday lives, coupled with the severe deficit of women and folks of color in the sector, means that it is critical that we create a future where the people building these technologies 1) Are able consider the impact of what they are building on society and 2) Come from diverse backgrounds themselves.
So how can you effectively design learning environments where diverse groups of students can thrive, in order to create a more empathic and diverse talent pipeline?
Students are disposed to be thoughtful, compassionate, patient, willing teachers for a wide variety of their peers.
We sought to design a pedagogy that would support the development of students' empathy, self-awareness, humility, and agency. Embedding these principles into our content, instruction, and culture was the key to creating a learning environment that could attract a wide variety of students and see them thrive.
In particular, our central design strategy was a type of peer-driven learning that we called "distributed learning." Distributed learning's focus on turning every student into a willing teacher and peer-learner maximized the number of potential actors to move students along their path. We designed taxonomy, curriculum, teacher training programs, classroom culture, and physical environments that could turn a student into a teacher or a learner at any given moment. Students are disposed to be thoughtful, compassionate, patient, willing teachers for a wide variety of their peers at a wide variety of moments, as well as humble, patient learners who are forced to seek understanding and perspective from a wide variety of teachers. This creates extreme versatility across learning and teaching styles, imbuing students with uniquely meaningful collaboration and empathy skills.
While we believed this approach resulted in our students achieving an impressive degree of technical facility in an accelerated timeframe (creating web and mobile apps in Ruby and Swift in just two weeks), our primary goal was using technology education as a way for students from different backgrounds to become great collaborators, agile learners, and thoughtful global citizens.
We taught empathy through code.