Designing for Equity
Getting to Brave: How My School Is Uncovering Our Unconscious Racial Bias
January 19, 2021
Topics
Change Management
School Culture
Staffing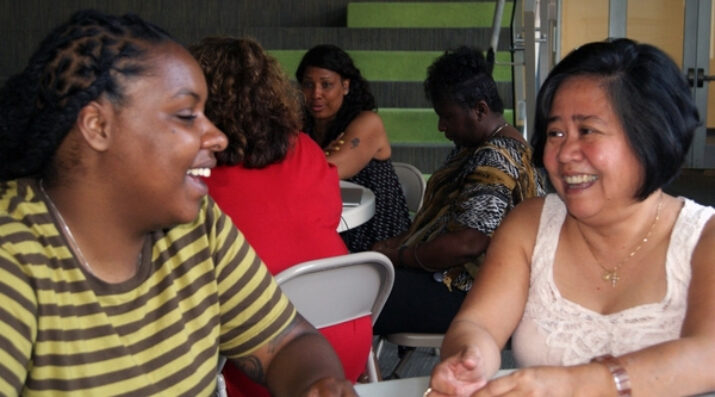 Designing for Equity
Designing for Equity
Together, educators are doing the reimagining and reinvention work necessary to make true educational equity possible. Student-centered learning advances equity when it values social and emotional growth alongside academic achievement, takes a cultural lens on strengths and competencies, and equips students with the power and skills to address injustice in their schools and communities.
Learn More
When this school's staff examined systemic racism and its impact on students, they uncovered vastly different perspectives about racial bias in the school's culture, practices, and policies.
My school network, Two Rivers Public Charter School, has made the commitment to becoming an anti-racist organization. In concrete terms, this means as a school we are dedicated to raising the achievement and opportunity of all of our students and eliminating the racial predictability of our outcomes within our schools and beyond our school walls. This is an urgent and very real challenge for us as a diverse urban charter school network where we see the impact of racial bias in education and in our school as our Black students consistently perform well below our White students.
As part of our network's commitment, our entire staff across our network conducted a couple of exercises to analyze where the Two Rivers network is in our journey. Through analysis of our current culture, practices, and policies, these excercises aimed to provide a picture of where we are in relation to our aspiration to being a fully inclusive anti-racist multicultural organization.
We began by using the Continuum on Becoming an Anti-Racist Multicultural Organization from Philanos. During our annual orientation in August, the entire 170 member staff broke up into small groups and evaluated our systems using the language on the continuum. Then each group reported back where they identified Two Rivers on the scale from 1 to 6. What our race and equity steering committee and leadership found from this data was enlightening. Some groups rated Two Rivers as low as 2, defined as Passive, A "Club" Institution. Other groups rated our organization as high as a 5, defined as Structural Change, A Transforming Institution. The value of this exercise highlighted something beyond the value of the individual scores. It revealed that we as a staff were not calibrated around where we saw our organization. We weren't seeing from the same perspective.
A second exercise at the end of September further highlighted this gap. Utilizing a task card adapted from Tracey Benson and Sarah Fiarman's Unconscious Bias in Schools: A Developmental Approach to Exploring Race and Racism, our staff evaluated our organization on twenty points related to the bravery of our community. Breaking up into small groups again, we were looking to understand our community's ability to speak honestly and openly about racial bias and its impact on our students. Specifically we wanted to uncover how we were consciously and unconsciously perpetuating racial bias and how that bias was resulting in the inequitable outcomes we were seeing in our data. In undertaking this second task, our race and equity steering committee and leadership found a similar result, an 11-point spread in an evaluation tool that only had 20 points. Across our staff, we were not well calibrated. We weren't seeing from the same perspective.
To make meaningful progress toward becoming a brave anti-racist community, we had to learn to see together. At Two Rivers, the work of our staff is driven by a shared mission of nurturing a diverse group of students to become lifelong, active participants in their own education; to develop a sense of self and community; and to become responsible and compassionate members of society. Seeing together means that we as an entire staff stay rooted in this mission and develop a shared understanding of how we aren't realizing this mission equally for all of our students. Seeing together means that we need to have shared definitions of where we are, to identify the same root causes for how we got here, and to agree on shared steps for eliminating the influence of bias in our work with students.
Building on the work from the Equity in the Center's report Awake to Woke to Work in combination with the Continuum on Becoming an Anti-Racist Organization and the Unconscious Bias in Schools text, our race and equity steering committee identified two goals for moving in this direction. First we need to nurture the bravery in our community and normalize talking about race. Second we need to leverage that bravery to honestly analyze the racial climate in our schools.
Our staff, similar to our student body, is racially diverse. Fifty percent of staff members are Black. A little over thirty percent are White. In addition, we have smaller percentages of Asian-American, Latinx, and biracial staff members. Each individual brings both professional perspectives as well as personal perspectives from our racial identities when examining the racial climate of Two Rivers' schools and classrooms. However, if we are going to make progress, we need to learn to collectively see. Often that means uncovering unconscious bias that is doing harm to our students and staff.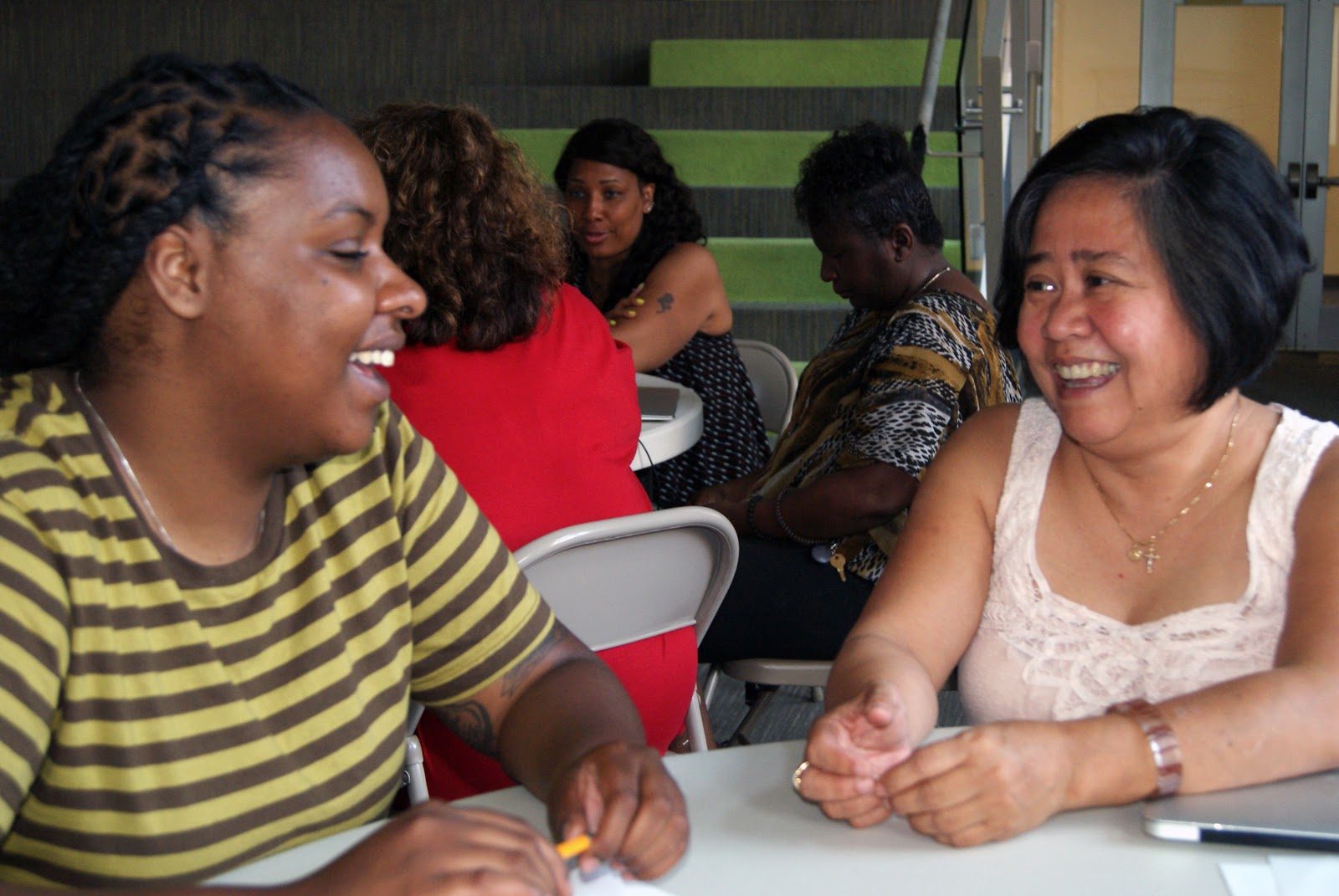 Courtesy of Two Rivers Public Charter School
In response, we created all staff race and equity crews. Crew is a structure from EL Education designed to support small groups of learners. Every staff member has been assigned a crew that will meet six times over the course of the school year. Representing diversity of race, gender, and position at Two Rivers, the twelve-person crews are tackling the work of building collective muscles to address issues of race head on and honestly analyze our systems. Two volunteers from our staff facilitate each crew, leading the work utilizing Benson and Fiarman's Unconscious Bias in Schools as our shared anchor text.
As Two Rivers has undertaken this work, I and the other members of the race and equity committee organizing our race and equity crews recognize the unique burden that working in racially diverse crews places on Black staff members and other staff members of color. Too often, they are forced to speak about and teach their White colleagues how specific behaviors and comments can traumatize our Black students. Too often, these comments and behaviors are the same that Black staff members heard as children, indicating that unconscious racial bias persists even decades later. This burden of emotional work is not shared equally with White staff like myself who have lived with the privilege of White skin and the opportunity to avoid the difficult conversations about race.
With this in mind, we have separately created voluntary affinity spaces. For our Black staff members, the affinity space is held to unpack emotions and provide solace and healing. Simultaneously, we hold a White affinity space to hold myself and our other White staff members accountable to raising our racial consciousness. Similarly we have opened up the opportunity for racial affinity groups for others as a place for staff that share a common racial identity to process where they are and support each other in the work.
Two Rivers staff are committed to the shared work of learning to see our racial biases together. Thus our race and equity crews meet to have conversations across race and ultimately to honestly evaluate our policies, practices, and structures with a common vision for moving forward. Only through this work to move beyond a culture of nice and to break the hidden taboos around addressing issues of race and bias will we hope to make real lasting change. We hope that being able to see together will lead to us addressing root causes of systemic racism in our school, together.