New Designs for School
How Blended Learning Can Support Student Agency
February 1, 2016
Topics
Learner Agency
Curriculum & Instruction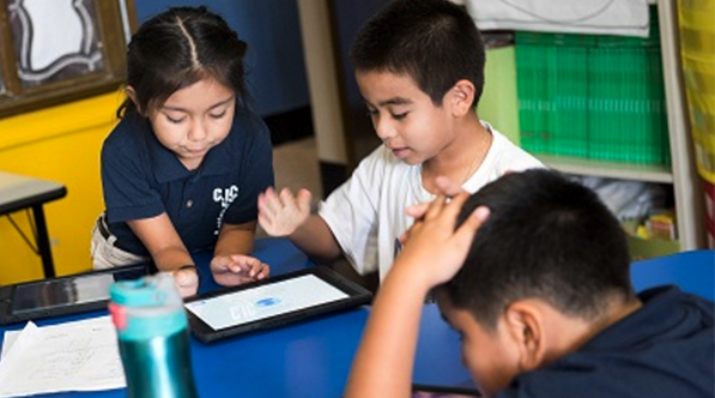 New Designs for School
New Designs for School
We've all had the experience of truly purposeful, authentic learning and know how valuable it is. Educators are taking the best of what we know about learning, student support, effective instruction, and interpersonal skill-building to completely reimagine schools so that students experience that kind of purposeful learning all day, every day.
Learn More
Practitioner's Guide to Next Gen Learning

Blended learning puts students in the driver's seat of learning by increasing their voice, choice, and motivation.
Blended learning can lead to student agency when it gives students choices about what, where, when, and how they learn. For a better understanding of what student agency is and what it looks like in school-based learning, see my first post in this series, How Next Gen Learning Can Support Student Agency. The following blended learning strategies were shared in a recent #NGLCchat on student agency.
Blended learning leads to student agency when it...
Is about the learner, not the technology, the test, or even the school; when it reaches ALL students.
Is about learning, not the "space invaders" of teaching, performance or work; when students notice learning, have conversations about it, and reflect on it.
Frees up time and space for students to be true agents of their learning. "Why can't they learn everywhere?" asked guest expert, Andrew Miller.
Facilitates active, authentic student roles.
Provides freedom to self-direct so students can be heard in the classroom: "When you give kids freedom, they just go for it."
Enables more voice, choice, and motivation.
Encourages free play: "the means by which children learn to make friends, overcome their fears, solve their own problems, and generally take control of their own lives."
Builds student and teacher empowerment, collaboration, and trust (www.musd.org, scroll down to watch the video), like a holacracy: "a new way of running an organization that removes power from a management hierarchy and distributes it across clear roles, which can then be executed autonomously."
Is designed by teachers: "Elizondo developed the model with a single goal in mind: free the teacher up for more one-on-one coaching time. Along the way, she's training her students to teach themselves, focusing on skills like goal-setting, progress tracking and checking for mastery."
Allows students to individualize learning and master content at their own pace.
Opens up an entire world of online content to students, not just what teachers can teach.
Uses a tech platform that allows students to set their own goals and work backwards to assess how their daily, weekly, and yearly work impacts their future goals.
Uses a tech platform that allows teachers to choose whether their playlists are going to match what they are teaching in the classroom or whether students can move through a whole playlist at their own pace through self-directed learning.
Allows students to practice and collaborate digitally—through wikis, Google Drive, and screencasts—take more control of the collaboration process, and produce an end product: "Creativity creates agency."
Incorporates the three aspects of agency: thinking about the dynamics of an environment, forecasting alternate options for acting within those dynamics, and formulating flexible strategies to act.
Prepares students to be lifelong learners, requiring social-emotional development, by cultivating strong relationships between teachers and students, developing students into self-motivated learners, and integrates together academic learning, lifelong skills, and student dispositions.
Infuses student reflection—and educator reflection—to create a culture of ownership.
Blended Learning is Not a Silver Bullet Solution for Student Agency
Not all blended learning is equal, and the use of blended learning does not guarantee that student agency is promoted. Participants cautioned educators to avoid adopting blended learning in ways that "strangle the curiosity of inquiry" and to "eliminate the outdated idea that compliance equals learning." Guest expert Casey Montigney reminded us, "Compliance means students can follow. We want them to lead."
Here are some key questions to help you determine if your approach to blended learning is on the side of agency:
Do students have sufficient voice?
How can we shift from personalization for students to personalization by students?
Is the learner in the driver's seat?
Personalization to what end?
Thank you to everyone who participated in the chat for helping us understand how to elevate next gen learning practices so that they embrace, honor, and encourage student agency! I'm especially grateful to the #NGLCchat guest experts:
Grace Belfiore, Researcher and author, lead developer of MyWays project
Dave Lash, Researcher and author, lead developer of MyWays project
Andrew Miller, Consultant with Buck Institute and ASCD
Casey Montigney, Teacher at Medill-Shue Middle School, member of the Carnegie Foundation's Student Agency Improvement Community
Michele Savage, Principal of Medill-Shue Middle School, member of the Carnegie Foundation's Student Agency Improvement Community
Keep Learning
The next #NGLCchat on Teacher Development for Next Gen Learning takes place Thursday, February 11 at 7pm ET. I encourage you to join in the chat and explore what support teachers need and how to create a culture for next gen learning with guest experts from Matchbook Learning, Thrive Public Schools, The Learning Accelerator, and Relay Graduate School of Education.